CCBAC's Cram Jam
May 10, 10:00pm - 11:45pm
Mānoa Campus, Campus Center
---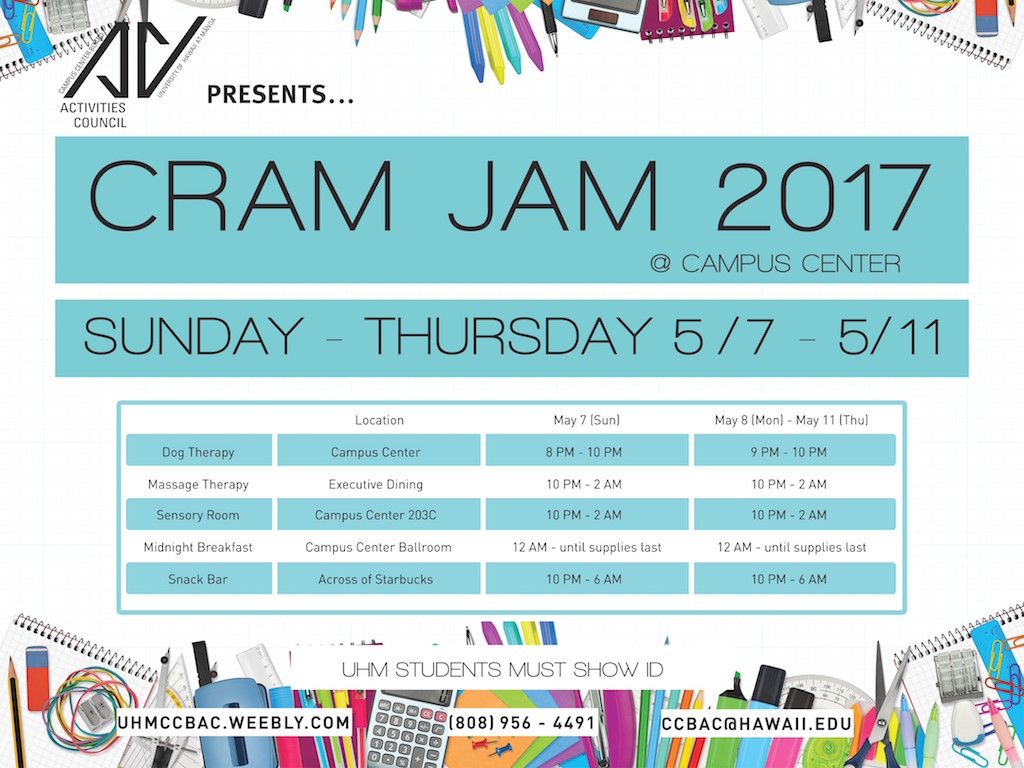 It's that time of the semester! Come join the Campus Center Board Activities Council during Cram Jam for late-night events and get ready to ace those exams!
CRAM JAM DETAILS
Dates: Sunday, May 7th to Thursday, May 11th
Time: 10 p.m. - 2 a.m.
Who: Validated UH Mānoa Students
*WEDNESDAY PROGRAM* features include FREE:
Midnight Breakfast: 12 a.m. in the Campus Center Ballroom; until supplies last
Dog Therapy: 9 p.m.-10 p.m. in the Campus Center Forum (right in front of Subway)
Massage Therapy: 10 p.m.-2 a.m. in the Executive Dining Room, first come first serve
Sensory Room: 10 p.m.-2 a.m. in Campus Center 203C
Snack Table: 10 p.m.-2 a.m. across of Starbucks, get $1 Starbucks coupons (while supplies last) here
IMPORTANT: UH student ID mandatory for entry between 10 p.m. - 6 a.m. daily*
*What does it mean to be a VALIDATED STUDENT for AC events?

You are registered for the current semester
You have been assessed ("charged") and paid the student activity fee
You are in good financial standing (you don't have any holds)
Midnight Breakfast Menu
Sunday 5/7
Loco Moco - Hamburger Patty, Gravy, Fried rice, Scrambled eggs
Vegetarian Option: Bocca Burger, White Rice and Vegetarian Gravy
Monday 5/8
Portuguese Sausage, Spam, Eggs and White Rice
Vegetarian Option: Garden Malibu Burger, White Rice
Tuesday 5/9
Chili and White Rice
Vegetarian Option: Vegetarian Chili and White Rice
Wednesday 5/10
Breakfast sausage, Hash browns, Pancakes
Vegetarian Option: Vegetarian sausage, Hash browns, Pancake
Thursday 5/11
Arrozcaldo - Hearty Chicken and Rice Porridge
Vegetarian Option: Rice porridge w/ mixed veggies and veggie stock
Event Sponsor
Campus Center Board Activities Council, Mānoa Campus
More Information
(808) 956-4491, ccbac.hawaii.edu, http://uhmccbac.weebly.com
---