Opening reception for Waikiki Parc Features Taylor Johnson
September 21, 6:00pm - 8:00pm
Waikiki Parc Hotel, Parc Promenade Gallery
---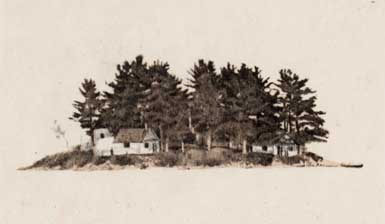 The public is invited to meet the artist at the opening reception for "Waikiki Parc Features Taylor Johnson."
Guitarist Christopher Hopper will provide music at the opening reception in this series of up-and-coming young artists' exhibitions at the Waikiki Parc. In 2016, he received a Bachelor of Music degree in performance from the Department of Music, UH Mānoa. He has also studied with guitar virtuosos Carlos Barbosa Lima, and the Brazilian Guitar Duo's Douglas Lora and João Luiz.
SPONSORS: University of Hawai'i at Mānoa's Department of Art + Art History, College of Arts + Humanities, and Waikiki Parc Hotel – Hospitality Sponsor for the Arts at UH Mānoa
Image: "Gensberg's Island," 2017 (detail); lithography, chine collé; 15" x 11"; Courtesy of the artist.
Ticket Information
Admission is free. Complimentary parking with hotel validation.
Event Sponsor
Art + Art History, Mānoa Campus
More Information
Sharon Tasaka, (808) 956-8364, gallery@hawaii.edu, http://www.hawaii.edu/art/exhibitions+events/exhibitions/?p=3115
---
Thursday, September 21

8:00am

ES&A 2017: Thought Leaders Conference on Workforce Development

Honolulu Campus, Aloha Tower Marketplace MP3
12:00pm

Evaluating Activism

Mānoa Campus, John A. Burns Hall, Room 3012, 1601 East-West Road
1:30pm

Study Abroad in Paris, France - Informational Meeting

Mānoa Campus, Kuykendall 213
2:00pm

Geology & Geophysics Final Oral

Mānoa Campus, POST 723
2:30pm

Study Abroad in Adelaide, Australia - Informational Meeting

Mānoa Campus, Kuykendall 213
3:00pm

LSAT 101

Mānoa Campus, Law School, Classroom 4
3:00pm

The Traditional Korean Wedding Ceremony

Mānoa Campus, Center for Korean Studies Auditorium
4:00pm

Pacific Biosciences Research Center Seminar

Mānoa Campus, St. John 11
6:00pm

Opening reception for Waikiki Parc Features Taylor Johnson

Waikiki Parc Hotel, Parc Promenade Gallery
6:30pm

Hanauma Bay Educational Lecture Series

Hanauma Bay Nature Preserve Theater