Inter/Nationalism: From Palestine to Hawai'i
November 3, 2:30pm - 5:00pm
Mānoa Campus, Center for Hawaiian Studies, Halau
---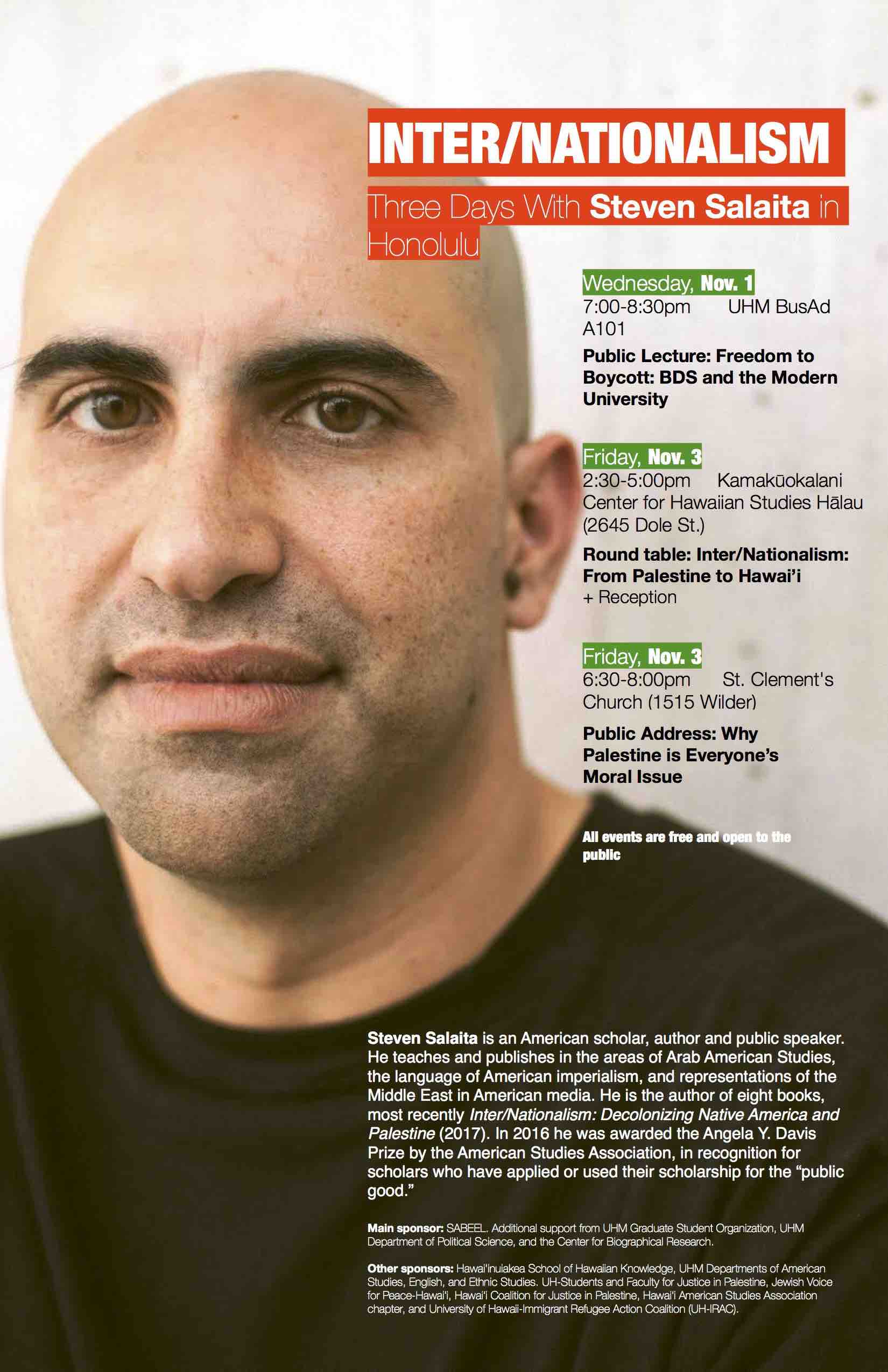 Roundtable with Steven Salaita, Ali Musleh, ʻIlima Long, and Kahala Johnson. Panelists will discuss sovereignty and solidarity in the context of Hawaiʻi and Palestine.
Steven Salaita is an American scholar, author and public speaker. He teaches and publishes in the areas of Arab American Studies, the language of American imperialism, and representations of the Middle East in American media. He has held positions at Virginia Tech and University of Wisconsin-Whitewater, and served as the Edward W. Said Chair of American Studies at the American University of Beirut. He completed his Ph.D. at the University of Oklahoma in Native American studies with a literature emphasis. He is the author of eight books: Anti-Arab Racism in the USA: Where it Comes From and What it Means for Politics (2006), The Holy Land in Transit: Colonialism and the Quest for Canaan (2006), Arab American Literary Fictions Cultures and Politics (2007), The Uncultured Wars (2008), Modern Arab American Fiction: A Reader's Guide (2011), Israel's Dead Soul (2011), Uncivil Rites (2015) and Inter/Nationalism: Decolonizing Native America and Palestine (2017).
His latest book was just awarded the 2017 Arab American Book Award in the nonfiction category. He also won a 2007 Gustavus Myers Outstanding Book Award for Anti-Arab Racism in the USA. The Gustavus Myers Center for the Study of Bigotry and Human Rights recognized Salaita's book as one that extends "our understanding of the root causes of bigotry and the range of options we as humans have in constructing alternative ways to share power." He also has published many articles and reviews in refereed journals; he publishes prolifically as a journalist; and he gives invited lectures all over the world.
In 2016 he was awarded the Angela Y. Davis Prize by the American Studies Association, in recognition for scholars who have applied or used their scholarship for the "public good." In announcing this award, the ASA committee stated, "The manifest evidence of Steven's courage and principled refusal to bend in the face of so many forms of repression and intimidation makes him a worthy recipient of this award. We are inspired by his brilliance and fortitude, and his example lights the way for us all."

SPONSORS: Thanks to Sabeel-Hawai'i, the UHM Graduate Student Organization (GSO), the UHM Political Science Dept., and the UHM Center for Biographical Research for generously funding this visit. Other sponsors: Hawai'inuiakea School of Hawaiian Knowledge, the UHM Departments of American Studies, English, and Ethnic Studies. UH-Students and Faculty for Justice in Palestine, Jewish Voice for Peace-Hawai'i, Hawai'i Coalition for Justice in Palestine, UH-Campus Anti-Fascist Network, UH Immigrant and Refugee Action Coalition (UH IRAC) and Hawai'i American Studies Association chapter.
Event Sponsor
Center for Biographical Research, Mānoa Campus
More Information
956-7619, https://www.facebook.com/UH-Students-and-Faculty-for-Justice-in-Palestine-166680137002886/?fref=ts
---
Friday, November 3

11:30am

Forgot Lunch? Aloha Friday Lunch for Student Parents

Mānoa Campus, Queen Liliuokalani Center for Student Services Rm. 412
12:30pm

Fall 2017 Women's Studies Colloquia Series (UHM)

Mānoa Campus, Saunders Hall 637
2:30pm

Inter/Nationalism: From Palestine to Hawai'i

Mānoa Campus, Center for Hawaiian Studies, Halau
3:00pm

Oceanography Thesis Defense

Mānoa Campus, Marine Science Building 100
3:30pm

Geology and Geophysics Seminar

Mānoa Campus, POST 723
6:00pm

4 on 4 Co-ed Volleyball Tournament

Mānoa Campus, Warrior Recreation Center
7:30pm

Taiko Drum & Dance: Hana Hou!

Mānoa Campus, Kennedy Theatre, 1770 East-West Rd.
11:00pm

Almost, Maine

Mānoa Campus, Earle Ernst Lab Theatre, 1770 East-West Rd.