Let's get ELFed Up!! A Holiday Preview Sale Event
November 15, 4:00pm - 7:00pm
Mānoa Campus, Bookstore
---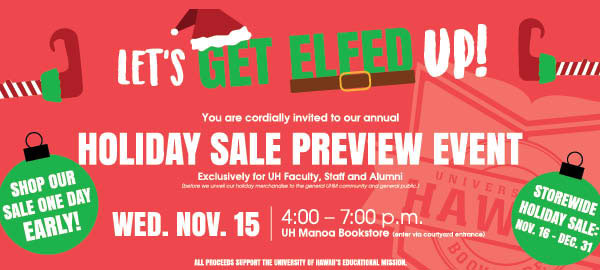 The UH Manoa Bookstore invites all UH faculty, staff and alumni to its Annual Holiday Preview Sale Event on Wednesday, November 15 from 4pm to 7pm.
Exclusively for UH faculty, staff and alumni, the Bookstore elves have been hard-at-work to be able to offer the best items and savings!
Be the first to shop the store-wide savings, receive one-night-only deals and get 'first dibs' on new holiday gift items. Lookout for your 'treat sheet' of special coupons for the event. Invitations and treat sheets from Santa will be delivered through Campus Mail and the alumni office (treat sheets will also be available at the event). Show your holiday cheer and come dressed in your best elf attire to receive even bigger discounts.
Other highlights of the event will be:
• Giveaway of an Apple Watch, now available in the UH Manoa Bookstore!
• Prize drawing for a KoAloha Ukulele (must be present to win).
• Plant Art - Arrangements created and cultivated by the students of the UH Manoa Art department and the UH Manoa CTAHR's Horticulture and Tropical Plant and Soil Sciences student organizations. This collaborative partnership will kick-off at the sale and students will also be on-hand to sell their other masterpieces.
• Gift items created by the Shidler Business School's Hawaii Student Entrepreneurs.
• Book signing (4:30pm – 5:30pm) by Coach Dick Tomey to celebrate the release of his new book, Rise of the Rainbow Warriors, which chronicles his coaching tenure.
• Live entertainment by the UH Chamber Singers.
• Food samplings and demonstrations
Santa and his elves look forward to seeing you!
Event Sponsor
UH Manoa Bookstore, Mānoa Campus
More Information
Raina Fujitani, (808) 956-3373, rainam@hawaii.edu, http://www.bookstore.hawaii.edu/manoa/home.aspx
---
Wednesday, November 15

9:00am

Political Science Final Oral

Mānoa Campus, IT Center Room 105A
9:30am

Festive Thanksgiving Centerpieces 

Mānoa Campus, Lyon Arboretum, 3860 Manoa Road, Honolulu, HI 96822
11:00am

MIEW 2017 International Education Fair

Mānoa Campus, Campus Center
11:00am

Russian Singing and Folk Games

Mānoa Campus, Campus Center Courtyard
11:30am

Babasango Ensemble - Afro Caribbean Ensemble

Mānoa Campus, Campus Center Courtyard
11:30am

Office of Judicial Affairs: Shining a Light on Student Conduct

Mānoa Campus, Kuykendall 106 Events Room
12:00pm

Don't Go Back to Egypt When God Done Took You Out of There

Mānoa Campus, Burns 2118
12:30pm

808 Martial Arts - Martial arts of China, Japan, and Korea

Mānoa Campus, Campus Center Courtyard
2:00pm

Safe Zone Training: LGBTQ+ Safety and Inclusion

Mānoa Campus, Campus Center 308
2:30pm

Russian Film Week

Mānoa Campus, Moore 258
2:30pm

14 Things You Should Know About the Interview

Mānoa Campus, Queen Liliuokalani Center for Student Services Rm. 212
2:30pm

Kokoko by Avdotia Smirnova

Mānoa Campus, Moore Hall
3:00pm

Mini Film Festival: Asian Martial Arts Cinema (Nov 13-17, 2017)

Mānoa Campus, Moore Hall 109
3:00pm

Asian Martial Arts Films series

Mānoa Campus, Moore Hall 109
3:30pm

Algal Communites of the Northwestern Hawaiian Islands Intertidal Zone

Waikiki Aquarium Classroom
4:00pm

Let's get ELFed Up!! A Holiday Preview Sale Event

Mānoa Campus, Bookstore
5:30pm

Personal Statement and Resume/CV Workshop

Mānoa Campus, Webster Hall 103
6:00pm

ASUH Executive Committee Meeting

Mānoa Campus, Campus Center 310