UH Manoa Campus Events Calendar
Amirah Sackett: Hip-hop Master Class
November 29, 12:30pm - 1:45pm
Manoa Campus, Dance Building
---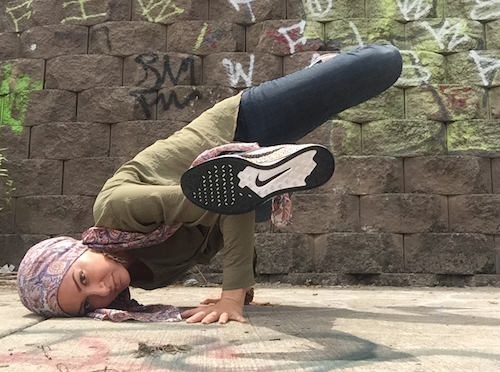 Join Amirah Sackett of "We're Muslim, Don't Panic" in exploring the movement components of hip-hop culture, including dance styles: top rock, breaking, popping, and tutting. Dress comfortably and be ready to dance! Please bring appropriate footwear--street-worn shoes may not be worn in the dance studio.
Amirah Sackett is an internationally recognized hip-hop dancer, choreographer, and teacher. Amirah is the founder of the all-female, American Muslim trio, "We're Muslim, Don't Panic," which in 2016 found viral fame with videos of their performances. Amirah believes hip-hop culture, as a whole, gives voice to those often unheard and is a way to uplift, inspire, and bring change to those communities that need it the most.
Presented by Shangri La Museum of Islamic Art, Culture & Design in partnership with the Dance Program at University of Hawai'i at Manoa.
Ticket Information
Free & open to the public. Space is limited and available on a first come, first serve basis.
Event Sponsor
Dance Program, Manoa Campus
More Information
(808) 734-1941, shangrilaevents@ddcf.org, http://www.shangrihawaii.org
---
Wednesday, November 29
10:00am
Qualify for SNAP with SP@M
Manoa Campus, Campus Center - Near Jamba Juice
11:30am
Letters of Recommendation Workshop
Manoa Campus, Campus Center 309
12:30pm
Pizza with Professionals
Manoa Campus, QLC 411
12:30pm
Amirah Sackett: Hip-hop Master Class
Manoa Campus, Dance Building
3:30pm
Students' Kapustnik
Manoa Campus, Moore Hall 252
4:30pm
Fukushima Devil Fish: Katsumata Susumu's Antinuclear Manga
Manoa Campus, Hamilton Library room 301
6:00pm
ASUH Executive Committee Meeting
Manoa Campus, Campus Center 310
7:30pm
Fa'alavelave (The Interruption)
Manoa Campus, Earle Ernst Lab Theatre, 1770 East-West Rd.