MUSIC @ART - Free Lunchtime Concerts, Fall 2018
December 5, 12:30pm - 2:00pm
Mānoa Campus, Art Building, ground floor breezeway by the galleries
---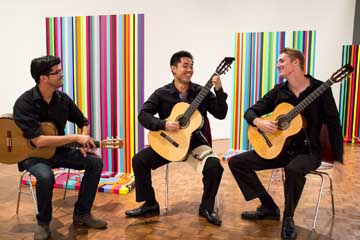 A partnership between the departments of Music and Art + Art History, UHM, has created "Lunchtime Concerts" and "Concerts in the Galleries." The performances feature UHM music students in concert in the art galleries amidst the ever-changing exhibitions and events of the Department of Art + Art History.
First Wednesdays of the month.
Fall 2018:
November 7
December 5
Image: Ian O'Sulllivan, Aaron Cardenas, Chris Hopper. Photographer: Kelly Ciurej, courtesy of The Art Galleries, UHM.
Ticket Information
Admission is free. Parking fees may apply.
Event Sponsor
Art + Art History, Mānoa Campus
More Information
Sharon Tasaka, (808) 956-8364, gallery@hawaii.edu, https://hawaii.edu/art/partnerships/
---
Wednesday, December 5

8:30am

Project Management Basics

Mānoa Campus, UHM Information Technology Center, room 105A
8:30am

Education Final Oral

Mānoa Campus, Wist 233
12:00pm

China Research Seminar public talk by Guanghui Yu

Mānoa Campus, Moore Hall 109
12:30pm

MUSIC @ART - Free Lunchtime Concerts, Fall 2018

Mānoa Campus, Art Building, ground floor breezeway by the galleries
3:30pm

Russian Club: Holiday celebration

Mānoa Campus, Moore 252
3:30pm

Pacific Biosciences Research Center Seminar: Sheree Watson

Kewalo Marine Laboratory
3:30pm

Ocean and Resources Engineering Seminar: ORE Capstone on Wave Energy Conversio

Mānoa Campus, Watanabe 112
3:30pm

ORE Seminar: Capstone on Wave Energy Conversion

Mānoa Campus, Watanabe 112
4:00pm

ANNUAL GLASS + CERAMICS HOLIDAY SALE 2018

Mānoa Campus, Art Building, Commons Gallery
4:00pm

LGBTQ+ Coffee Hour

Mānoa Campus, Queen Liliuokalani Center 208
4:30pm

UH Manoa Student Veterans End of the Semester Celebration!

Mānoa Campus, Hemenway Hall Courtyard