Security risks in the East China Sea:Potential crisis scenarios & policy chall
August 6, 12:00pm - 1:00pm
Mānoa Campus, John A. Burns Hall, Room 3121/3125 (3rd Floor)
---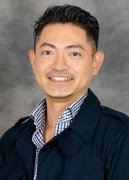 Over the past ten years, China has actively pursued policies to expand its maritime sovereignty in both the South China Sea and the East China Sea. As China continues efforts to enhance its territorial claims by employing paramilitary and military forces, the risk of future international political-military crisis in the area is increasing.
By explaining China's territorial claim over the Senkaku Islands and the current security environment of the East China Sea, the presentation will examine potential crisis scenarios over the islands and policy challenges for the U.S.-Japan alliance.
Hiromu Arakaki is Senior Research Fellow at the National Institute for Defense Studies, Japan Ministry of Defense. He is currently a Visiting Scholar in the East-West Center's Research Program.
He is the author of a book titled, The Transformation and Developments of U.S. Non-proliferation Policy under the Johnson Administration (in Japanese), which analyzed the Johnson administration's efforts to address two different, but correlated nuclear proliferation concerns: the decade-long proliferation risk within NATO and the newly emerged risk of the global spread of nuclear weapons. His research focuses on U.S. security policy and the history of U.S. nuclear policy.
Ticket Information
Free, open to the public
Event Sponsor
East West Center, Mānoa Campus
More Information
East-West Center, 808-944-7111, EWCInfo@eastwestcenter.org, http://www.EastWestCenter.org/node/37225
---