Forging a Denuclearization Agreement with North Korea
August 29, 3:00pm - 4:15pm
Mānoa Campus, Center for Korean Studies
---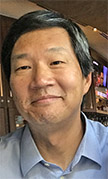 Robert Choo served as a deputy legal adviser to the National Security Council in the White House during the Obama Administration from October 2015 to December 2016.
At the NSC, he worked on the sanctions imposed on North Korea in response to nuclear tests and on the implementation of the Joint Comprehensive Plan of Action with Iran.
Since 2010, Choo has served as an attorney-adviser in the Office of the Legal Adviser in the Department of State, from which he is currently on leave.
In this talk, Choo will discuss the domestic and international legal considerations that figure into the forging of an agreement that would exchange an easing of sanctions for denuclearization in North Korea, offering points of comparison with the legal architecture of the Iran agreement.
Event Sponsor
Center for Korean Studies, Mānoa Campus
More Information
Tae-Ung Baik, (808) 956-7041, tubaik@hawaii.edu, http://www.hawaii.edu/korea
---
Thursday, August 29

10:00am

Fall 2019 Student Involvement Fair

Mānoa Campus, Campus Center and Campus Center Courtyard
11:00am

Student Employment Info Table

Mānoa Campus, Paradise Palms Cafe
11:00am

Tropical Medicine Final Oral

Mānoa Campus, JABSOM MEB 315
12:00pm

Seminar by Dr. Gregoire Mariethoz

Mānoa Campus, 443b Saunders Hall
2:30pm

UH Manoa Tenure and Promotion Information Meeting

Mānoa Campus, 2500 Campus Road
3:00pm

Oceanography Seminar - Oka Eitarou

Mānoa Campus, MSB 114
3:00pm

Forging a Denuclearization Agreement with North Korea

Mānoa Campus, Center for Korean Studies
4:00pm

3R (Risk Reduction & Resilience) Event

Mānoa Campus, Saunders 116
6:00pm

Okinawan Princess Book Talk

Mānoa Campus, Hamilton Library Room 301
6:30pm

Hanauma Bay Educational Lecture Series

Hanauma Bay Visitor Center