Opening events for "Mary Kim: Ggot Byeol: Love of Two Stars"
September 8, 3:00pm - 5:00pm
Mānoa Campus, Commons Gallery, Dept. of Art + Art History
---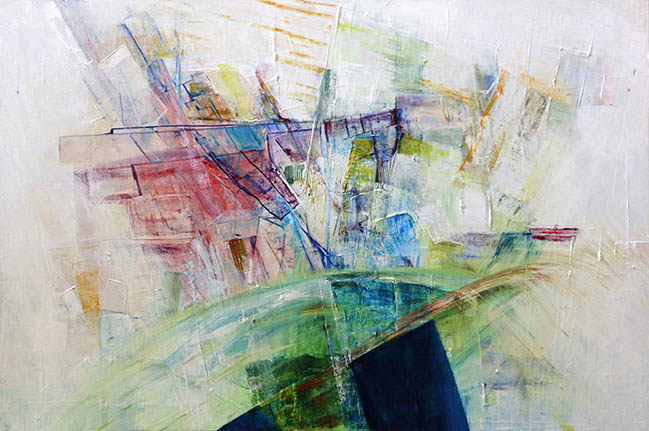 Events + Programs (events are free and open to the public)
Sunday, September 8
3:00 - 5:00 p.m., Joint reception with Attribute: Edwards + Portner + Soliven
Mary Kim's exhibition Ggot Byeol: Love of Two Stars explores the relationship between elements of nature and the complexity of human emotions. It draws its inspiration from The Cowherd and the Weaver Girl, a Chinese folktale dating back more than 2600 years. The forlorn lovers of this bittersweet story are only permitted to meet once a year. Their tears of joy when they meet, and those of sadness when they part, are the source of rain in the human world.
Kim's formal strategies are contemporary interpretations of Korea painting traditions. She employs the concept 'the beauty of negative space' to determine her compositions. Her color strategies combines Hans Hoffman's push and pull push-and-pull effect with Oh Bang Saeg, Korea's main five traditional colors (black, yellow, white, navy and red), Oh Gan Saeg, secondary traditional colors (sage green, light blue, yellow ocher, maroon and persimmon orange), and the pastel tone of sunset and sunrise colors of Hawai'i.
Event Sponsor
Art + Art History, Mānoa Campus
More Information
Sharon Tasaka, (808) 956-8364, gallery@hawaii.edu, https://hawaii.edu/art/mary-kim/
---