CLOSED—Yutaka Matsuzawa: Towards Quantum Art exhibit
January 26, 2020 - May 7, 2020
Mānoa Campus, John Young Museum of Art, Krauss Hall
---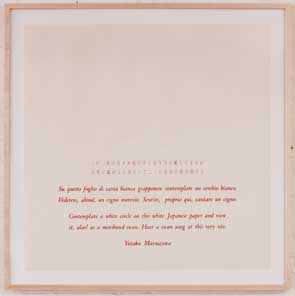 Due to the COVID-19 health emergency, this exhibition and its events are closed to the public to protect the health and safety of our visitors, employees, and community until further notice. Thank you for your understanding and support.
Events + Programs (events are free and open to the public)
Sunday, January 26
2:00 – 3:00 p.m., Walkthough of the exhibition by co-curators Alan Longino and Reiko Tomii
3:00 – 5:00 p.m., Opening Reception
Monday, January 27, Art Building, Room 101
4:00 – 5:00 p.m., Public lecture by Alan Longino and Reiko Tomii
"Yutaka Matsuzawa: Towards Quantum Art" is the first major solo exhibition in the United States that presents the work of the elder statesman of Japanese conceptualism, Yutaka Matsuzawa (1922–2006). It is also the first presentation of Matsuzawa's work in Hawaii.
Matsuzawa emerged in the early 1960s with his singular text-based practice as part of the country's Anti-Art (Han-geijutsu) movement. His conceptualism combines his eschewal of materialism with an eclectic interest in philosophy and religion (especially non-Zen Buddhism), the occult and parascience, UFOs and contemporary physics (especially quantum physics and astrophysics). The result was "art of kannen," wherein "kannen" signifies both the modern sense of "idea" and the ancient Buddhist sense of "meditative visualization," that would transcend time and space with a far-reaching implication for human civilization.
The exhibition "Yutaka Matsuzawa: Towards Quantum Art" is co-curated by Alan Longino and Dr. Reiko Tomii and originated at Yale Union, Portland, OR.
Re-published alongside this exhibition, for the first time in nearly three decades, is the artist's seminal publication, Quantum Art Manifesto (1988). Copies of this new publication, including a text by Dr. Reiko Tomii and foreword by Haruo Matsuzawa, are available. An exhibition copy is on display.
Image: Yutaka Matsuzawa, "Swan Song," 1978. Courtesy of Kumiko Matsuzawa collection and Yale Union, Portland, OR
Ticket Information
Museum hours: Sunday – Friday 12:00–4:00 p.m.; Admission is free. By appointment Spring Recess, Mar. 16–20. Closed Presidents Day, Feb. 17; Prince Kuhio Day, Mar. 26; Good Friday, Apr. 10; Easter, Apr. 12. During weekdays parking fees may apply; parking i
Event Sponsor
Art & Art History, Mānoa Campus
More Information
Sharon Tasaka, 808-956-8364, gallery@hawaii.edu, https://hawaii.edu/art/matsuzawa-quantum/
---