Hawaii Book and Music Festival webinar - Arts & Culture for Hawaii 2.0
October 20, 12:00pm - 1:00pm
Mānoa Campus, Zoom webinar
---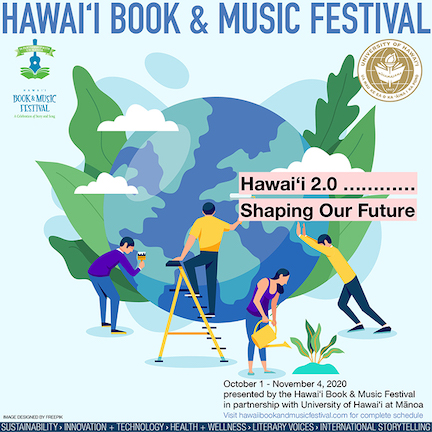 The 15th annual Hawaii Book & Music Festival takes off virtually this year with a special set of in-depth presentations covering a variety of topics deeply impacting our local community.
A musician and chanter, a UH Manoa filmmaker, a leading stage director, a state arts and culture administrator, and an arts activist discuss how the arts can be sustained and thrive in Hawaii 2.0.
Read more at the Hawaii Book and Music Festival Website.
Event Sponsor
Various departments, Mānoa Campus
More Information
Amy Hammond, 808-223-6040, https://hawaiibookandmusicfestival.com/
---
Tuesday, October 20

10:00am

Reopening of Hawaii's Tourism Webinar Series - Hotel Industry

Mānoa Campus, Virtual Via Zoom
10:30am

SCEP Live Online Fall International Storyteller Series: Yasu Ishida

Mānoa Campus, Free event hosted by SCEP Live Online
10:30am

Hawaii Book and Music Festival webinar - Dreamer's Circus

Mānoa Campus, Zoom webinar
11:00am

Applying for Scholarships

Mānoa Campus, https://www.honolulu.hawaii.edu/ikea
11:00am

Navigating the IRB/eProtocol Process

Mānoa Campus, Zoom
12:00pm

East-West Toastmasters Leadership/Public Speaking Club Meeting

Mānoa Campus, Online meeting via Zoom: email santiago@hawaii.edu for login information
12:00pm

Hawaii Book and Music Festival webinar - Arts & Culture for Hawaii 2.0

Mānoa Campus, Zoom webinar
5:00pm

Admissions Zoom Information Session

Mānoa Campus, Virtual
5:30pm

Weaving Voices: Looking to Our Past for New Political Visions

Mānoa Campus, Online via Zoom