"Wominjeka (Welcome): Wurundjeri and Dja Dja Wurung Languages of Australia"
October 28, 2:00pm - 3:30pm
Mānoa Campus, Online Event
---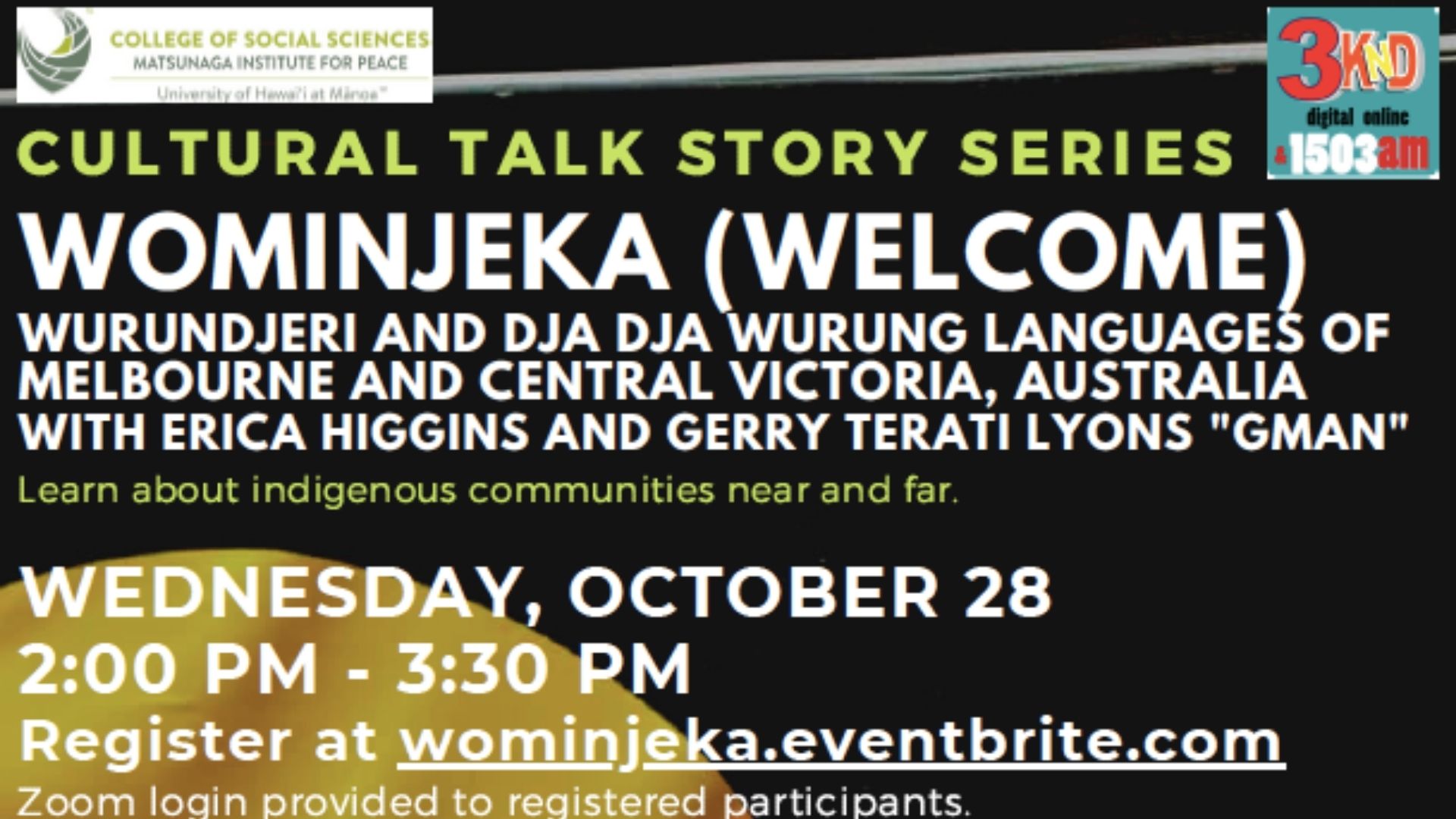 Join us to learn about how 3KND (Kool N Deadly), Melbourne's first Indigenous owned and managed AM radio station, connects with the community as the modern "Message Stick" of today. It hit the airwaves in June 2003 and is proudly Melbourne's only Aboriginal & Torres Strait Islander Radio Station. They are an Independent and not-for-profit Indigenous Radio and Media Broadcasting Service.
3KND Kool N Deadly Radio Station broadcasts media services on the airwaves 24 hours, 7 days a week in Melbourne. They are a "Voice of Indigenous Victoria Australia." They offer our Aboriginal & Torres Strait Islander community members from Melbourne and wider Victoria the unique opportunity to share their experiences, concerns, perspectives and information with the wider community and neighbors over the 3KND radio Airwaves and Internet.
Event Sponsor
Matsunaga Institute for Peace, Mānoa Campus
More Information
Jose Barzola, 808-956-6433, uhip@hawaii.edu, http://wominjeka.eventbrite.com
---
Wednesday, October 28

10:30am

Hawaii Book and Music Festival webinar - Japanese Folktales for Halloween

Mānoa Campus, Zoom webinar
11:00am

It's Keiki Time with SPAM

Mānoa Campus, Zoom
12:00pm

Long-term impact of the protest cycle of the '60s-'70s on Japanese society t

Mānoa Campus, Zoom
12:00pm

"100th Anniversary of Chinese Studies at the University of Hawai'i at Mano

Mānoa Campus, https://hawaii.zoom.us/webinar/register/WN_vI3qjgreS9SCvE10s3UnGg
1:00pm

Education Final Oral

Mānoa Campus, Zoom Meeting
2:00pm

"Wominjeka (Welcome): Wurundjeri and Dja Dja Wurung Languages of Australia"

Mānoa Campus, Online Event
2:00pm

WRRC/Ike Wai Fall Seminar

Mānoa Campus, Zoom Meeting
2:30pm

College of Social Sciences Info Session: Sociology

Mānoa Campus, Online via Zoom
3:30pm

Atmospheric Sciences Seminar

Mānoa Campus, Virtual Meeting
3:30pm

ORE Seminar: Fluid-Structure Interactions: From Fundamentals of Flow-in

Mānoa Campus, Zoom Meeting, Please see description for Meeting ID and Passcode
5:00pm

Shadowing and Networking Workshop

Mānoa Campus, Sinclair 107B
7:00pm

Brandt Webinar, Polynesian Ancestral Knowledge

Mānoa Campus, https://bit.ly/brandtweb