Disparate Impact in Covid; Lifting Up Native Hawaiian and LGBTQ+ Communities
October 29, 2:00pm - 3:00pm
Mānoa Campus, On Zoom; Pre-registration: http://go.hawaii.edu/9JV
---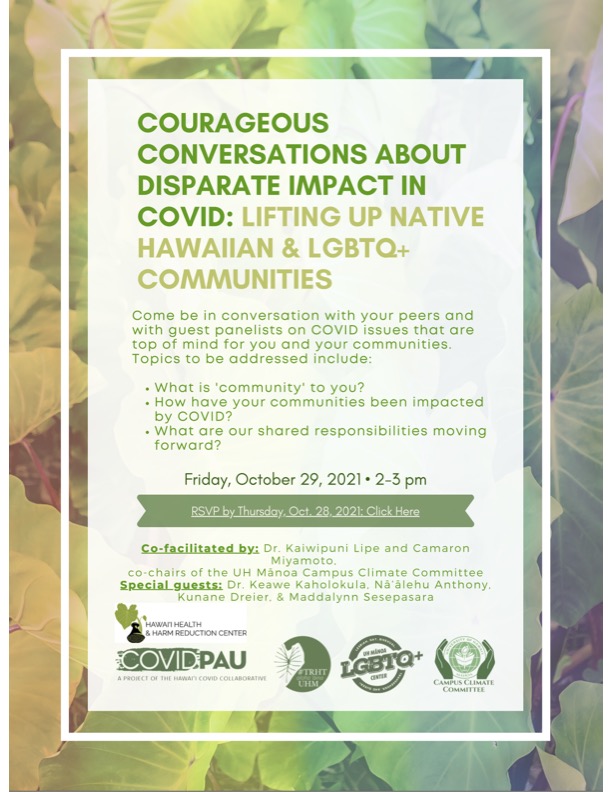 Covid has been an unprecedented time and one of the realities for marginalized communities is that existing societal inequalities have been exacerbated. Come be in conversation with your peers and with guest panelists on COVID issues that top of mind for you and your communities. Topics to be addressed include:
What does ʻcommunityʻ mean to you?
How have your communities been impacted by Covid?
What are our shared responsibilities moving forward?
Co-facilitated by: Dr. Kaiwipuni Lipe and Camaron Miyamoto, co-chairs of the UH Mānoa Campus Climate Committee
Special guests: Dr. Keawe Kaholokula, Nāʻālehu Anthony, Kunane Dreier and Maddalyn Sesepasara.
Co-sponsored by: COVID PAU, a project of the Hawaiʻi Covid Collaborative; Hawaiʻi Health and Harm Reduction Center; UHM Truth, Racial Healing and Transformation; UHM LGBTQ+ Center; UHM Campus Climate Committee.
Ticket Information
Pre-Registration is required: http://go.hawaii.edu/9JV
Event Sponsor
Campus Climate Committee, Mānoa Campus
More Information
Camaron Miyamoto, (808) 956-9250, camaronm@hawaii.edu
---
Friday, October 29

9:00am

Geography Final Oral

Mānoa Campus, Zoom Video Conferencing, Link Below
10:00am

Architecture Final Oral

Mānoa Campus, Zoom Video Conferencing, Link Below
11:30am

Mental Wellness and Coping During Challenging Times

Mānoa Campus, Zoom
2:00pm

Hawai'i Data Science Institute Seminar

Online via Zoom
2:00pm

Disparate Impact in Covid; Lifting Up Native Hawaiian and LGBTQ+ Communities

Mānoa Campus, On Zoom; Pre-registration: http://go.hawaii.edu/9JV
3:00pm

HIDSI Scientific Software Basics Workshop

Online via Zoom
3:30pm

Aloha ʻĀina Fridays: Huli ka lima i lalo, Mālama ʻĀina Afternoons

Mānoa Campus, TBD
10:30pm

Faculty-Sponsored Study Tours (FaSST) Virtual Information Meeting

Mānoa Campus, Virtual - Zoom