Hawai'i Nō Ka 'Oi: A Sakamoto Celebration
February 24, 7:30pm - 9:00pm
Mānoa Campus, 1770 East-West Rd
---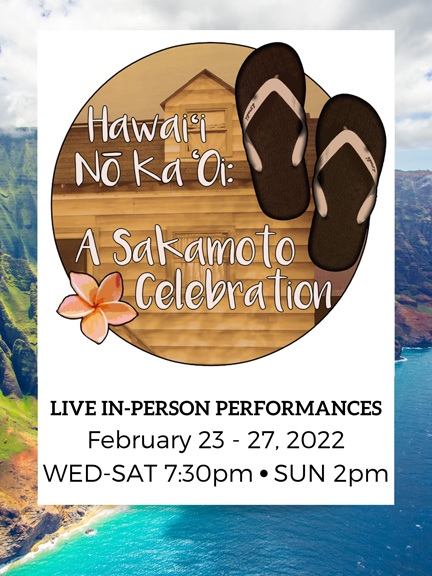 Prime Time Series
February 23-27, 2022
WED-SAT at 7:30pm
SUN at 2:00pm
Performed live for in-person audiences (subject to public health advisory changes).
Program Director: Tammy Haili'ōpua Baker
Showcasing selected scenes spanning the breadth of Edward Sakamoto's career and guided by a variety of directors, this performance will stand as a testament to Sakamoto's contribution to the local and world-wide theatre community. His plays uniquely feature stories from and about Hawai'i from a specifically Japanese-American point of view, depicting the highs and lows, the struggles and celebrations, and highlighting how culturally diverse the Hawaiian archipelago has become.
Ticket Information
https://www.showtix4u.com/event-details/59895
Event Sponsor
dept. of theatre and dance, Mānoa Campus
More Information
Christine Lamborn, 8089567655, ktbox@hawaii.edu, https://manoa.hawaii.edu/liveonstage/sakamoto/
---