Talk Story with Tech Professionals
March 21, 5:00pm - 6:30pm
Mānoa Campus, University Laboratory School Multipurpose Room, 1776 University Avenue, Honolulu, HI, 96822
---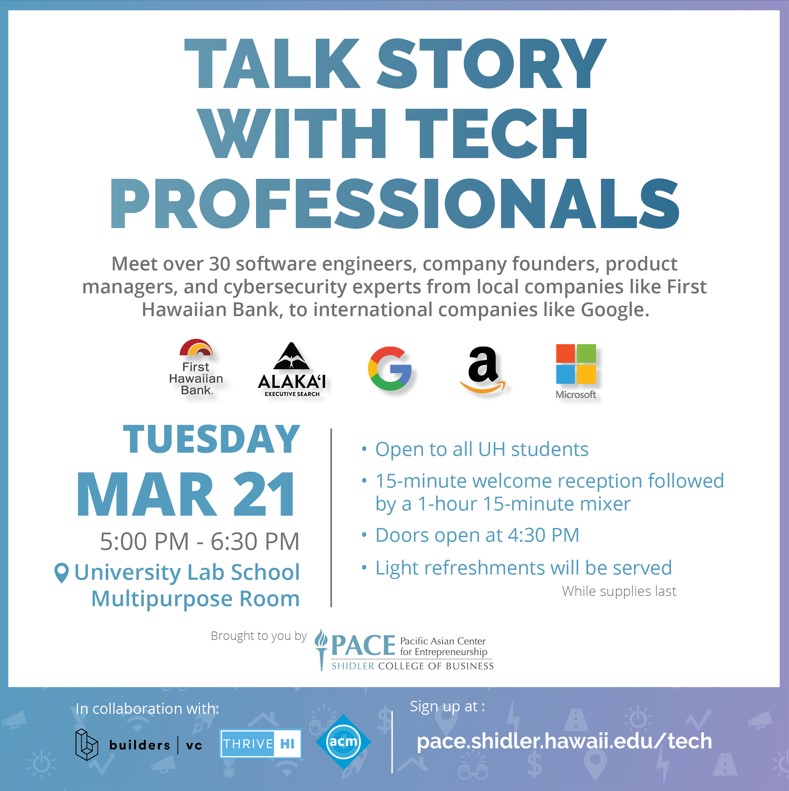 Interested in a career in technology, but not sure what sector to pursue or how to take the first step? Why not ask current technology professionals employed at local and international companies?
Meet over 30 software engineers, company founders, product managers, and cybersecurity experts – all in one place at our Talk Story with Technology Professionals event! Join us for a brief 15-minute welcome reception followed by a 1-hour 15-minute mixer where you can chat face-to-face with the speakers. There will also be a special, separate 1-hour breakout session: The Pros Define 4 Tech Sectors. In this session, one individual from each of four different tech sectors will speak for 15 minutes about what it means to truly work in their position. The breakout will conclude with 15 minutes of Q&A and networking.
This event is open to UH students of all majors and campuses and to students of other campuses by special invitation. Register here.
Location: University Laboratory School Multipurpose Room, 1776 University Avenue, Honolulu, HI, 96822
The University Laboratory School is on the Ewa side of University Avenue, bordered by Metcalf Street and Dole Street. The Multipurpose Room is located near the corner of University Avenue and Dole Street, opposite the Sinclair Circle bus stop.
Light refreshments will be served while supplies last.
Event Sponsor
Pacific Asian Center for Entrepreneurship (PACE), Mānoa Campus
More Information
Jessie Qay Chen, 8089565301, pace@hawaii.edu, https://pace.shidler.hawaii.edu/tech
---
Tuesday, March 21

8:00am

Geography & Environment Final Oral

Mānoa Campus, Zoom Video Conferencing, Link Below. Please email reecej@hawaii.edu for the passcode.
8:00am

History Final Oral

Mānoa Campus, SAK A201 and Zoom Video Conferencing, Link Below.
10:00am

Study Abroad Info Meeting - Semester in Paris, France

Mānoa Campus, Zoom
12:00pm

East-West Toastmasters Leadership/Public Speaking Club Meeting

Mānoa Campus, Hemenway Hall 215 and online Zoom meeting: email santiago@hawaii.edu for login information
3:00pm

Resume & Cover Letter: Market Yourself on Paper

Mānoa Campus, Zoom Meeting
3:00pm

Study Abroad Info Session - Semester in Adelaide, Australia

Mānoa Campus, Zoom
5:00pm

Talk Story with Tech Professionals

Mānoa Campus, University Laboratory School Multipurpose Room, 1776 University Avenue, Honolulu, HI, 96822
5:30pm

Ulu Lehua Information Session

Mānoa Campus, Online/Via Zoom
6:00pm

Misinformation and the Raid on Parihaka, NZ, 1881

West Oʻahu Campus, Zoom
6:30pm

Buddhism Lecture

Mānoa Campus, Watanabe Hall 112 or Zoom