EECB Evoluncheon Series
Fridays 11:30 to 12:30
Gilmore 306
**CANCELLED FOR THE REMAINDER OF THE SEMESTER**
17

Faculty meeting

24

Student meeting

31

Dr Julie Fortin

University of British Columbia

Altmetrics and gender

Spring semester 2020

January
February
7

Dr Pham, Hong Thai

Vietnam National Museum of Nature

Vietnam, a champion for biodiversity: a win-win commitment

14

Graduate students

Comprehensive exam preparation panel

21

Joshua Hibit

School of Life Sciences (Botany)

Differential change in indigenous and endemic plant cover over time across abiotic gradients in an invaded Hawaiian landscape

Emily Thyroff

Department of Natural Resources and Environmental Management

Regeneration of 'Iliahi, Hawaiian sandalwood

28

Museum Tours - meet in Gilmore 306 as usual

Insect Museum - led by Brad Reil

Herbarium - led by Julia Douglas
March
6/7

Drs. Lindsay Young and Eric VanderWerf

Pacific Rim Conservation

Translocation of Hawaiian seabirds to high islands to mitigate effects of climate change: Operation Island Ark

Followed by a field day to James Campbell NWR on Saturday 7/7

13

**POSTPONED**

Dr. Karolina Heyduk

School of Life Sciences

Convergent evolution: a case study in plant photosynthetic pathways

20

No Evoluncheon - Spring Break

27

**CANCELLED**

Panel discussion

Non-academic careers for graduate students
April
3

**CANCELLED**

Casual Friday - various student presentations

Details forthcoming

10

No Evoluncheon - Good Friday

17

**CANCELLED**

**TESTER ALSO CANCELLED**

Graduate students

Tester Symposium practice session

(tentative)

24

**TESTER CANCELLED**

No Evoluncheon - Tester Symposium
1

**CANCELLED**

Panel discussion

Logistics of conducting fieldwork outside the U.S.

8

**CANCELLED**

Dr. Don Drake

School of Life Sciences

Discussion: great summer books in EECB

15

**POSTPONED**

Dr. Matt Medeiros

Pacific Biosciences Research Center

Title forthcoming

May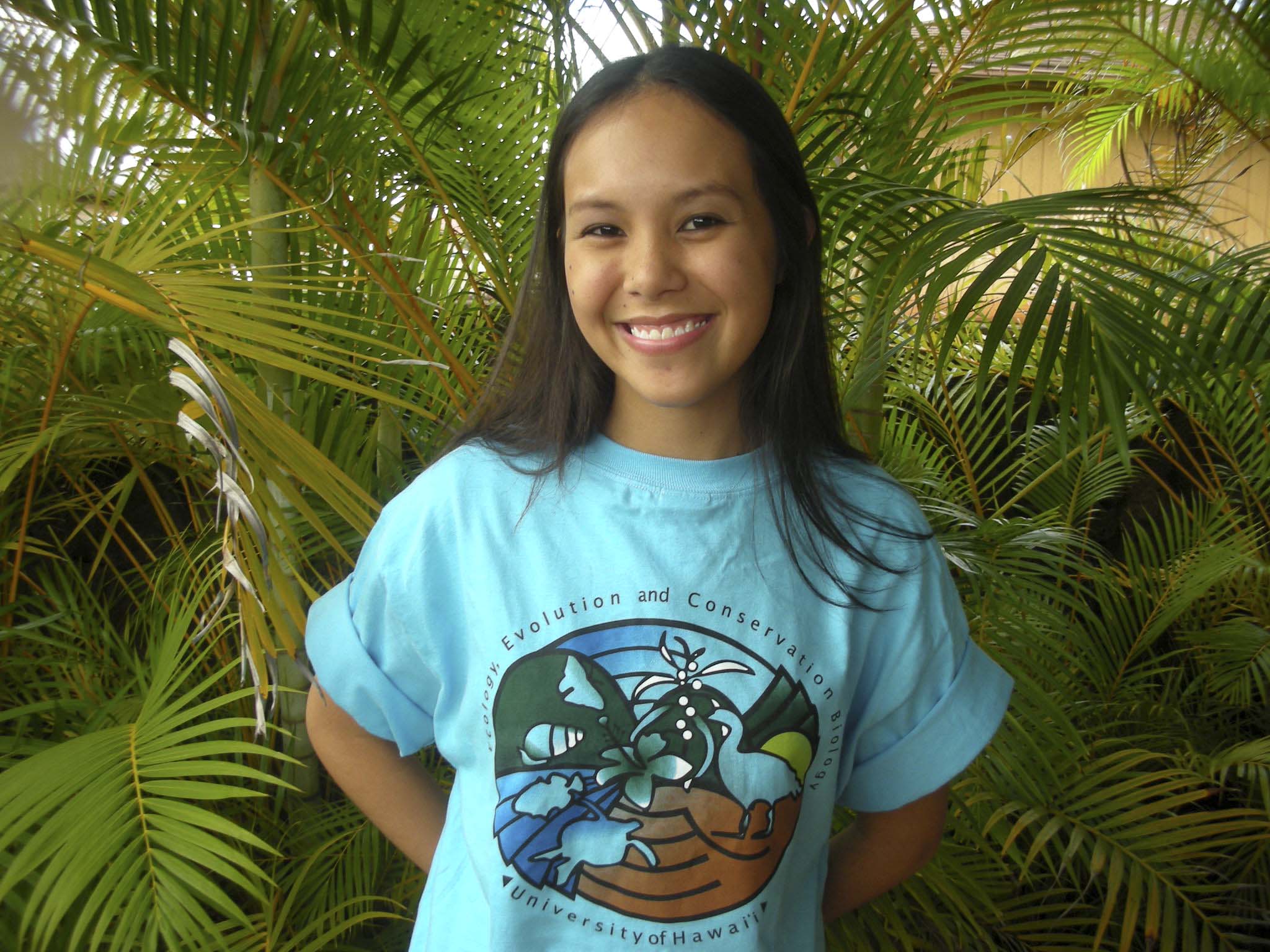 EECB Tee Shirts Available
Contact Cliff Morden (cmorden@hawaii.edu)
Welcome to EECB
The EECB graduate specialization at the University of Hawai'i at Mānoa is an interdisciplinary program promoting integration among the traditionally separate disciplines that come together synergistically under the umbrella of Ecology, Evolution and Conservation Biology. Participation in the program is available to students enrolled in the affiliated graduate programs. The program draws on the resources of approximately 50 faculty with research skills in many specialized areas, from various programs in the College of Natural Sciences, the College of Social Sciences, the College of Tropical Agriculture and Human Resources, the School of Medicine, and the School of Ocean and Earth Science and Technology, as well as from the University of Hawaii at Hilo and affiliate faculty from other agencies.
Please send news items to Rob Cowie (cowie@hawaii.edu)
Go Fund Me for Grad Student Josh Copus


PhD student Joshua Copus died during a deep research dive in the
Solomon Islands.  Please consider a contribution to help his pregnant wife
and 4-year-old son:

https://www.gofundme.com/f/help-cassie-and-isaac
___________________________________________________________________
Dr. Chris Muir, School of Life Sciences, has been elected to the EECB faculty.
Dr. Rosana Zenil-Ferguson, Department of Biology, has been elected to the EECB faculty.
Dr. Jake Ferguson, Department of Biology, has been elected to the EECB faculty.
Dr. Anna Sugiyama, Department of Botany and Lyon Arboretum, has been elected to the EECB faculty.
Please welcome new EECB students joining the program in fall 2019:
Botany—Leah Thompson; Natural Resources and Environmental Management—Emily Thyroff; Zoology—Helen Sung, Leon Tran
The 2019-2020 graduate student representatives are Ryan Jones and Maria Costantini
Thanks to Ryan for taking this on again and welcome to Maria. And thanks to retiring representatives Veronica Gibson and Luke Campillo for their service and for the innovations that they have brought to the program!
EECB Fellowships 2019
The following graduate students were awarded EECB fellowships:
Maybelle Roth Fellowship - Luke Campilo, Sarah Tucker
Watson T. Yoshimoto Fellowship - Sean Canfield, Elizabeth Conlon, Hannah Moon, Van Wishingrad
Hampton & Meredith Carson Fellowship - Marisa McDonald, Sitara Palecanda
Latest News from EECB
EECB Book Clubs
If you are interested in an EECB book club please access this Google doc to add titles and list your interest in joining. All, including faculty and staff, are very welcome to join.
Scientific writing, publishing and reviewing—a guide for students
As a follow-up to the 30 October 2015 Evoluncheon (Drs. Mark Hixon and Rob Toonen), a link is provided here to Mark's extremely useful 2004 co-authored paper "Scientific writing, publishing and reviewing—a guide for students" published in the Ecological Society of America Bulletin. And here is a link to former EECB faculty member Dr. Chris Lepczyk's 2011 paper "A beginner's guide to reviewing manuscripts in ecology and conservation" published in Ideas in Ecology and Evolution.
A selection of new publications by EECB faculty and students in 2019 and 2020
(including research by former students while in EECB)
Ainsworth, A. & Drake, D.R. 2020. Classifying plant species along a habitat generalist-specialist continuum: implications for species conservation under climate change. PLoS ONE 15(2): e0228573.
Barley, A.J., Nieto-Montes de Oca, A., Reeder, T.W., Manriquez-Moran, N.W., Arenas Monroy, J.C., Gallegos Hernandez, O. & Thomson, R.C. 2019. Complex patterns of hybridization and introgression across evolutionary timescales in Mexican whiptail lizards. Molecular Phylogenetics and Evolution 132: 284-295.
Barton, K.E. & Wong, A. 2019. Plant competition as a mechanism of invasion on islands – a re-analysis of Kuebbing and Nuñez (2016). Biotropica 51: 316-318.
Barton, K.E., Edwards, K.F. & Koricheva, J. 2019. Shifts in woody plant defence syndromes during leaf development. Functional Ecology on-line early. doi: 10.1111/1365-2435.13435
Birkeland, C. 2019. Global status of coral reefs: In combination, disturbances and stressors become ratchets. In: World Seas: an Environmental Evaluation, 2nd edition, Volume 3 (ed. Sheppard, C.R.C.), p. 35-56. Elsevier, Oxford.
Cadavid-Florez, L., Laborde, J. & Zahawi, R.A. 2019. Using landscape composition and configuration metrics as indicators of woody vegetation attributes in tropical pastures. Ecological Indicators 101: 679-691.
Chong, R.A., Park, H. & Moran, N.A. 2019. Genome evolution of the obligate endosymbiont Buchnera aphidicola. Molecular Biology and Evolution 36(7): 1481-1489.
Chung, A.E., Wedding. L.M., Green. A.L., Friedlander. A.M., Goldberg. G., Meadows. A. & Hixon, M.A. 2019. Building Coral Reef Resilience Through Spatial Herbivore Management. Frontiers in Marine Science. 6: 98. doi:10.3389/fmars.2019.00098
Cowie, R.H. (Editor) 2020. Newsletter of the IUCN/SSC Mollusc Specialist Group. No. 27, 53 p.
Cowie, R.H. 2019. Eua mauga Cowie, 2019, new replacement name for Partula montana Cooke & Crampton, 1930 (currently Eua montana), a junior primary homonym of Partula montana Moellendorff, 1900 (Gastropoda: Partulidae). Bishop Museum Occasional Papers 131: 1-6.
Cowie, R.H. 2019. Annotated catalogue of species of Angiostrongylus and the related genera Gallegostrongylus, Rodentocaulus and Stefanskostrongylus (Nematoda: Metastrongyloidea, Angiostrongylidae). Journal of Helminthology 93(4): 389-423.
Cowie, R.H. & Hayes, K.A. 2019. Ampullariidae Gray, 1824. In: Freshwater Mollusks of the World. A Distribution Atlas (ed. Lydeard, C. & Cummings, K.S.), p. 37-42. Johns Hopkins University Press, Baltimore.
Cowie, R.H., Rollins, R.L., Medeiros, M.C.I. & Christensen, C.C. 2019. New records of Clausiliidae: Tauphaedusa tau (Boettger, 1877) (Gastropoda: Heterobranchia) on O'ahu, Hawaiian Islands, and the first global record of infection of a clausiliid land snail with Angiostrongylus cantonensis (Chen, 1935), the rat lungworm. Bishop Museum Occasional Papers 126: 11-18.
Crain, B.J., Tremblay, R.L. & Ferguson, J.M. 2019. Weathering the storm: population viability analysis of a rare endemic under periodic catastrophe regimes. Population Ecology 61: 74-92.
Craven, D., Knight, T.M., Barton, K.E., Bialic-Murphy, L. & Chase, J.C. 2019. Dissecting macro-ecological and macro-evolutionary patterns of diversity across the Hawaiian archipelago. Proceedings of the National Academy of Sciences of the USA 116: 16436-16441.
Curry, P.A., Yeung, N.W., Hayes, K.A. & Cowie, R.H. 2020. The potential tropical island distribution of a temperate invasive snail, Oxychilus alliarius, modeled on its distribution in Hawaii. Biological Invasions 22: 307-327.
Cytrynbaum, E.G., Small, C.M., Kwon, R.Y., Hung, B., Kent, D., Yan, Y., Knope, M.L., Bremiller, R.A., Desvignes, T. & Kimmel, C.B. 2019. Developmental tuning of mineralization drives morphological diversity of gill cover bones in sculpins and their relatives. Evolution Letters 3(4): 374-391.
Damashek, J., Tolar, B.B., Liu, Q., Okotie-Oyekan, A., Wallsgrove, N.J., Popp, B.N. & Hollibaugh, J.T. 2019. Microbial oxidation of nitrogen supplied as ammonium, urea, polyamines, and selected amino acids in the South Atlantic Bight. Limnology and Oceanography 64: 982-995.
Del Valle-Echevarria, A.R., Kantar, M.B., Branca, J., Moore, S., Frederiksen, M.K., Hagen, L., Hussain, T. & Baumler, D.J. 2019. Aeroponic cloning of Capsicum spp. Horticulturae 5(2): 30. doi.org/10.3390/horticulturae5020030
Ferguson, J.M., McCartney, M.A., Blinick, N.S., Schroeder, L. &Fieberg, J. 2019. Using distance sampling to estimate densities of zebra mussels (Dreissena polymorpha) in early-stage invasions. Freshwater Science 38(4): 856-868. doi:10.1086/706105
Ferguson, J.M., Miura T. & Miller, C.R. 2019. A two-stage experimental design for dilution assays. Biometrics 75(3): 1009-1016.
Filous, A., Lennox, R.J., Danylchuk, A.J., Coleman R.R., Friendlander, A.M., Clua, E.E. & Danylchuk, A.J. 2019. Life history characteristics of an exploited bonefish (Albula glossodonta) population in a remote south Pacific atoll. Journal of Fish Biology 95: 562-574.
Frable, B.W., Tucker, S.J., Walker, H.J. 2019. A new species of grouper, Epinephelus craigi (Epinephelus: Perciformes), from the South China Sea. Ichthyological Research 66(2): 215-224.
Goodman, R.M., Tyler, J.A., Reinartz, D.M. & Wright, A.N. 2019. Survey of Ranavirus and Batrachochytrium dendrobatidis in introduced frogs in Hawaii. Journal of Wildlife Diseases 55(3): 668-672.
Gray, L.N., Barley, A.J., Poe, S., Thomson, R.C., Nieto-Montes de Oca, A. & Wang, I.J. 2019. Phylogeography of a widespread lizard complex reflects patterns of both geographic and ecological isolation. Molecular Ecology 28: 644-657.
Green, S.J., Dilley, E.R., Benkwitt, C.E., Davis, A.C.D., Ingeman, K.E., Kindinger, T.L., Tuttle, L.J. & Hixon, M.A. 2019. Trait-mediated foraging drives patterns of selective predation by native and invasive coral-reef fishes. Ecosphere 10(6): e02752.
Hetherington, E.D., Kurle, C.M., Ohman, M.D. & Popp, B.N. 2019. Effects of chemical preservation on bulk and amino acid isotope values of zooplankton, fish and squid tissues. Rapid Communications in Mass Spectrometry 33: 935-945.
Hixon, M.A. & Randall, J.E. 2019. Coral reef fishes. In: Encyclopedia of Ocean Sciences. 3rd edition, vol. 2 (ed. Cochran, J.K., Bokuniewicz, H.J. & Yager, P.L.) p. 142-150. Elsevier, Oxford.
Johnson, G.B., Taylor, B.M., Robbins, W.D., Franklin, E., Toonen, R.J., Bowen, B.W. & Choat, J.H. 2019. Diversity and structure of parrotfish assemblages across the northern Great Barrier Reef. Diversity 11: 14. doi:10.3390/d11010014
Joo, S., Jung, S., Lee, S., Cowie, R.H. & Takagi, D. 2020. Freshwater snail feeding: lubrication-based particle collection on a free surface. Journal of the Royal Society Interface 17: 20200139.
Kantar, M.B., Runck, B., Raghavan, B., Joglekar, A.B., Senay, S., Krohn, B., Neyhart, J., Bradeen, J., Soto Gomez, M. & Kjelgren, R. 2019. The Many-faced Janus of plant breeding. Plants, People, Planet 1: 306-309.
Khoury, C.K., Kisel, Y., Kantar, M.B., Barber, E., Ricciardi, V., Klirs, C., Kucera, L., Mehrabi, Z., Johnson, N., Klabin, S., Valiño, A., Nowakowski, K., Bartomeus, I., Ramankutty, N., Miller, A., Schipanski, M., Gore, M.A. & Novy, A. 2019. Science–graphic art partnerships to increase research impact. Communications Biology 2: 295. doi.org/10.1038/s42003-019-0516-1
Kim, J.R., Wong, T.W., Curry, P.A., Yeung, N.W., Hayes, K.A. & Cowie, R.H. 2019. Modelling the distribution in Hawaii of Angiostrongylus cantonensis (rat lungworm) in its gastropod hosts. Parasitology 146(1): 42-49.
Lambert M.R., McKenzie J.M., Screen R.M., Clause A.G., Johnson B.B., Mount G.G., Shaffer H.B. & Pauly G.B. 2019. Experimental removal of introduced slider turtles offers new insight into competition with a native, threatened turtle. PeerJ 7: e7444.
Lum, T.D. & Barton, K.E. 2020. Ontogenetic variation in salinity tolerance and ecophysiology of coastal dune plants. Annals of Botany 125(2): 301-314 .
Mehrabi, Z., Pironon, S., Kantar, M.B., Ramankutty, N. & Rieseberg, L. 2019. Shifts in the abiotic and biotic environment of cultivated sunflower under future climate change. OCL - Oilseeds and fats, Crops and Lipids 26: 9. doi.org/10.1051/ocl/2019003
Mora, C., Rollins, R.L., Taladay, K., Kantar, M.B., Chock, M.K., Shimada, M. & Franklin, E.C. 2018. Mora et al. reply. Nature Climate Change 9(9): 658-659.
Motta, L.C., Blum, J.D., Johnson, M.W., Umhau, B.P., Popp, B.N., Washburn, S.J., Drazen, J.C., Benitez-Nelson, C.R., Hannides, C.C.S, Close, H.G., & Lamborg, C.H. 2019. Mercury cycling in the North Pacific subtropical gyre as revealed by mercury stable isotope ratios. Global Biogeochemical Cycles 33: 777-794.
Nichols, P.N. & Marko, P.B. 2019. Rapid assessment of coral cover from environmental DNA in Hawai'i. Environmental DNA 1(1): 40-53.
Norder, S.J., Proios, K.V., Whittaker, R.J., Alonso, M.R., Borges, P.A.V., Borregaard, M.K., Cowie, R.H., Florens, F.B.V., de Frias Martins, A.M., Ibáñez, M., Kissling, W.D., de Nascimento, L., Otto, R., Parent, C.E., Rigal, F., Warren, B.H., Fernández-Palacios, J.M., van Loon, E.E., Triantis, K.A., & Rijsdijk, K.F. 2019. Beyond the last glacial maximum: island endemism is best explained by long-lasting archipelago configurations. Global Ecology and Biogeography 28(2): 184-197.
Pinheiro, H.T., Shepherd, B., Castillo, C., Abesamis, R.A., Copus, J.M., Pyle, R.L., Greene, B.D., Coleman, R.R., Whitton, R.K., Thillainath, E., Bucol, A.A., Birt, M., Catania, D., Bell, M. & Rocha, L.A. 2019. Deep reef fishes in the world's epicenter of marine biodiversity. Coral Reefs 38: 985-995.
Piovia-Scott, J., Yang, L.H., Wright, A.N., Spiller, D.A. & Schoener, T.W. 2019. Pulsed seaweed subsidies drive sequential shifts in the effects of lizard predators on island food webs. Ecology Letters 22(11): 1850-1859.
Reimer, J.D., Kise, H., Santos, M.E.A., Lindsay, D.J., Pyle, R.L., Copus, J.M., Bowen, B.W., Nonaka, M., Higashiji, T. & Benayahu, Y. 2019. Exploring the biodiversity of understudied benthic taxa at mesophotic and deeper depths: examples from the order Zoantharia (Anthozoa: Hexacorallia). Frontiers in Marine Science 6: 305. doi: 10.3389/fmars.2019.00305
Riggs, R.A., Taylor, A.D., Thomson, R.C. & Cowie, R.H. 2019. Sexual dimorphism and seasonal variability of shield size in the endangered Hawaiian Coot (Fulica alai). Waterbirds 42(1): 70-77.
Rivero, R., Sessa, E.B. & Zenil-Ferguson, R. 2019. EyeChrom and CCDB curator: visualizing chromosome count data from plants. Applications in Plant Sciences 7(1): p.e01207.
Romero-Romero, S., Choy, C.A., Hannides, C.C.S., Popp, B.N.& Drazen, J.C. 2019. Differences in the trophic ecology of micronekton driven by diel vertical migration. Limnology and Oceanography 64: 1473-1483.
Sale T.M., Marko P.B., Oliver T.M., & Hunter C.L. 2019. Assessment of acclimatization and subsequent survival of corals during repeated natural thermal stress events in Hawai'i. Marine Ecology Progress Series 624: 65-76.
Shih, J.L., Selph, K.E., Wall, C.B., Wallsgrove, N.J., Lesser, M.P & Popp, B.N. 2020. Trophic ecology of the tropical Pacific sponge Mycale grandis inferred from amino acid compound specific isotopic analyses. Microbial Ecology 79: 495-510.
Sommer, R.M. & Cowie, R.H. 2020. Invasive characters of veronicellid slugs in the Hawaiian Islands and temperature response suggesting possible range shifts under a changing climate. Journal of Molluscan Studies 86: 147-155.
Soto Gomez, M.F., Pokorny, L., Kantar, M.B., Forest, F., Leitch, I.J., Gravendeel, B., Wilkin, P., Graham, S.W. & Viruel, J. 2019. A customized nuclear target enrichment approach for developing a phylogenomic baseline for Dioscorea yams (Dioscoreaceae). Applications in Plant Science 7(6): e11254. doi.org/10.1002/aps3.11254
Stallman, J.K., Funk, V.A., Price, J.P., & Knope, M.L. 2019. DNA barcodes fail to accurately differentiate species within Hawaiian plant lineages. Botanical Journal of the Linnean Society 190(4): 374-388.
Stopnitzky, E., Still, S., Ouldridge, T.E. & Altenberg, L. 2019. Physical limitations of work extraction from temporal correlations. Physical Review E: 99(4): 042115.
Stopnitzky, E., Still, S., Ouldridge, T. E., & Altenberg, L. 2019. Physical limitations of work extraction from temporal correlations. In: The Energetics of Computing in Life and Machines (ed. Wolpert, D.H., Kempes, C., Stadler, P.F. & Grochow, J.A.), p. 335-402. Santa Fe Institute Press, Santa Fe. ISBN 978-1-947864-07-8.
Sun, J., Mu, H., Ip, J.C.H., Li, R., Xu, T., Accorsi, A., Alvarado, A.S., Ross, E., Lan, Y., Castro-Vazqueze, A., Vega, I.A., Heras, H., Ituarte, S., Van Bocxlaer, B., Hayes, K.A., Cowie, R.H., Zhao, Z., Zhang, Y., Qiana, P.-Y. & Qiu, J.-W. 2019. Signatures of divergence, invasiveness and terrestralization revealed by four apple snail genomes. Molecular Biology and Evolution 36(7):1507–1520.
Tripathy, B. Sajan, S. & Cowie, R.H. 2020. Illustrated catalogue of types of Ampullariidae Gray, 1824 (Mollusca, Gastropoda) in the National Zoological Collection of the Zoological Survey of India, with lectotype designations. Zoosystematics and Evolution 96(1): 1-23.
Viruel, J., Conejero, M., Hidalgo, O., Pokorny, L., Powell, R.F., Forest, F., Kantar, M.B., Soto Gomez, M.F., Graham, S.W., Gravendeel, B., Wilkin, P. & Leitch, I.J. 2019. A target capture-based method to estimate ploidy from herbarium specimens. Frontiers in Plant Science 10.937. doi: 10.3389/fpls.2019.00937
Vicente, J., Toonen, R.J. & Bowen, B.W. 2019. Hawaiian green turtles graze on bioerodiing sponges at Maunalua Bay, O'ahu, Hawai'i. Galaxia, Journal of Coral Reef Studies 21: 3-4.
Vizentin-Bugoni, J., Tarwater, C.E., Foster, J.T., Drake, D.R., Gleditsch, J.M., Hruska, A.M., Kelley, J.P., & Sperry, J.H. 2019. Structure, spatial dynamics, and stability of novel seed dispersal mutualistic networks in Hawaiʻi. Science 364: 78-82.
Wall, C.B., Ritson-Williams, R., Popp, B.N. & Gates, R.D. 2019. Spatial variation in the biochemical and isotopic composition of corals during bleaching and recovery. Limnology and Oceanography 64(5): 2011-2028.
Westerband, A., Kagawa-Viviani, A.K., Bogner, K., Beilman, D., Knight,T. & Barton, K.E. 2019. Seedling drought tolerance and functional traits vary in response to the timing of water availability in a keystone Hawaiian tree species. Plant Ecology 220: 321-344.
Yang, Q., Liu, S., He, C., Cowie, R.H., Yu, X. & Hayes, K.A. 2019. Invisible apple snail invasions: importance of continued vigilance and rigorous taxonomic assessments. Pest Management Science 75: 1277-1286.
Yeung, N.W., Meyer, W.M., III, Hayes, K.A., Kim, J.R., Skelton, T.J. & Cowie, R.H. 2019. Non-native gastropods in high elevation horticultural facilities in Hawaii - a threat to native biodiversity. Biological Invasions 21: 1557-1566.
IACUC protocols and regulations - Evoluncheon presentation by Melilssa Van Kleeck 12 December 2014
This page last modified 19 March 2020 by Rob Cowie