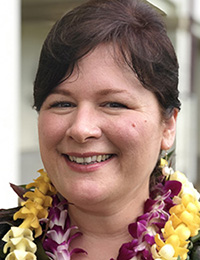 (808) 235-7402
  ardise@hawaii.edu
45-720 Keaʻahala Road
Alakaʻi 119A
Kāneʻohe, HI 96744
Ardis Eschenberg was appointed chancellor of Windward Community College January 2, 2019 after serving as vice chancellor for academic affairs at Windward CC. Since 2010, she has been at Windward CC and has also served as vice chancellor for student affairs and dean of language arts, humanities, and academic support.
She has a firm foundation in the college's budgetary process and managing multimillion-dollar grants. Eschenberg has also worked extensively with Native Hawaiian students to build on strengths and overcome barriers.
Previously, Eschenberg was at Nebraska Indian Community College, which provides for the higher education needs of the Isanti and Umonhon nations. She served as an academic dean responsible for daily decision-making and long-term planning, as co-instructor in the Umonhon language program, and as an advisor and Learning Center coordinator. She counseled and advised students who are primarily Native American, low-income, first-generation college students. She has more than 20 years of experience in higher education as an administrator and instructor.
Eschenberg holds a doctorate of philosophy in linguistics and master of arts in linguistics from the University at Buffalo, and bachelor of science in psychology and Russian from Tulane University in New Orleans.