---
AQ the Film, a documentary about Ah Quon McElrath, our latest project. See more at www.laborhistoryhawaii.org
---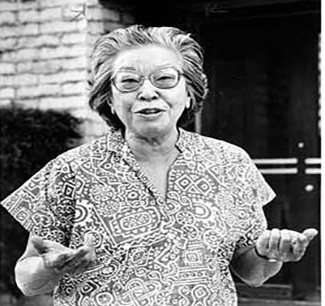 The Rice & Roses television series was a production of the University of Hawai'i's Center for Labor Education & Research (CLEAR) originally telecast on Hawai'i Public Television (KHET).
Videos and video clips from many of the most popular of these programs may now be viewed on the Center's YouTube Channel
---
Want to help? You can donate to CLEAR online through the UH Foundation. Mahalo nui!
THE GREAT HAWAIʻI DOCK STRIKE (1999, 60 minutes)
Fifty years from the day it was settled, Rice & Roses presents a unique look at this pivotal event in the development of the ILWU in Hawaiʻi and also in the development of labor unity necessary for a modern labor movement. The 171 day strike challenged the colonial wage pattern whereby Hawaiʻi workers received significantly lower pay than their West Coast counterparts even though they were working for the same company and doing the same work. With compelling first-hand accounts and dramatizations the program depicts how Hawaiʻi's dock workers suffered "red-baiting" and unrelenting attacks by a powerful alliance between the local media and corporate powers of the day brought back to life in photographs, film footage and the the storied accounts of those who lived through it like Ah Quon McElrath, Bud Smyser, Henry Walker, Jr., Mamoru Yamasaki, Senator Inouye and many of the striking longshoremen, including Joe Kahapea, Joe Kahee, Herman Kila, Levi Kealoha.
[Available online in two-parts:]
GETTING SOMEWHERES:(1998, 30 minutes)
A careful dramatization of the oral histories of Hawai'i working women, produced on location at Hawaiʻi's Plantation Village in Waipahu.
The unique interplay of work and family life of real plantation era women is amazingly recreated by Karen Yamamoto Hackler and Nan Ascuncion. Scripted by Victoria Nalani Kneubuhl, Directed by Joy Chong and Produced by Chris Conybeare.
1946: THE GREAT HAWAIʻI SUGAR STRIKE (1996, 60 minutes)
About twenty six thousand sugar workers and their families, 76 thousand people in all, began a 79-day strike on September 1, 1946 that completely shut down 33 of Hawaiʻi's 34 plantations. Produced 50 years after this landmark strike this program shows how it forever changed the islands economically, politically, and socially ushering in a new era of participatory democracy both on the plantations and throughout Hawaiʻi's political and social institutions. The show features an array of never-before-seen photos, artifacts and interviews with surviving strikers, their relatives and friends from all the islands who organized the food-kitchens and support committees.
[Available online in two-parts:]
BROTHERS UNDER THE SKIN (1986, 30 min. documentary)
A look at the beginning of the modern labor era in Hawaiʻi and the longshoremen and women who organized the Hilo waterfront during the 1930s, featuring actual film of the Hilo Massacre where peaceful demonstrators were gassed, hosed, then shot by police on August 1, 1938.
[Available online: the video, and the book]
BROTHERS UNDER THE SKIN (1989, 60 min. dramatization)
An original screenplay by Tremayne Tamayose based on Dr. Puette's book, The Hilo Massacre: Hawaii's Bloody Monday August 1st, 1938 (UH-CLEAR, 1988). Hilo Longshoreman Harry Kamoku's struggle to organize a dockworkers union is depicted including a recreation of the shooting on August 1st. [We regret that this program is not available for purchase.]
HARRY LEHUA KAMOKU: THE LEGEND RETURNS (1994, 30 min.)
The life and times of Harry Lehua Kamoku, one of Hawaiʻi`s greatest labor organizers is remembered. In the 1930s he helped bring Hilo Longshoremen of different races and backgrounds together for the first time. Featured are interviews and precious family photographs collected for a special ILWU memorial in Hilo held in January 1994.
JACK HALL: HIS LIFE AND TIMES (2008, 60 min.)
One of Hawai'i's greatest union organizers and labor leaders, Jack Wayne Hall (February 28, 1915 - January 2, 1971) steered Hawaiʻi away from feudalism and paternalism and helped bring industrial democracy to the islands, giving labor an equal place at the table of economic power. This documentary follows Hall's remarkable voyage from ordinary seaman to Regional Director of the International Longshore and Warehouse Union (ILWU) in Hawaiʻi, and to Vice-President at the ILWU International. It also traces some of the most critical events in island labor history. Compelling interviews include those with Hall's family, friends, politicians, members of the early years of labor organizing in Hawaiʻi, and labor historians. Jack Hall was a gifted speaker and journalist, and the documentary gives voice to his own thoughts in his own words. Shot in Hawaiʻi and San Francisco, combining exclusive archival film/photographs of early strikes, marches and speeches with on and off camera actors, Hall's speeches, journals and letters tell his amazing story and evoke a visceral sense of the times.
KOJI ARIYOSHI -Biography Hawaiʻi (2004 - 60 min. DVD)
Feareless and controversial editor of the Honolulu Record, Koji Ariyoshi lived a remarkable life at the center of events that transformed Hawaiʻi, America, China, and the world. Born on a Kona coffee plantation in 1914, he worked as a stevedore in Honolulu while attending the University of Hawaiʻi. He was employed on the San Francisco docks when World War II broke out, and soon found himself at Manzanar internment camp for American citizens and aliens of Japanese ancestry. When he enlisted in the U.S. Army, his language skills led to an assignment which ultimately carried him to Yenan, China, where he observed Communist re-education camps for Japanese POWs, and worked closely with several of China's future leaders, including Mao Zedung. After returning to Hawaiʻi, Ariyoshi became involved in union activities, and soon was editing the onolulu ecord, the voice of labor during the turbulent confl icts between unions and Hawaiʻi's ruling elites. In August 1951, Koji Ariyoshi was one of the activists arrested and charged with being Communists-a small group that became known as the Hawaiʻi Seven. Eventually acquitted, he later became a founder and champion for the University of Hawaiʻi's Ethnic Studies and Oral History programs, and for state historic preservation. This documentary contains interviews with family and friends, commentary by cultural historians, and stunning footage of wartime China. It is a production of the Center for Labor Education and Reserach, University of Hawaiʻi - West Oʻahu and the Center for Biographical Research, University of Hawaiʻi at Mānoa for the Biographical Research Center.
MEMORY LANE (1987, 30 min.)
Two segments featuring first railroad workers' recollections of the early days of locomotives used at Kaua'i sugar plantations, then interviews by Barabara Kawakami of a carpenter, a seamstress and four Japanese women who were former sugar workers in Waipahu recalling the 1920 Sugar Strike and the many hardships they endured.
MUSIC FROM FILIPINO CAMP (1987, 30 min, V-39)
Filipino immigrants have created a unique musical culture that has enriched our community with music that ranges from string bands to jazz and the Honolulu Symphony. Maestros from the plantation string band era talk story and play music. They are joined in this documentary special by impressario Tommy Tomimbang, his daughter Emme, jazz musician Gabe Baltazar and symphony arranger and bass player Angel Pena in this celebration of Filipino culture.
PICTURE BRIDES (1986, 30 minutes)
Nine years before the popular movie, Rice & Roses documented this story of the way Japanese, Korean and Okinawan plantation workers in Hawaiʻi arranged marriages with women back in their homelands whom they had never met, featuring University of Hawai'i's Alice Chai and Barbara Kawakami, explored the courage, wisdom and humor with which they faced their arranged marriages and the way they established new lives in Hawaiʻi.
PLANTATION MEMORIES (1986, 30 min, V-44)
The Rice & Roses camera brings scenes and talk story reminiscence from Kauaʻi's Grove Farm Plantation, Maui's Paʻia Mill foundry and a celebration cooking at the Waipahu Cultural Garden Park.
20 YEARS OF PREPAID HEALTH CARE (1994, 30 min.)
Generally recognized as one of the most progressive laws in the nation, Hawaiʻi's Prepaid Health Care Act is described and explained. Labor leaders and legislators, past and present, share their views on the history and the future of health care reform in Hawaiʻi and throughout the nation. Featured are interviews with State AFL-CIO President, Gary Rodrigues, Tommy Trask of the ILWU, former DLIR directors Robert Hasegawa and Dayton Nakanelua.
THE STATEHOOD YEARS - (1986, 30 min, V-13)
A co-production of CLEAR and the UH Oral History Project, Rice & Roses looks back at the people, issues and events that set the stage for Hawaiʻi's statehood, featuring interviews with such notables as Robert McElrath, Dan Aoki, Mrs. Burns, David Trask, and the former Governor Quinn.