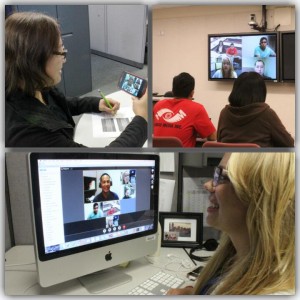 Information Technology Services provides various videoconferencing solutions and services for UH faculty and staff.
– Videoconference Rooms
– Desktop Videoconferencing
– ITS Bridging Service
– HITS (Hawaii Interactive Video Services)
– Videoconference Room Consultation
– What option best meet my videoconferencing needs?
Room-based Videoconferencing
[H.323 Standards-based]
Room-based video conferencing systems are designed for room-to-room meetings, making users feel like their videoconference is actually taking place in the same location.  Rooms are equipped with microphones that allow users to speak naturally with wide-angle PTZ (pan-tilt-zoom) cameras covering every angle of the conference room.
IT Center Video Conference Rooms are located in the Information Technology Center on the UH Mānoa campus and may be used  for UH business such as administrative meetings, research collaboration and interviews.
ITS Interactive Video Classrooms are distance learning classrooms located in Kuykendall Hall on the UH Mānoa campus. Priority use of rooms is for distance learning courses.  However, if time permits, rooms may be available for ad hoc large group videoconferencing events such as training workshops, presentations and large group meetings.
UH H.323 Directory lists videoconference rooms managed by departments/divisions across the University of Hawaiʻi system.
Polycom RealPresence Desktop (RPD) is a personal software-based solution which allows an individual to connect with room-based systems from his or her desktop.   If an individual UH staff or faculty member is at a remote location, away from the nearest UH campus, RPD is an option to join a meeting that requires HD quality videoconferencing.
Desktop video conferencing does not require meeting rooms with monitors and video cameras.  It allows users to host or join a meeting from their desktop or mobile device. Simple click-to-connect convenience quickly brings participants into a meeting on a computer, tablet or smartphone. A reliable network bandwidth, a computer equipped with a webcam, microphone, headphones (if in a public area), and a videoconference plug-in/software is all that is needed.  This service is available to UH faculty and staff for UH business such as administrative meetings, interviews, advising, extended office hours, and small group discussions.
Information Technology Services provides a bridging service that connects three or more participants into one meeting.  The ITS bridge is capable of connecting room-based conferencing systems and individuals using computers, mobile devices or phone.  The ITS Bridging Service is available to all UH faculty and staff for University business and distance learning.
HITS supports statewide instructional delivery of distance learning programs and credit courses.  HITS rooms are located on UH campuses on all islands equipped, with high definition videoconferencing systems, and provides a telepresence learning environment for instructor and students.  Once the academic semester schedule is finalized, HITS is open for statewide ad hoc videoconference requests such as training workshops, presentations, committee meetings, research collaborations, guest lecturers, distance learning student orientations, and seminars.
Videoconference Room Consultation
Information Technology Services provides UH departments consultation in purchasing videoconference equipment and deploying a departmental room-based videoconferencing system in a new or existing room, please email vcs-setup@lists.hawaii.edu to make an appointment for consultation.
What option best meet my videoconferencing needs?
The At-A-Glance page can help you determine what video collaboration option best meet your conferencing needs.