Prints by Jenny Sanzaro-Nishimura
February 28, 2016 - April 8, 2016
Mānoa Campus, Art Building, The Art Gallery at the University of HawaiÊ»i at Mānoa
---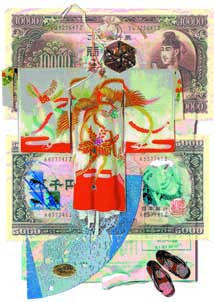 Jenny Sanzaro-Nishimura examines the Australian landscape and the effects of mining from two different perspectives—the physical changes in the landscape predominantly caused by open cut mining and the toxic effects of the chemicals (used in the mining process) and the minerals/materials extracted on both the environment and groundwater systems, especially in the dry, remote inland regions. The exhibition also includes works from a collaboration with Glennys Briggs titled "Genocidal Tendencies."
Sanzaro-Nishimura has been a printmaker for over twenty years, and lectures in Printmedia at Queensland College of Art, Griffith University, where she received a doctoral degree.
This exhibition is concurrently on view with "Selections from the Collection of Art and Roller Press.:
Sunday, February 28, 2016
2:00–2:30 p.m. Gallery walk-through with Jenny Sanzaro-Nishimura
2:30–3:00 p.m. Gallery walk-through with Charles Cohan, co-curator, Arm and Roller Press
3:00–5:00 p.m. Opening Reception
The Art Gallery at the University of Hawai'i at Mānoa
Image: "Chanoyou," courtesy of the artist.
Ticket Information
Mon. – Fri. 10 a.m. – 4 p.m.; Sun. 12 – 4 p.m. Closed: Sat.; Prince Kūhiō Day & Good Friday, Mar. 25; Easter, Mar. 27. By appt: Spring Break, Mar. 21–24. Free admission. Donations are appreciated. Parking fees may apply.
Event Sponsor
Dept. of Art & Art History, College of Arts & Humanities, Mānoa Campus
More Information
Sharon Tasaka, (808) 956-8364, gallery@hawaii.edu, http://www.hawaii.edu/art/exhibitions+events/exhibitions/?p=1846
---