MUSIC @ART - Free Lunchtime Concerts, Fall 2017
September 6, 12:30pm - 2:00pm
Mānoa Campus, Art Building, ground floor breezeway by the Galleries
---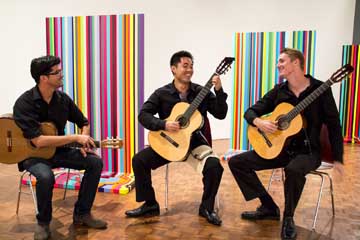 A partnership between the departments of Music and Art + Art History, UHM, has created "Lunchtime Concerts" and "Concerts in the Galleries." The performances feature UHM music students in concert amidst the ever-changing exhibitions and events of the art department.
First Wednesdays of the month
Fall 2017:
September 6, 12:30–2:00
October 4, 12:30–2:00
November 1, 12:30–2:00
December 6, 12:30–2:00
Image: Ian O'Sulllivan, Aaron Cardenas, Chris Hopper. Photographer: Kelly Ciurej, courtesy of The Art Galleries, UHM.
Ticket Information
Admission is free. Parking fees may apply.
Event Sponsor
Art + Art History, Mānoa Campus
More Information
Sharon Tasaka, (808) 956-8364, gallery@hawaii.edu, http://www.hawaii.edu/art/exhibitions+events/partnerships/
---
Wednesday, September 6

9:00am

23rd Annual Study Abroad Fair

Mānoa Campus, Campus Center
10:00am

2017 Fall Volunteer and Engagement Fair

Mānoa Campus, Campus Center Courtyard
12:30pm

MUSIC @ART - Free Lunchtime Concerts, Fall 2017

Mānoa Campus, Art Building, ground floor breezeway by the Galleries
2:30pm

Undergraduate Funding Info Session

Mānoa Campus, Sinclair 201
3:00pm

Seminar - Bayesian Model Selection of Microbial Soil Respiration Models

Mānoa Campus, POST 723
5:00pm

General Meeting for Newcomers

Mānoa Campus, 1820 University Avenue
7:00pm

Can I Burn & Still Follow Jesus?

Honolulu Campus, UH Manoa CC Ballroom