UH Obstacle Course Challenge benefitting AUW
September 29, 5:30pm - 9:00pm
Mānoa Campus, Les Murakami Stadium
---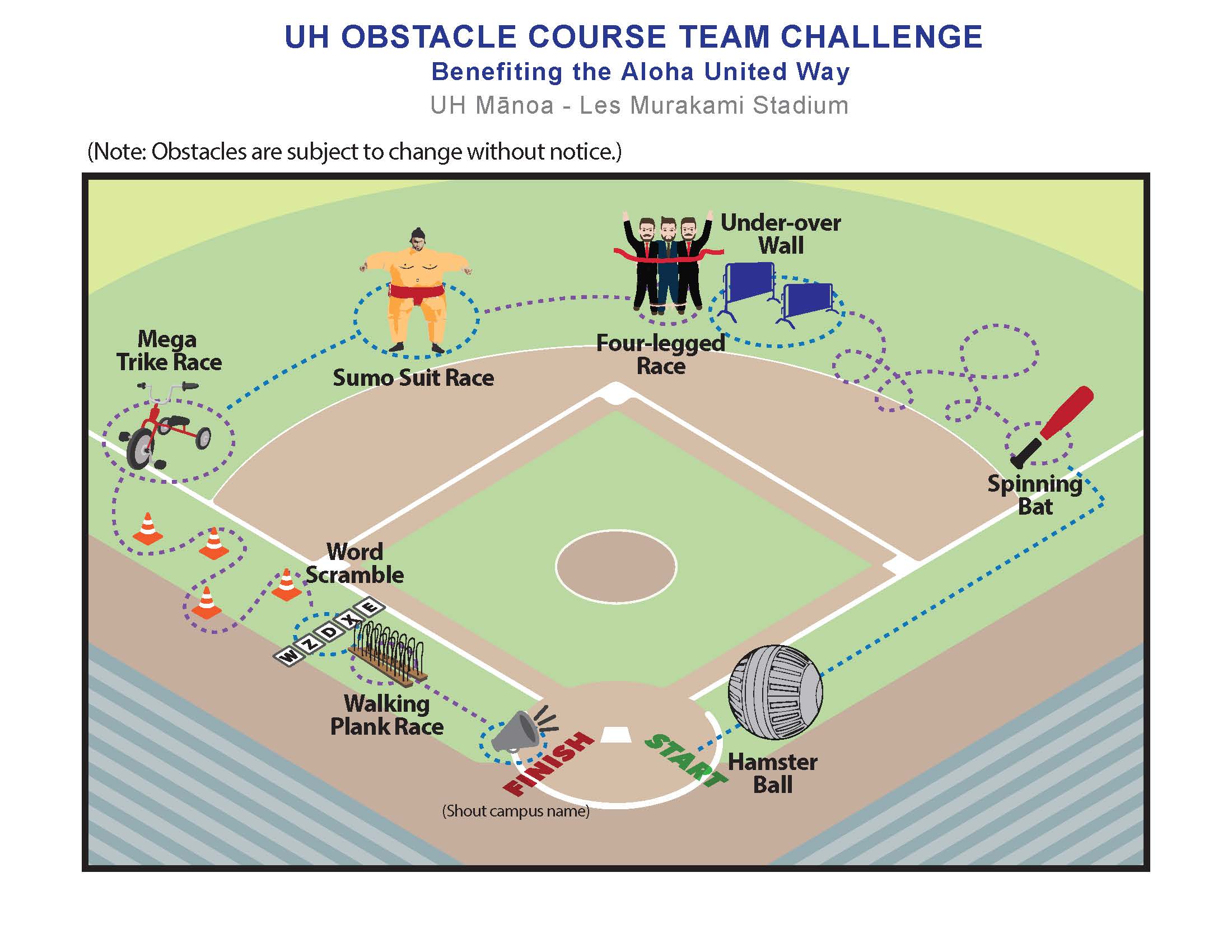 Come out to the UH Obstacle Course Team Relay Challenge and support your campus and the Aloha United Way this Friday, Sept. 29, from 5:30 to 9:30 p.m. at the Les Murakami Stadium on the UH Manoa campus. UH Oahu campuses and system offices battle it out in a fun filled showdown with bragging rights on the line.
For parking passes and additional information go to http://hawaii.edu/offices/president/aloha-united-way. Food will be available for purchase at the Murakami Stadium concession stands.
Help UH touch lives, restore hope and build a healthier and stronger community by supporting Aloha United Way. To show your support, go to https://auw.unitedwayepledge.org/epledge/crm/Start.jsp. The campaign runs through October 13, 2017.
---
UH Manoa
Participants
Michael Bruno, Research and Academic Affairs, Team Captain
Hannah Baldovino, Judicial Affairs
Joshua Baldovino, Undergraduate Education
Sandy French, Finance & Accounting
Debora Halbert, Academic Affairs
Michael Helfer, Counseling & Student Development
Sheila Kanemaru, Administration
Creighton Litton, Tropical Agriculture & Human Resources
Paul Mitri, Arts & Humanities
Christie Nitta, Arts & Humanities
Hannah Schauer, Arts & Humanities
Kyle Sergent, Budget Office
Kat Tagaca, Social Sciences
Daniel Tuttle, Public Safety
Stanford Togashi, Pacific Biosciences Research Center
Chad Walton, Research
Jeff Yamamoto, Medicine
Event Volunteers
Mavis Higa, Administration
Ann Sakuma, Campus Resources
Event Sponsor
Chancellor's Office, Mānoa Campus
More Information
(808) 956-4250, https://www.hawaii.edu/offices/president/aloha-united-way/
---
Friday, September 29

11:30am

Forgot Lunch? Aloha Friday Lunch for Student Parents

Mānoa Campus, Queen Liliuokalani Center for Student Services Rm. 412
1:00pm

Undergraduate Funding Info Session

Mānoa Campus, Sinclair 201
1:30pm

Study Abroad in Machida, Japan - Informational Meeting

Mānoa Campus, Kuykendall 213
1:30pm

A Conversation with Crystal Kwok: Hong Kong Film Industry, Jackie Chan, etc.

Mānoa Campus, Crawford Hall 105
2:30pm

Study Abroad in Paris, France - Informational Meeting

Mānoa Campus, Kuykendall 213
3:00pm

War Orphans, Capitalist Family, and Postwar North Korea's State-Form

Mānoa Campus, Sakamaki A201
3:30pm

Geology and Geophysics Seminar

Mānoa Campus, POST 723
5:30pm

UH Obstacle Course Challenge benefitting AUW

Mānoa Campus, Les Murakami Stadium