UH Mānoa 2018 Respect Walk
April 16, 10:30am - 1:30pm
Mānoa Campus, UHM Campus Center Courtyard
---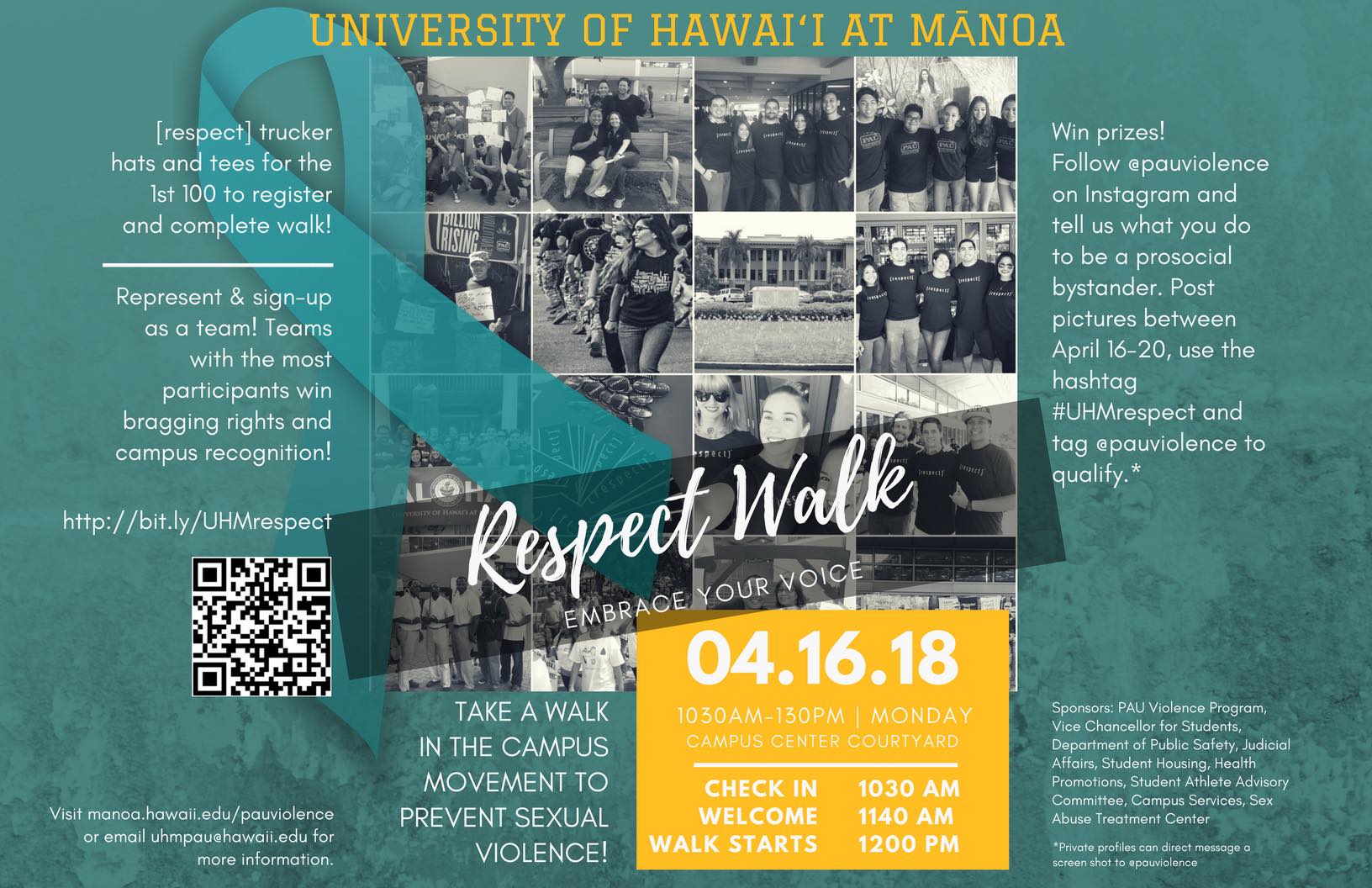 We are excited to invite you all to our first UH Mānoa Respect Walk! The University of Hawaiʻi at Mānoa Respect Walk is an awareness event that brings together all members of the campus community to promote [respect]™ in interpersonal relationships and taking action to prevent sexual violence.
Your physical wellness is just as important as asking you to take on the task of addressing such a difficult issue - so take a walk with us! The 1-mile walk through campus is intended to show the campus that many of us are committed to preventing sexual violence and to demonstrate solidarity for this empowering and relevant movement. In congruence with the national theme for sex assault awareness month, "Embrace Your Voice," we encourage the UH Mānoa campus community to embrace their voices of being prosocial bystanders - intervening in ways that impact the outcome positively. Too often, we do not intervene in personal relationships because we feel it is not our place or it is not safe to get involved. Our hope is to raise consciousness about the array of actions we can take to prevent sexual violence.
Please join us
UH Mānoa Respect Walk
April 16, 2018
Campus Center Courtyard
10:30 AM: Sign-in and on-site registration will begin at
11:45 AM: Opening remarks
12:00 noon: Walk Starts!
In partnership with the Sex Abuse Treatment Center, participants will be able to engage in the [respect]â"¢ campaign - an island-wide effort to empower individuals to prevent sexual violence. There will be activities, giveaways, entertainment, prizes, and light refreshments!
Register online at http://bit.ly/UHMrespect.
Please see the attached flier for more information. We would love to have you folks join us and be part of this event!
Please do not hesitate to contact us if you have questions or are interested in volunteering in preparation of the walk at uhmpau@hawaii.edu
Event Sponsor
PAU Violence Program, Mānoa Campus
More Information
Leslie Cabingabang, (808) 956-8059, uhmpau@hawaii.edu
---