Words@Manoa: No Ka Lahui Creative Writing Conference
October 19, 8:30am - 3:30pm
Mānoa Campus, Campus Center Ballroom
---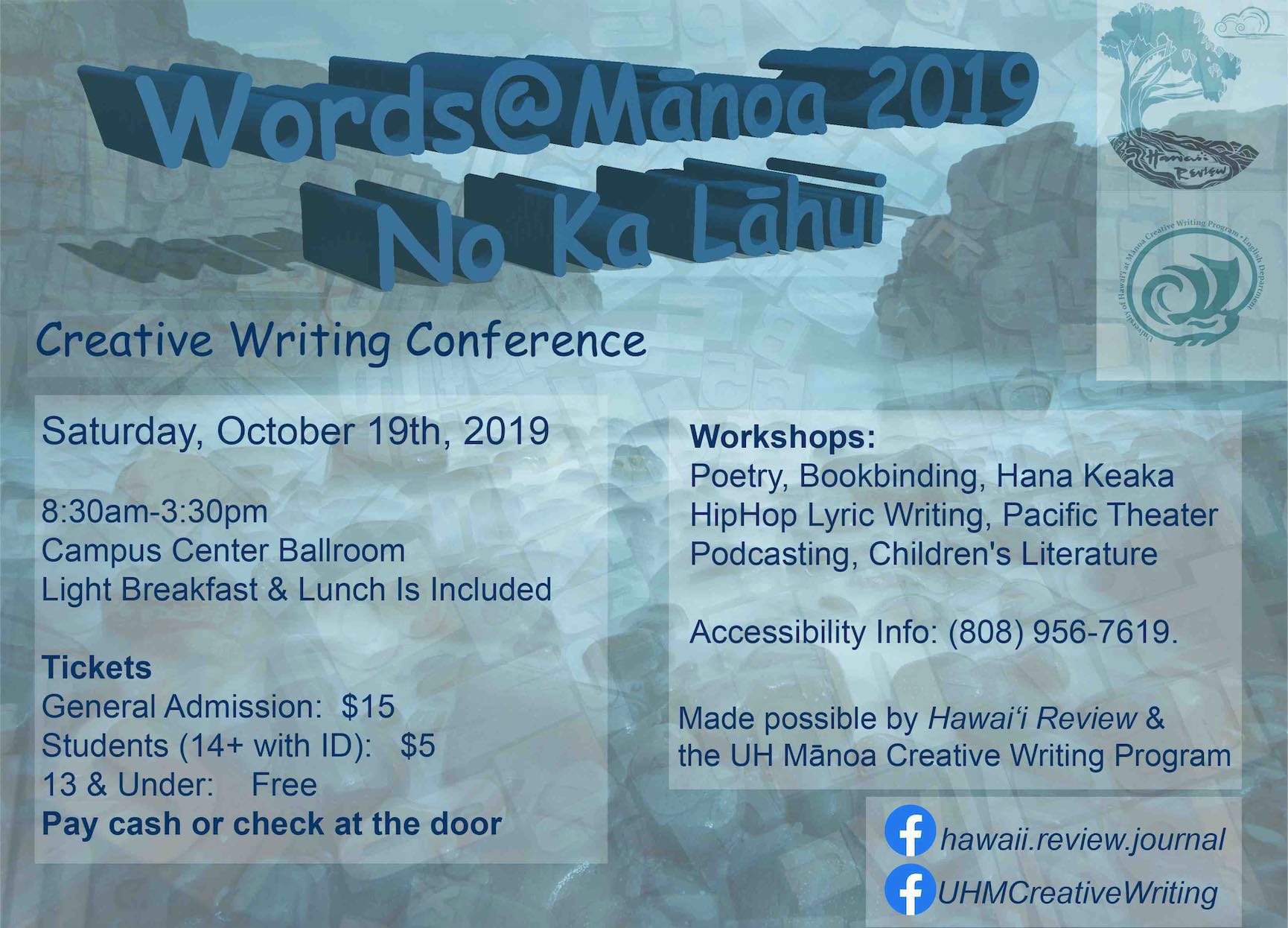 Hawaii Review and the UH Manoa Creative Writing program proudly present the sixth annual creative writing conference at UH Manoa on Saturday, Oct. 19th, 2019 from 8:30 a.m. - 3:30 p.m. in the UH Campus Center Ballroom. | | Develop your creative writing skills through workshops and network with other writers who share similar career and academic goals. | |
Tickets are priced at $15 general admission, $5 for students (with ID) ages 14+, and free admission for ages 13 and under.
Please pay at the venue the day of the event--cash or check only.
Includes morning refreshments and lunch by DaSpot.
First 100 attendees receive a free copy of Hawaii Review. | |
Theme: No Ka Lahui | |
Workshops: Poetry, Bookbinding, HipHop Lyric Writing, Podcasting, Children's Literature, Hana Keaka, Pacific Theater. | |
Facilitators: No'u Revilla, Haile Pruitt, Punahele 695, Anjoli Roy, ku'ualoha ho'omanawanui, Pono Fernandez, Big Mox / Jonah Jaxon, Haili Baker.
Open Mic Performances end the day.
Ticket Information
https://www.facebook.com/events/2382035238531314/
Event Sponsor
Creative Writing Program & Hawaii Review, Mānoa Campus
More Information
Hawaii Review, (808) 956-7043, hawaiireview@gmail.com, https://www.facebook.com/events/2382035238531314/
---