China's BRI in Southeast Asia and Future Prospects
September 16, 12:00pm - 1:30pm
Mānoa Campus, https://hawaii.zoom.us/webinar/register/WN_pcQIVSLuTnWNEhQd0Bg9Mw
---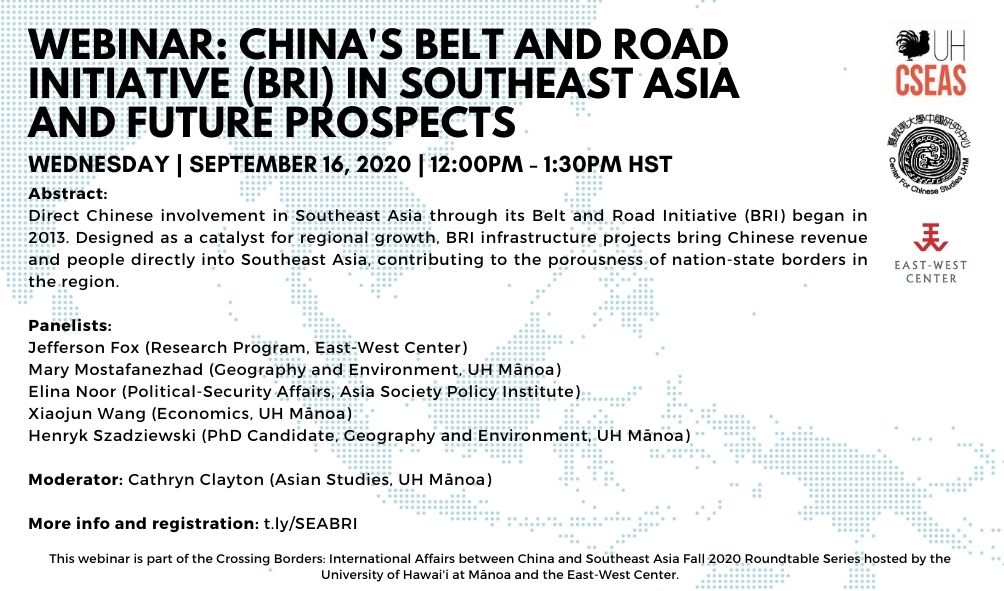 Direct Chinese involvement in Southeast Asia through its Belt and Road Initiative (BRI) began in 2013. Designed as a catalyst for regional growth, BRI infrastructure projects bring Chinese revenue and people directly into Southeast Asia, contributing to the porousness of nation-state borders in the region.
Mary Mostafanezhad (Geography/Environment, University of Hawaii at Manoa). Her NSF-funded research explores transboundary haze pollution, produced in part by current BRI projects, across three Southeast Asian countries: Myanmar, Thailand and Lao PDR. She'll bring grounded Southeast Asian perspectives on BRI impacts to this discussion.
Jefferson Fox (Research Program, East-West Center). His NSF- and NASA-funded research on land-use and land-cover change in Southeast Asia examines the impact of these changes on the region and global environment. He'll focus on the impacts of BRI-related road and dam construction in Mainland Southeast Asia.
Wang Xiaojun (Economics, University of Hawaii at Manoa). His main research interests in China include macroeconomic perspectives on the Chinese ecology and labor market reforms. He'll provide context on BRI issues that affect its implementation in SEA.
Elina Noor (Political-Security Affairs, Asia Society). Until recently with the Daniel K. Inouye Asia-Pacific Center for Strategic Studies, her research focuses on security developments in Southeast Asia. She brings perspectives on the articulation between BRI initiatives in Southeast Asia and regional security issues.
Henryk Szadziewski (PhD student, Geography/Environment, University of Hawaii at Manoa). He brings academic and applied experience in Uyghur human rights to his dissertation research on China's impact in its far peripheries. His ongoing focus on community responses to Chinese ex-pats running BRI projects in Fiji helps place Southeast Asian responses in broader context.
Cathryn Clayton (Asian Studies, University of Hawaii at Manoa). With more than 20 years' experience in Macau, Cathryn Clayton will moderate this webinar series. Her focus on conceptions and practices of Chinese sovereignty throughout and after colonial interventions offers insights on the political impacts of BRI in Southeast Asia.
Ticket Information
https://hawaii.zoom.us/webinar/register/WN_bTT5Sv4ER7aEOcKt0r-xIQ
Event Sponsor
Center for Chinese Studies/Center for Southeast Asian Studies/East West Center, Mānoa Campus
More Information
Sara, 8089562663, cseaspr@hawaii.edu, https://hawaii.zoom.us/webinar/register/WN_pcQIVSLuTnWNEhQd0Bg9Mw
---
Wednesday, September 16

8:45am

Study Abroad Center Virtual Fair

Mānoa Campus, https://www.studyabroad.hawaii.edu/virtual-study-abroad-fair-2020/
9:00am

Programming Essentials in Python Essentials (Online)

Honolulu Campus, 874 Dillingham Blvd
9:00am

Law School Admissions Zoom Information Session

Mānoa Campus, 2515 Dole St. Honolulu, HI, 96822
10:00am

Mana – High Performance Computing (HPC) Onboarding

Online via Zoom
11:30am

Building Interactive Pressbooks

Mānoa Campus, Online Event
11:30am

Organizing Your Semester

Honolulu Campus, https://www.honolulu.hawaii.edu/ikea
11:30am

Strategies for Collaboratie OER Projects

Mānoa Campus, Online Event
12:00pm

China's BRI in Southeast Asia and Future Prospects

Mānoa Campus, https://hawaii.zoom.us/webinar/register/WN_pcQIVSLuTnWNEhQd0Bg9Mw
3:00pm

Using LinkedIn to Network & Find Jobs

Mānoa Campus, Zoom Meeting
3:30pm

Honolulu Living Shorelines: Resilience and Connectivity by Design

Zoom Meeting, Please see description for Meeting ID and Passcode
3:30pm

Joint ATMO & IPRC Seminar

Mānoa Campus, Virtual Meeting
3:30pm

Department of Natural Resources & Environmental Management Seminar

Mānoa Campus, Zoom
7:00pm

Brandt Webinar, Polynesian Ancestral Knowledge: Hawaii: Alo Piko O Wakea

Mānoa Campus, https://bit.ly/brandtweb