Reopening of Hawaii's Tourism Webinar Series - focused on Japan
October 27, 11:30am - 1:00pm
Mānoa Campus, Virtual
---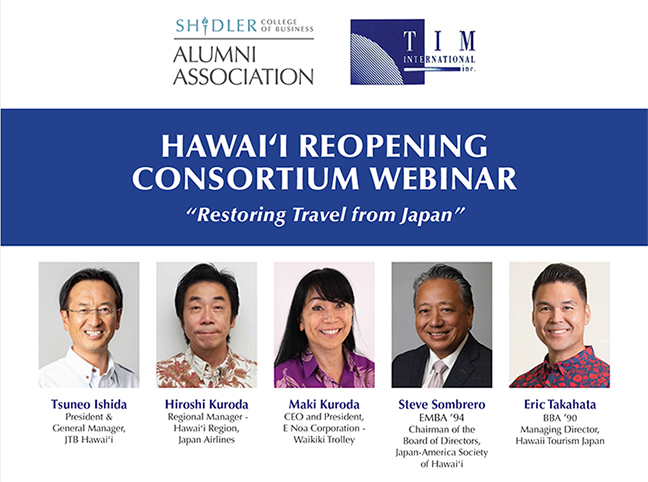 The University of Hawai'i at Manoa's Shidler College of Business Alumni Association and Travel Industry Management (TIM) International, the alumni association of the TIM School, present a free webinar series on the reopening of Hawaii's tourism industry. The webinars are designed to stimulate ideas that can be implemented by Hawaii businesses, tourism stakeholders, hospitality workers and the general public.
The series will continue every Tuesday until Nov. 17. Each webinar will include 4-5 local industry leaders speaking on such topics as tourism, health and safety, airlines, hotels, retail, restaurants and restoring travel from Japan.
It will be presented virtually on zoom and free to the public. The webinar on restoring travel from Japan includes: Tsuneo Ishida, President & General Manager, JTB Hawaii; Hiroshi Kuroda, Regional Manager/ Hawaii Region, Japan Airlines; Maki Kuroda, CEO/President, Waikiki Trolley; Steve Sombrero, Chairman of the Board of Directors, Japan-America Society of Hawaii; Eric Takahata, Managing Director, Hawaii Tourism Japan.
Ticket Information
Free and open to the public
Event Sponsor
Shidler Alumni Association and TIM International Inc., Mānoa Campus
More Information
Dolly Omiya, (808) 956-5645, domiya@hawaii.edu, https://us02web.zoom.us/webinar/register/WN_08iRhwfnTZ6lhj1KtVGgrA
---