Hawaii Book and Music Festival webinar - Indian Supernatural Spirits
November 4, 10:30am - 11:30am
Mānoa Campus, Zoom webinar
---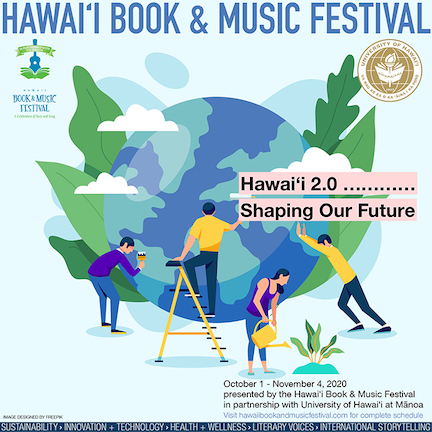 The 15th annual Hawaii Book & Music Festival takes off virtually this year with a special set of in-depth presentations covering a variety of topics deeply impacting our local community.
Storyteller and pioneer of India's storytelling revival Jeeva Raghunath shares Indian supernatural stories as part of the Fall International Storyteller Series.
Read more at the Hawaii Book and Music Festival Website.
Event Sponsor
Various departments, Mānoa Campus
More Information
Amy Hammond, 808-223-6040, https://hawaiibookandmusicfestival.com/
---
Wednesday, November 4

8:30am

ORE Seminar: Experiments and interpretation of ice-induced vibrations of offsh

Mānoa Campus, Zoom Meeting, Please see description for Meeting ID and Passcode
10:00am

Your Money Matter$: How to Create A Personal Budget

Honolulu Campus, https://www.honolulu.hawaii.edu/ikea
10:30am

SCEP Live Online Fall International Storyteller Series: Jeeva Raghunath

Mānoa Campus, Free event hosted by SCEP Live Online
10:30am

Hawaii Book and Music Festival webinar - Indian Supernatural Spirits

Mānoa Campus, Zoom webinar
12:00pm

East-West Toastmasters Leadership/Public Speaking Club Meeting

Mānoa Campus, Online meeting via Zoom: email santiago@hawaii.edu for login information
12:00pm

Library of Clouds: A New Book on Daoist Revelation

Mānoa Campus, https://hawaii.zoom.us/webinar/register/WN_sCxCwe9ET3OSXy4KcsMKLg
12:00pm

Song & Storytelling from UH Manoa

Mānoa Campus, Zoom
1:00pm

College of Social Sciences info Session: Psychology

Mānoa Campus, Online via Zoom
2:00pm

WRRC/Ike Wai Fall Seminar

Mānoa Campus, Zoom Meeting
4:00pm

Conversational Korean

Mānoa Campus, Zoom
5:00pm

Pre-Health Summer Opportunities Panel

Mānoa Campus, Sinclair 107B
7:00pm

Brandt Webinar, Polynesian Ancestral Knowledge

Mānoa Campus, https://bit.ly/brandtweb