SCEP Live Online with Nyla Fuji-Babb and Jeff Babb
November 12, 10:30am - 11:00am
Mānoa Campus, Hosted Online by Friends of Manoa Library
---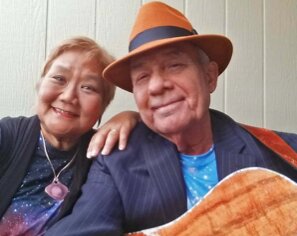 Between them, "Tutu" Nyla Fujii-Babb and "Papa" Jeff Babb have performed or been a part of productions for over 60 years. Affectionately called "Gentleman Jeff" by his band mates, Jeff sang, played rhythm guitar, and blew a blues harp before touring with Nyla, a storyteller. As a duet, they have performed on the mainland and statewide in public libraries, literacy programs, and schools.
Nyla and Jeff will be performing their "Blues II" show.
Please email csinfo@hawaii.edu with your name and the performances/dates you are interested in.
Confirmations will be emailed with login information.
Event Sponsor
Outreach College Community Services, Mānoa Campus
More Information
Outreach College, 8089568246, csinfo@hawaii.edu, https://www.outreach.hawaii.edu/arts-culture/
---
Thursday, November 12

10:30am

SCEP Live Online with Nyla Fuji-Babb and Jeff Babb

Mānoa Campus, Hosted Online by Friends of Manoa Library
11:00am

Money Matters! Financial Literacy Series for Student Parents

Mānoa Campus, Zoom - Open to All
11:30am

Undergraduate Research Opportunities Program (UROP) Online Information Session

Mānoa Campus, http://go.hawaii.edu/TE3
12:00pm

Women's Studies Colloquium with Dr. Kim Compoc

Mānoa Campus, Virtual
1:00pm

Is Permanent Peace Possible in Korea? 70th Anniversary of Korean War

Mānoa Campus, Online via Zoom
3:00pm

I Am Baba: Musings of Identity & Origins by a 9th Generation Chinese Peranakan

Mānoa Campus, Online Event
3:00pm

ORE Seminar: The challenges and capabilities of free-floating autonomous robot

Mānoa Campus, Zoom Meeting, Please see description for Meeting ID and Passcode
5:30pm

Mock Online Law School Class

Mānoa Campus, William S. Richardson School of Law
6:30pm

Hanauma Bay Thursday seminar series

Mānoa Campus, Hanauma Bay (Virtual)
7:00pm

GSO Self-Compassion Hour

Mānoa Campus, Zoom