Mo'olelo Monday Series: Tangaro
March 1, 4:00pm - 5:30pm
Mānoa Campus, 2600 Campus Road, Queen Liliuokalani Center for Student Services
---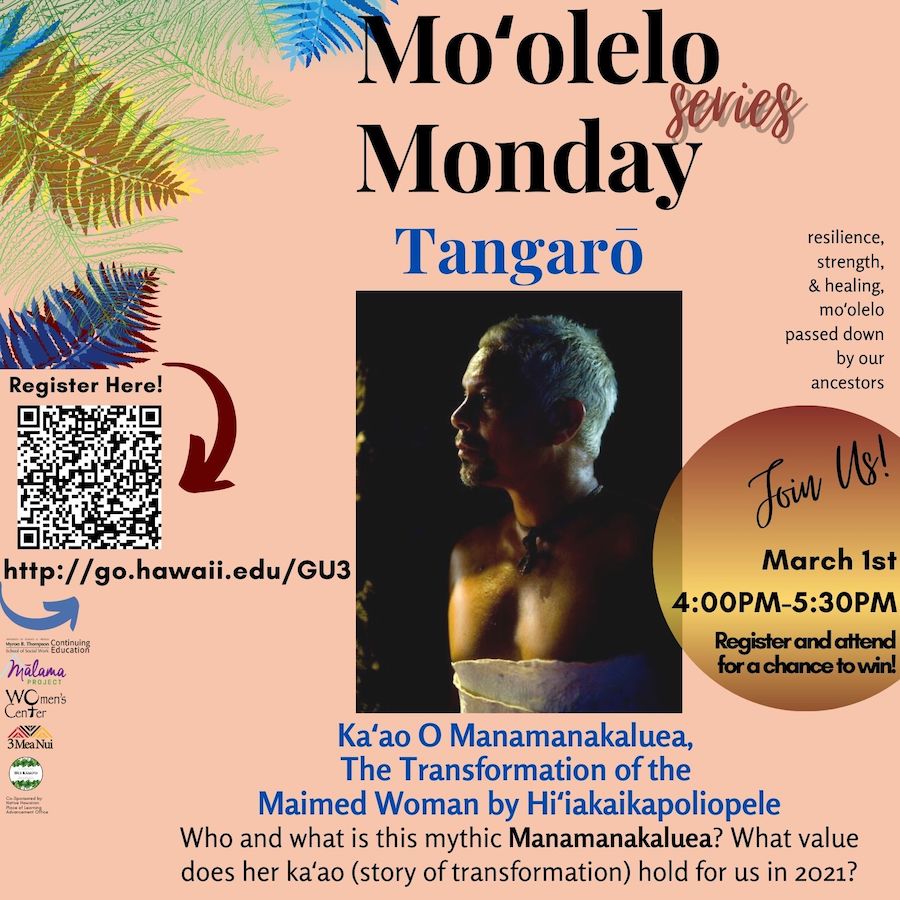 Our Mo'olelo Monday Series will dive into mo'olelo of resilience, strength, and healing, focusing on mo'olelo passed down by our ancestors.
We have invited kumu to share mo'olelo and ka'ao with our students, followed by discussions on taking a deeper look into the layers of meaning contained within each ka'ao and how we can begin to interpret and understand how these mo'olelo relate to our own journey, what lessons they are trying to impart on us, and how this wisdom can continue to influence and inform us.
Tangaro's presentation is titled: Ka'ao O Manamakaluea, The Transformation of the Maimed Woman by Hi'iakaikapoliopele. Who and what is this mythic Manamanakaluea? What value does her ka'ao (story of transformation) hold for us in 2021? Manamanakaluaea is an ambiguous character within the ka'ao traditions of Pele and Hi'iakaikapoliopele. In the language of ka'ao she is described as a lone woman surviving in utter isolation on a remote shore, a forlorn phantom kept alive by fishing for shoreline shellfish with the clumsy stumps of her elbows, for her limbs were truncated at the elbow and knees. What does this all mean? Relating to such a melancholy character within secular terms is uncomfortable for many; however, when we begin to relate to this story within the sacred terms of ka'ao, and it?s archetypal language (kaona), another truth emerges, one full of hope, promise, liberation. Join Tangaro as he hakaka'ao (embody the myth) through chant, dance, story telling. You will definitely walk away from the experience pondering the quality of our individual and collective wellbeing. You will also walk away comforted in the knowledge that even our ancient people were reminded through myth to live in quality. Spring sessions 4-5:30 p.m.:
3/1 Taupouri Tangaro (UH Hilo, Hawaii CC)
3/29 Jace Kaholokula Saplan (UH Manoa)
4/12 Keola Chan (AHA Kane)
To Register - http://go.hawaii.edu/GU3
Ticket Information
Free & Open to ALL!
Event Sponsor
Malama Project & Women's Center, Mānoa Campus
More Information
Lilinoe Kauahikaua , (808) 956-3574 , recovery@hawaii.edu , http://go.hawaii.edu/GU3
---