Ways to Manoa
October 4, 10:00am - 2:00pm
Mānoa Campus, Campus Center Courtyard
---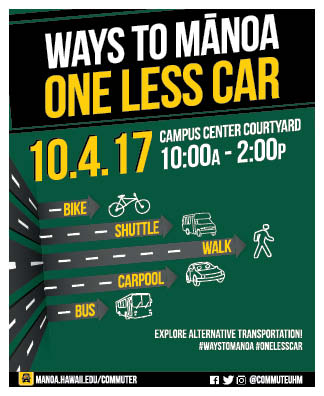 How do you get to campus? Join Commuter Services on Wednesday, October 4, 2017 from 10 a.m. to 2 p.m. at the Campus Center Courtyard to learn about sustainable transportation options, including bicycling, carpooling, the Rainbow Shuttle, TheBus, and walking. Representatives from the City & County Department of Transportation Services, UH Health Services & Promotions, Enterprise Rent-A-Car, E Noa Corporation, UH Student Media, Blue Zones Project, Blue Planet Hawai'i, Island Triathlon & Bike, Hawai'i Bicycling League, Proud to Be a Jerk, and more will be at this event to inform the UHM community about their products and services. Enjoy fun activities, learn how to reduce your carbon footprint, and get some free swag. Hope to see you there!
Free Electric Vehicle Test-drives UHM students, faculty and staff are also invited to test-drive an EV, experience a diverse selection of EV models and ask questions about how an EV can fit into any lifestyle. With partnership from Blue Planet Foundation, a variety of EVs will be available for test drives. They will also be available to answer general questions and have informational regarding EVs and charging systems.
Test drives are available by appointment only. More information about reservations is available at http://bit.ly/2hAJQ2y. Any other open slots will be filled on the day-of the event. Any other open slots will be filled on the day-of the event.
For more information about Ways to Manoa, please visit the UH Commuter Services website at http://www.manoa.hawaii.edu/commuter/visitor.php. Or follow- us on Facebook at https://www.facebook.com/CommuteUHM.
Event Sponsor
Commuter Services, Mānoa Campus
More Information
Kristen Yamamoto, (808) 956-8899, parking@hawaii.edu, http://www.manoa.hawaii.edu/commuter/
---
Wednesday, October 4

9:00am

National Student Day Celebration

Mānoa Campus, UH Manoa Bookstore
10:00am

Ways to Manoa

Mānoa Campus, Campus Center Courtyard
10:00am

Check Up from the Neck Up

Honolulu Campus, Building 7 Breezeway
11:15am

All Level Yoga

West Oʻahu Campus, Hale Kuahuokalā
12:00pm

Meet + Greet: De-stressor

West Oʻahu Campus, E-building 2nd floor Breezeway
12:00pm

Graduate Student Professional Development Series

Mānoa Campus, Webster Hall Room 103 (Unless otherwise noted)
12:30pm

MUSIC @ART - Free Lunchtime Concerts, Fall 2017

Mānoa Campus, Art Building, ground floor breezeway by the Galleries
12:30pm

ʻĀina to ʻŌpu/Decolonial Medicine: Casabe

Mānoa Campus, Hale Kuahuokalā
2:30pm

Kipa Aloha

West Oʻahu Campus, UHWO Courtyard
3:00pm

WRRC Water Seminar

Mānoa Campus, POST 723
3:30pm

Impact Education: Classroom to Space

Mānoa Campus, Art Auditorium
3:30pm

Atmospheric Sciences Seminar

Mānoa Campus, Marine Sciences Building, MSB 100
3:30pm

Russian Club picnic

Mānoa Campus, Paradise Palms
5:30pm

Shadowing/Networking Workshop

Mānoa Campus, Webster Hall 103
9:00pm

What's Next at Manoa

Mānoa Campus, Campus Center