Forgot Lunch? Aloha Friday Lunch for Student Parents
December 1, 11:30am - 1:30pm
Mānoa Campus, Queen Liliuokalani Center for Student Services Rm. 412
---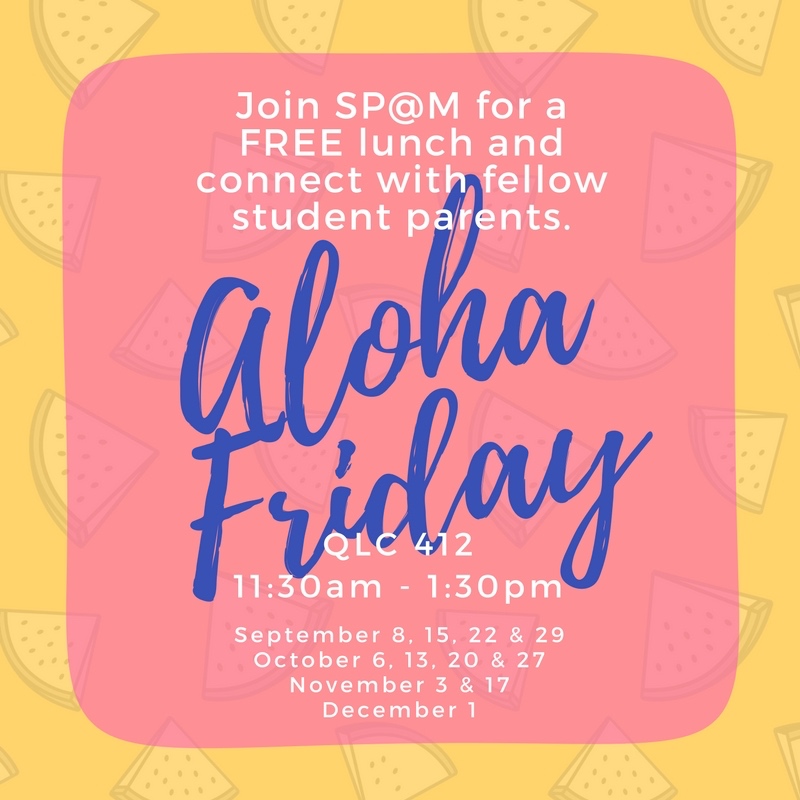 FREE lunch with SP@M! Join us and talk story with fellow student parents for our weekly gathering. See you there!
Event Sponsor
Student Parents At Manoa (SP@M), Mānoa Campus
More Information
Angie Solomon, (808) 956-9306, gotkids@hawaii.edu, http://manoa.hawaii.edu/studentparents/
---
Friday, December 1

7:30am

Mālama ʻĀina Day: Kaʻōnohi Farms, Pearlridge

Honolulu Campus, Pearlridge
8:30am

Lā Mele 2017: hoʻoheno ka puana i lohe ʻia

Mānoa Campus, KamakakÅ«okalani Hālau o Haumea
9:00am

Educational Psychology Final Oral

Mānoa Campus, Wist Hall Rm 233
11:30am

Forgot Lunch? Aloha Friday Lunch for Student Parents

Mānoa Campus, Queen Liliuokalani Center for Student Services Rm. 412
12:00pm

"Protection Conferred by Recombinant VSV–Based Vaccines Against Filoviruses

Honolulu Campus, JABSOM Medical Education Building Room 301
12:30pm

Fall 2017 Women's Studies Colloquia Series (UHM)

Mānoa Campus, Saunders Hall 637
1:30pm

UH Manoa Campus Forum

Mānoa Campus, Art Auditorium (Room 132)
5:00pm

CCBAC's DecemBEAR

Mānoa Campus, Campus Center Ballroom
6:30pm

8th Annual Bench Competition

Mānoa Campus, Alex Waterhouse Weightroom
7:30pm

Fa'alavelave (The Interruption)

Mānoa Campus, Earle Ernst Lab Theatre, 1770 East-West Rd.