West Sesh + Color Therapy
January 25, 5:00pm - 9:00pm
West Oʻahu Campus, The Loft
---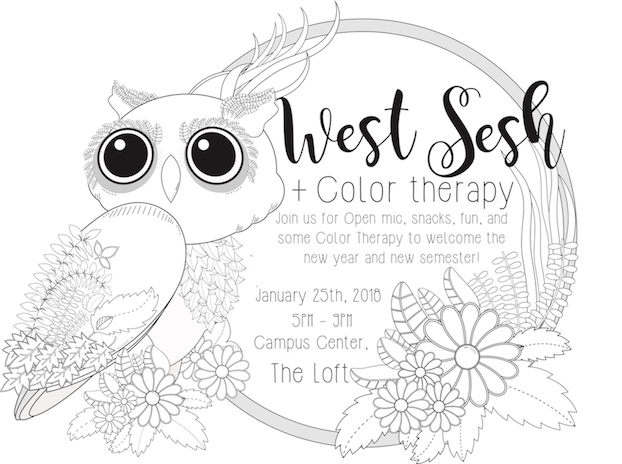 West Sesh + Color Therapy is this week thursday night, 1/25 in The Loft, located at the 2nd floor of the Campus Center next to the elevator.
Come sing your song, or recite your original work. Bring a friend with you to enjoy the evening of student talent. Hot chocolate, hot tea and saimin available for free. And Pizza too.
For color therapy, participants have options:
Create-A-Canvas
Explore your creativity with a blank canvas, a brush and paint. Decorate your space with your artwork!
Rock Art
Stones, pebbles as your canvas. Colorize a rock with your style as a reminder of your awesomeness!
Hat Coloring
Decorate your hat with your favorite word or phrase or draw a picture. And sport your new hat out in public.
Event Sponsor
Office of Student Life / Student Activity Fee Board, West Oʻahu Campus
More Information
(808) 689-2942, safbwo@hawaii.edu
---
Thursday, January 25

9:00am

Linguistics Final Oral

Mānoa Campus, Moore 258
1:30pm

Study Abroad in Kobe, Japan

Mānoa Campus, Moore 226
2:30pm

Study Abroad in Paris, France

Mānoa Campus, Moore 205
2:30pm

Study Abroad in Dublin, Ireland

Mānoa Campus, Keller 314
3:00pm

Oceanography Seminar with Kelvin Richards

Mānoa Campus, Marine Sciences Building 100
5:00pm

West Sesh + Color Therapy

West Oʻahu Campus, The Loft
6:30pm

Hanauma Bay Educational Lecture Series

Hanauma Bay Nature Preserve Theater
7:30pm

Better Tomorrow Speaker Series: Is There Life Out There?

Mānoa Campus, Orvis Auditorium