Seminar: Green cars―low wages? Changing value chains in the automotive indus
February 27, 12:00pm - 1:00pm
Honolulu Campus, 1601 East-West Road, John A. Burns Hall, Room 3121/3125 (3rd floor)
---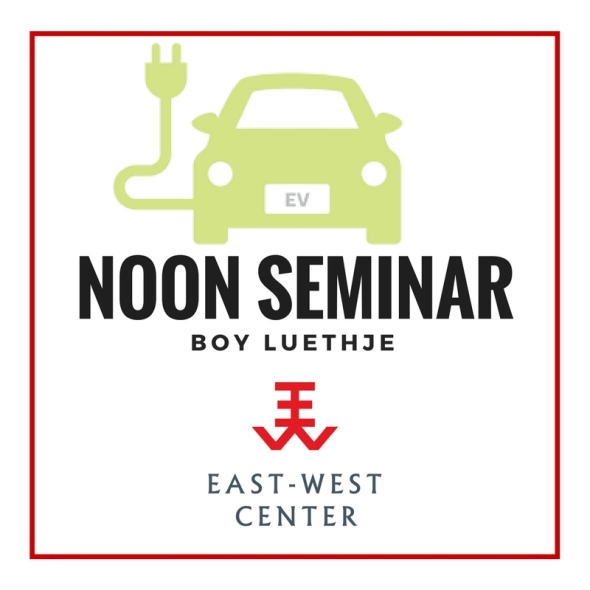 China is a leading force in new-energy vehicles, digital cars, and shared mobility.
Driven by ambitious government policies and massive urban transformation, China has emerged as the world's largest market and production site for electric vehicles. This process engenders deep changes in the automotive industry, shifting from traditional models of manufacturing ("Fordism", "Toyotism") to forms of network-based mass production as known from the information-technology industry. With this, large numbers of auto industry jobs are coming under threat, in industrialized countries as well as in China.
This talk will explore the changing structure of value chains in the Chinese car industry and explore implications for production models, work, and politics.
Boy Luethje's research at the East-West Center focuses on global production networks, labor standards, and industrial relations in China and the global economy. He currently directs a number of local research projects on advanced manufacturing and on the emerging electric-vehicle industry in South China and contributes to a major report by the International Labor Organization (ILO) on the future of work in the automotive industry. His publications include "From Silicon Valley to Shenzhen: Global production and work in the IT industry" and "Beyond the iron rice bow: Regimes of production and industrial relations in China." To contact Boy, email: luethje@mail.edu.sysu.com.
Ticket Information
Free, open to the public
Event Sponsor
East-West Center, Mānoa Campus
More Information
Laurel Pikcunas, (808) 944-7444, pikcunal@eastwestcenter.org, https://www.eastwestcenter.org/node/36513
---
Tuesday, February 27

10:30am

Qualify for SNAP with SP@M

Mānoa Campus, Campus Center
11:00am

Critical Thinking: Teaching, Learning, and Assessing (Workshop)

Mānoa Campus, Kuykendall 106
12:00pm

Seminar: Green cars―low wages? Changing value chains in the automotive indus

Honolulu Campus, 1601 East-West Road, John A. Burns Hall, Room 3121/3125 (3rd floor)
3:15pm

Colloquium - Dr. Sean Smith

Mānoa Campus, Sakamaki Hall C-308
3:30pm

Marine Alien Species in Hawai'i: An Overview and Preventing the Introduction

Mānoa Campus, Waikiki Aquarium
3:30pm

Marine Alien Species in Hawai'i: An Overview

Mānoa Campus, Waikiki Aquarium
3:30pm

The U.S. Court of Appeals for Veterans Claims

Mānoa Campus, Moot Court Room--Law School
5:00pm

The GREs

Mānoa Campus, Webster Hall, Room 203
5:00pm

GRE Workshop

Mānoa Campus, University of HawaiÊ»i at Mānoa, Webster Hall, 2500 Campus Road, Room 203
6:00pm

Educating a Nation: Public Talk by Lonnie G. Bunch III

Mānoa Campus, UH Mānoa Art Auditorium