Military Intelligence Service Soldiers and the Pacific War
March 7, 10:00am - 11:30am
Mānoa Campus, Hamilton Library Room 301
---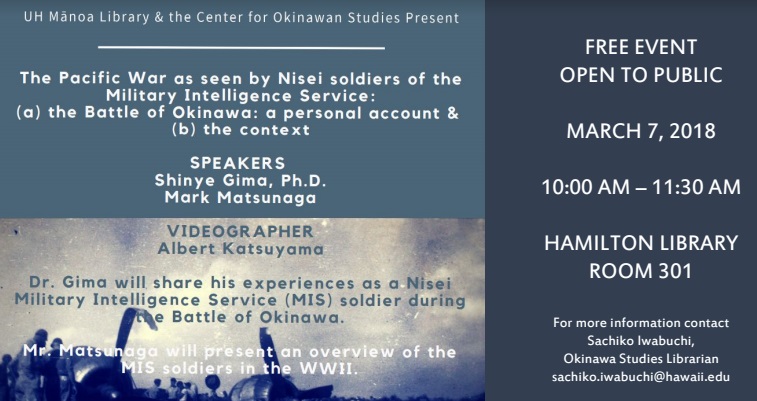 The Center for Okinawan Studies and the Okinawa Collection are pleased to announce our joint public event with Shinye Gima, Ph.D., a UH alumnus and a former Military Intelligent Service soldier from Hawai'i.
Dr. Gima's talk will be followed by Mr. Mark Matsunaga's presentation on the context of MIS soldiers in the Pacific War.
Title: The Pacific War as seen by Nisei soldiers of the Military Intelligent Service: (a) the Battle of Okinawa: a personal account, and (b) the context.
Speakers: Shinye Gima, Ph.D., and Mark Matsunaga
Videographer: Albert Katsuyama
Date & Time: Wednesday, March 7, 2018, 10:00 AM - 11:30 AM
Location: Hamilton Room 301
Ticket Information
Free admission; Registration is not required.
Event Sponsor
Library, Mānoa Campus
More Information
Sachiko Iwabuchi, (808) 956-2311, sachiko.iwabuchi@hawaii.edu, http://bit.ly/2op6SZZ
---
Wednesday, March 7

10:00am

Manoa Says No More: A Resource Fair

Mānoa Campus, Campus Center Courtyard
10:00am

Lyon Arboretum Docent Guides' Training Course

Mānoa Campus, Lyon Arboretum, 3860 Manoa Road, Honolulu, HI 96822
10:00am

Military Intelligence Service Soldiers and the Pacific War

Mānoa Campus, Hamilton Library Room 301
10:00am

Spring 2018 Career Fair

Mānoa Campus, Campus Center Ballroom
12:00pm

MUSIC @ART - Free Lunchtime Concerts, Spring 2018

Mānoa Campus, Art Building, ground floor breezeway by the Galleries
12:00pm

Campus Games - Mortal Kombat Tournament Finals

Honolulu Campus, Student Lounge (Building 2, Room 111)
12:30pm

UH-Hilo Transfer Advising

Hilo Campus, Building 5-Conference Room
1:30pm

Geology & Geophysics Final Oral

Mānoa Campus, POST 723
2:00pm

Study Abroad Meeting - Semester in Florence, Italy

Mānoa Campus, Moore 226
2:30pm

Education Final Oral

Mānoa Campus, Wist 129
3:00pm

Architecture Final Oral

Mānoa Campus, ARCH 314
3:00pm

For Boys and Girls Comrade! Children's Books: For Fun And/or Politics

Mānoa Campus, Hamilton Library #401
3:00pm

Electrical Engineering Final Oral

Mānoa Campus, Holmes 389
3:00pm

Study Abroad Meeting - Semester in Shanghai, China

Mānoa Campus, Moore 205
3:30pm

International Women's Day celebration. Meeting Kim Binsted UH -NASA research

Mānoa Campus, Moore 252
3:30pm

Atmospheric Sciences Seminar

Mānoa Campus, Marine Sciences Building, MSB 100
3:30pm

Russian Club is hosting a quest who will talk about US-Russia space cooperatio

Mānoa Campus, Moore Hall 252
5:30pm

Learn About Going to Law School at Night

Mānoa Campus, William S. Richardson School of Law
6:00pm

2018 Uehiro Graduate Student Philosophy Conference

Mānoa Campus, Sakamaki Hall D-201, Uehiro Academy