Throwin' it Back
September 20, 11:00am - 1:00pm
Mānoa Campus, Campus Center Courtyard
---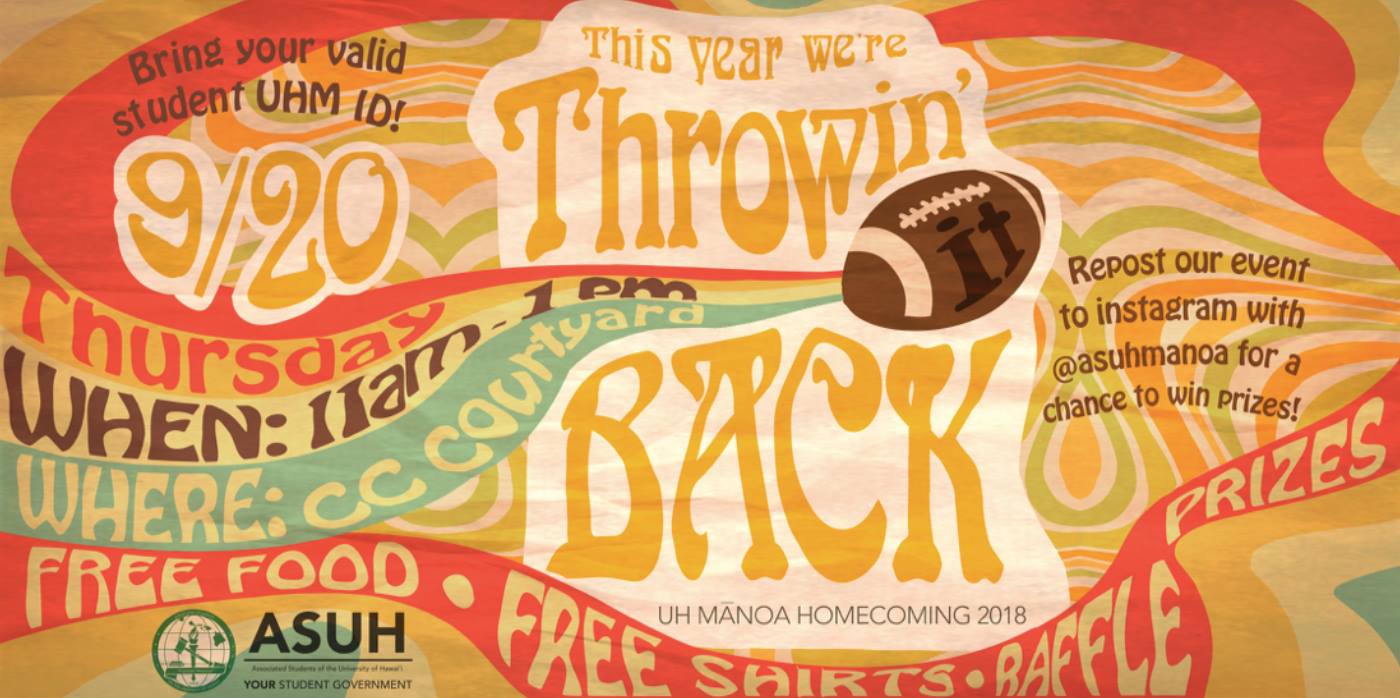 Courtesy of the ASUH student government, undergraduate students with valid UH Mānoa IDs will receive free shirts* and free food and be eligible for raffle prize giveaways. Enjoy oldies and throwback songs from KTUH to celebrate UH alumni.
There will be hot dogs, vegi burgers, and drinks, raffles for awesome prizes, and the chance for you to hang out with some of the different student clubs on campus.
*Must be a full-time, undergraduate student at UH Manoa. ALL shirts are on a first-come, first-served basis. Limited supply.
If you have any questions, please contact ASUH Committee on Campus Life Chairperson, Starshine Chun, at asuhcl@hawaii.edu.
Event Sponsor
ASUH, Mānoa Campus
More Information
Starshine Chun, (808) 956-4822, asuhcl@hawaii.edu, http://2500 Campus Road, Hawaii Hall 122
---
Thursday, September 20

10:00am

Educational Psychology Final Oral

Mānoa Campus, Wist 131
10:00am

Fall 2018 Job Fair

Kapiʻolani Campus, Great Lawn
11:00am

Throwin' it Back

Mānoa Campus, Campus Center Courtyard
1:30pm

GSO Coffee Hour w/ Academic Labor United

Mānoa Campus, Campus Center 310
2:00pm

Pineapple and Silk Cloth Weaving and Embroidery

Mānoa Campus, Hamilton Library, Room 301
3:00pm

Oceanography Seminar: Forecasting Wave-Driven Coastal Hazards

Mānoa Campus, MSB 114
3:00pm

Decolonizing Museum Practice in the Philippines

Mānoa Campus, Saunders 345
3:00pm

14 Things You Should Know About the Interview

Mānoa Campus, Queen Liliuokalani Center for Student Services Rm. 212
3:00pm

Study Abroad Info. Meeting - Semester in London, England

Mānoa Campus, Saunders Hall 442
3:00pm

Study Abroad Info. Meeting - Semester in Kobe, Japan

Mānoa Campus, Moore 152
5:30pm

CCBAC's Bollywood Dance Night

Mānoa Campus, Campus Center Ballroom
6:30pm

Hanauma Bay Lecture Series

Hanauma Bay Nature Preserve Theater
7:00pm

Poet Tariq Luthun: Where the Body Lands: A Poetic Exploration of Home

Mānoa Campus, 410 Kuykendall
7:00pm

Words@Manoa

Mānoa Campus, KUY 410