Windward Ho'olaule'a 2018
September 29, 10:00am - 8:00pm
Windward Campus, Great Lawn and Hale Akoakoa
---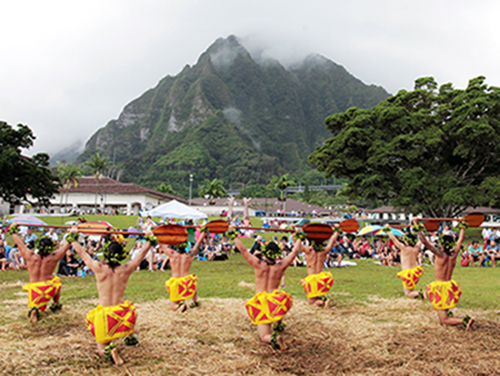 Join us for a homegrown celebration on the Great Lawn at Windward Community College. This free, family-friendly festival features top island entertainment (Keauhou, Maunalua, Hi'ikua, Pomaika'i Keawe Lyman, Beat-Lele and more!), award-winning hula (pictured: Chinky Mahoeʻs hula hālau o Kawai'ili'ulā), unique arts and crafts, 'ono food, a classic car show, keiki rides and activities, gallery exhibit, Imaginarium show, a college-sponsored Silent Auction, cultural demonstrations and community displays.
COMMUNITY SPONSORS (We couldn't do it without them!)
Supporting the event are flagship sponsors Kamehameha Schools, Hawaiian Electric Co., HD&C (formerly Ameron Hawaii), and GoKailua Magazine. More sponsors include Walgreens, Castle Adventist Health, Enterprise Rent-a-Car Hawaii, Hawaiian Memorial Park, First Hawaiian Bank, Bank of Hawaii, Central Pacific Bank, and Territorial Savings Bank, with support from the Castle Alumni & Community Association.
ENTERTAINMENT LINEUP
10 a.m. Opening by WCC Hawaiian Studies students
10:15 a.m. Kahalu'u 'Ukulele Band (up&coming 'uke youngsters)
11:15 p.m. Puohala Elementary and King Intermediate school talent
12:15 p.m. TBA special guest
1:15 p.m. Pila Nahenahe / Hawaii Loa
2:15 p.m. Pomaika'i Keawe Lyman and 'Ohana
3:15 p.m. Hi'ikua
4:15p.m. Maunalua
5:15 p.m. Chinky Mahoe's Hālau Hula o Kawaili'ulā
6:15 p.m. Beat-Lele
7:15 p.m. Keauhou
IMAGINARIUM SHOW
In addition to live entertainment, there will be a special family-friendly fulldome show at the Imaginarium: 11 a.m. Solar Quest & Lifted + live sky show (one show only!) Cost: $3 for all; Walk-in only; first-come, first-seated.
GALLERY 'IOLANI will be open from 10 a.m. – 4 p.m. with Beneath the Surface, featuring art of Wayne Levin, Laurel Schultz and Hiroki Morinoue, who will bring into focus the affects of human activity on our ocean. FREE
WCC ATTRACTIONS
Among the WCC attractions celebrating higher education on the Windward side will be: Marine Option Program & PaCES gyotaku fish printing, facepainting by Phi Theta Kappa, a medicinal/nutritional plant sale by Botany Club members and tours to medicinal garden by Agripharmatech students, Veterinary Technology student activities for pet owners, rocketry activities for keiki, ocean safety activities from Career & Community Education, WCCʻs Pau Violence and Mental Health initiatives, along with information about college and career planning. At the 'Iolani building, the Hawaiian Woodcarving program will have demonstrations and carving for kids.
WCC SILENT AUCTION
A handcrafted Kanile'a 'ukulele, Palikū Theatre, Kumu Kahua, and Hawaii Theatre for Youth performing arts theatre tickets, Hawaiian framed art, fine jewelry, restaurant gift certificates, golfing for four at the Mid Pacific Country Club, and many great items donated by vendors at the Ho'olaule'a will be auctioned with proceeds going to Windward Community College's Scholarship Endowment fund. Auction bid closing time is 5 p.m. at Hale 'Ākoakoa. Check website for more info: windwardhoolaulea.com.
FOOD
'Ono food to taste include Uala Leaf Cafe, Erin's Shave Ice, Mahoeʻs BBQ plates, KuPono Hawaiian plates and much more!
COMMUNITY EXPO
The Kaneohe Emergency Preparedness organization will provide information on disaster preparedness, especially for the hurricane season, and Walgreens will offer flu shots at the event once again this year (Walgreens asks that you bring insurance card). Windward Ho'olaule'a also partners with the Five Rs 96744 project, which promotes positive character building among K-12 students in the area. Waimānalo Health Center, Ko'olaupoko Hawaiian Civic Club, Big Brothers Big Sisters, Hawaii Job Corps, Hina Mauka, Hawaii Island Land Trust, Rapid Ohia Death, Oahu Invasive Species, Lili'uokalani Trust, and many more community groups will be ready to share information.
This is an alcohol and tobacco-free event.
Ticket Information
FREE and open to the public
Event Sponsor
CAMPUS-WIDE, Windward Campus
More Information
Bonnie Beatson, (808) 235-7374, beatson@hawaii.edu, http://windwardhoolaulea.com
---
Other UH Calendars
Submit Events
Last modified December 20, 2019
Back To Top