GWIS Distinguished Speaker Luncheon - Outreach and Professional Development
October 11, 11:30am - 1:00pm
Mānoa Campus, AgSci 219
---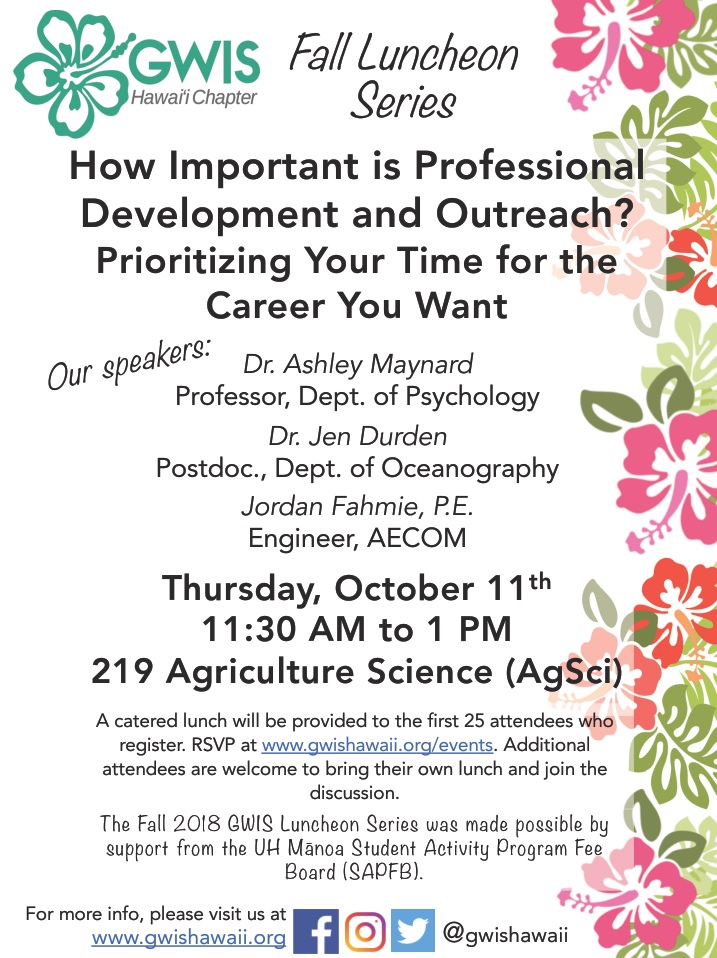 Have you wondered how you can build a strong CV outside of the lab or away from your computer? If so, this luncheon is for you!
We are pleased to invite you to the October Distinguished Speaker Luncheon: "How Important is Professional Development and Outreach? Prioritizing Your Time for the Career You Want". We will be joined by Dr. Ashley Maynard (Professor, Psychology), Dr. Jen Durden (Posdoc, Oceanography) and Jordan Fahmie, PE (Engineer, AECOM), who will discuss their experiences with professional development and outreach in their fields and careers.
A catered lunch will be provided to the first 25 attendees who reserve their spots, so RSVP today! Please send all questions or comments regarding dietary restrictions to hawaii@gwis.org. All are welcome to join and bring their own "brown bag" lunch.
The Fall 2018 GWIS Luncheon Series was made possible by generous support from the UH Manoa Student Activity Program Fee Board (SAPFB).
Event Sponsor
RIO - Graduate Women in Science Hawaii Chapter, Mānoa Campus
More Information
Sabrina Diemert, hawaii@gwis.org, hawaii@gwis.org, https://goo.gl/forms/tEsZ3tSjCiR6dJIH2
---
Thursday, October 11

9:30am

Education Final Oral

Mānoa Campus, Wist 115
9:45am

Pre-Law Symposium for Pacific Islanders

Mānoa Campus, William S. Richardson School of Law
10:00am

Systemic Racism and Anti Immigrant Rhetoric

Honolulu Campus, Library
11:30am

GWIS Distinguished Speaker Luncheon - Outreach and Professional Development

Mānoa Campus, AgSci 219
12:00pm

How to be a GI Bill Ninja

Mānoa Campus, Kuykendall 106 Events Room
12:00pm

Hawai'i Okinawan-Owned Restaurant Project: Oral History and Community Archiv

Mānoa Campus, Kuykendall 410
12:00pm

Geography & Environment Seminar Series

Mānoa Campus, 443 Saunders
1:30pm

GSO October Coffee Hour w/Live Music!

Mānoa Campus, Hemenway Courtyard
3:00pm

Oceanography Seminar - Peter Schlosser

Mānoa Campus, Marine Science Buiding 114
3:00pm

"Readings, Rights, Ahimsa: Comparing Freedom of Expression"

Mānoa Campus, KUY 410
5:30pm

CCBAC's Taste of Mānoa

Mānoa Campus, Campus Center Courtyard
5:30pm

Applying to Law School

Mānoa Campus, QLC 412
5:30pm

Panel discussion on aftermath of Masterpiece Cakeshop case

Mānoa Campus, William S. Richardson School of Law, Classroom 1
6:30pm

Hanauma Bay Educational Lecture Series

Hanauma Bay Nature Preserve Theater
7:30pm

The Good Person of Setzuan

Mānoa Campus, Earle Ernst Lab Theatre
Other UH Calendars
Submit Events
Last modified December 20, 2019
Back To Top