Bollywood Mondays: 'Bombay' (1995)
October 15, 2:30pm - 5:00pm
Mānoa Campus, Marine Sciences Building Room 100
---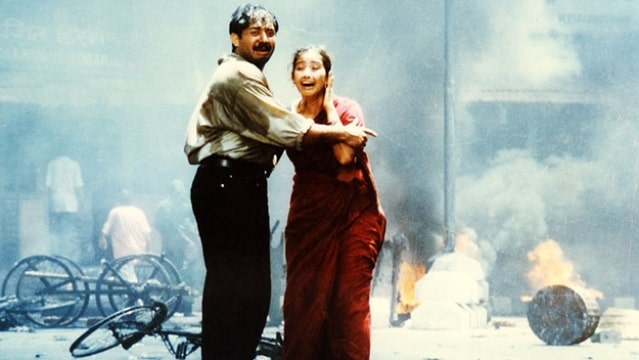 'Bombay' is the second film in acclaimed director Mani Ratnam's so-called "terror trilogy." All three were rare and brave attempts to confront massive issues rocking social cohesion in India during the 1990s.
'Bombay' follows the love story of Shekhar (Arvind Swamy) and Shaila (Manisha Koirala), a Hindu man and Muslim woman who try to hide their controversial inter-community romance from their families, not an easy task in their small village. They decide to move to Bombay and bring up their twin sons practicing both faiths. Unfortunately, this is more difficult than they hoped, as religious riots and communal killings break out in the city after the 1992 destruction by Hindu radicals of a medieval Muslim mosque located in North India.
This is the seventh movie in the 16th UH Bollywood film series, running every Monday this fall. For a copy of the full semester film series schedule, please see the contact information below.
Ticket Information
Free and open to the public.
Event Sponsor
History, Mānoa Campus
More Information
Ned Bertz, (808) 956-6766, bertz@hawaii.edu
---
Other UH Calendars
Submit Events
Last modified December 20, 2019
Back To Top