#uglymug Distribution for $1 coffee!
February 20, 10:00am - 2:00pm
Mānoa Campus, Campus Center (near Simply To Go)
---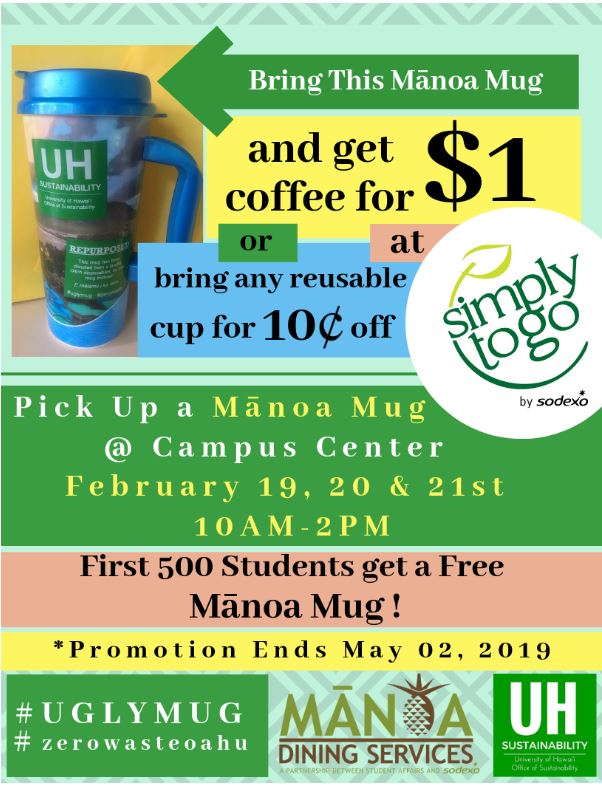 UH System Office of Sustainability and Mānoa Dining Services are partnering up (with the support of UH Surfrider Club) to distribute free reusable mugs on February 19, 20,and 21 from 10am to 2pm @ Campus Center.
These #uglymugs were misprinted, rejected and headed for the landfill. We rescued and repurposed them as a way to promote bring-your-own (BYO) culture on campus. Simply To Go (in Campus Center) is offering $1.00 coffee when you bring in your #uglymug through May 2, 2019.
This is one step in the effort to reduce our campus waste stream. Currently,30% of the to-go container waste on campus is from single-use cups. Letʻs change that!
Event Sponsor
UH System Office of Sustainability, Mānoa Campus
More Information
Nicole Chatterson, 808-561-7730, nchatter@hawaii.edu
---
Wednesday, February 20

10:00am

OLLI-UHM Workshop Series: Be a NASA GLOBE Observer

Mānoa Campus, Krauss Hall Room 111, 2500 Dole Street, UH Mānoa
10:00am

#uglymug Distribution for $1 coffee!

Mānoa Campus, Campus Center (near Simply To Go)
3:00pm

What's it worth to you? Treasuring Pacific Ephemera

Mānoa Campus, Hamilton Library #306
3:00pm

Climate Change in Cinema

Mānoa Campus, Kuykendall 307
3:30pm

Black Student Association Meeting

Mānoa Campus, QLC 412
5:00pm

Family Pau Hana

Mānoa Campus, Manoa Gardens/Ba-Le
5:30pm

Personal Statement/Academic Résumé Workshop

Mānoa Campus, Campus Center 309
5:30pm

CISSP Domains 1 - 3

Honolulu Campus, 874 Dillingham Blvd
7:00pm

Reading by Leanne Betasamosake Simpson

Mānoa Campus, 410 Kukendall