No'eau Center Open House
September 17, 10:00am - 2:00pm
West Oʻahu Campus, B-203
---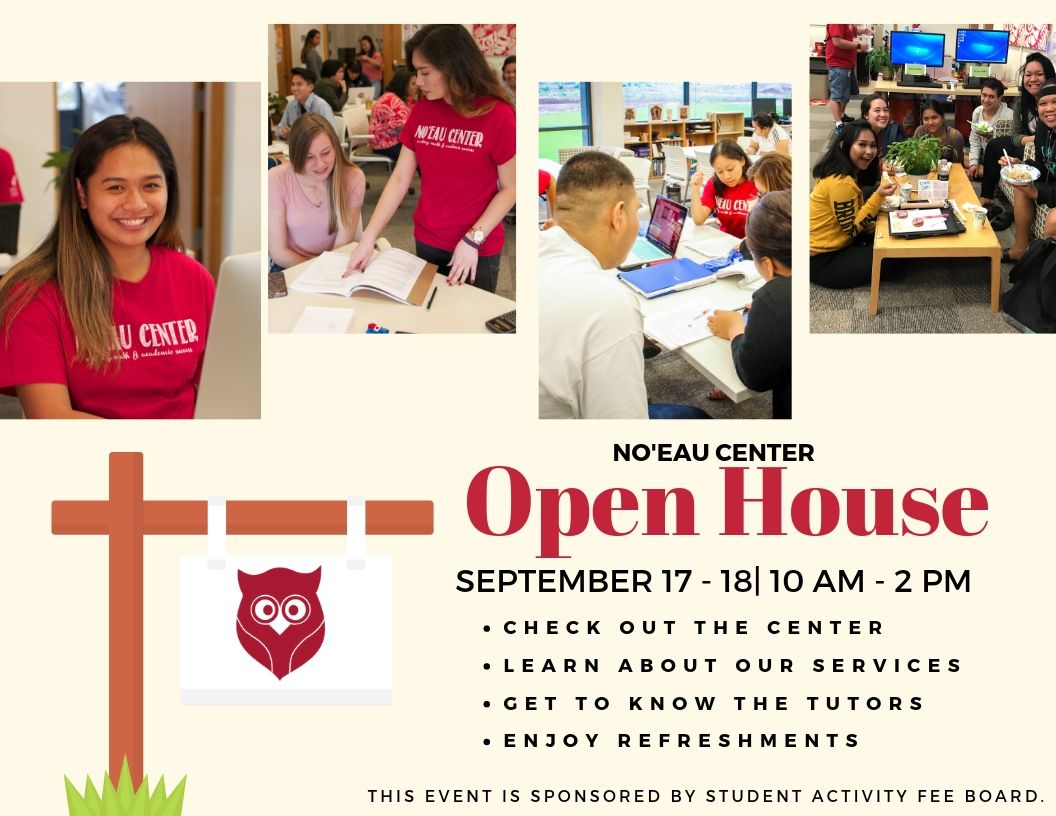 Check out the center, get to know the staff, and learn about our free services (tutoring, testing, and workshops).
This event is on September 17-18 from 10 AM to 2 PM.
-Participate in center trivia to win prizes
-Enjoy refreshments
See you there!
This event is sponsored by the Student Activity Fee Board.
Event Sponsor
No'eau Center, West Oʻahu Campus
More Information
No'eau Center, (808) 689-2750, uhwowc@hawaii.edu, http://uhwo.hawaii.edu/noeaucenter
---
Tuesday, September 17

9:00am

Blood Bank of Hawaii Blood Drive

Mānoa Campus, Queen Liliuokalani Center, Rooms 411 & 412
10:00am

No'eau Center Open House

West Oʻahu Campus, B-203
12:00pm

Peace Corps Info Session & Application Workshop

Mānoa Campus, QLC 208
12:00pm

Peace Corps Information Session

Mānoa Campus, Queen Liliuokalani Center for Student Services (QLC), Room 208
12:00pm

ISR Sustainable Cities Seminar Series

Mānoa Campus, iLab (Building 37)
1:00pm

Raise Your GPA Workshop

Honolulu Campus, Building 5, Room 203
1:30pm

Study Abroad Info. Meeting - Semester in Paris, France

Mānoa Campus, Moore Hall 155A
2:30pm

Study Abroad Info. Meeting - Semester or Year in Kobe, Japan

Mānoa Campus, Moore Hall 155A
3:30pm

Rethinking the Carceral System: A Collaborative Approach

Mānoa Campus, William S. Richardson School of Law, Cades Schuttle Classroom (Classroom 2)
5:00pm

Hawaii Opera Theatre Performs for MUS 121B

West Oʻahu Campus, Campus Center Loft
7:00pm

How Not to Go Extinct - lecture by Dr. Sailesh Rao, PhD

Mānoa Campus, Art Building Auditorium, Rm. 132
Other UH Calendars
Submit Events
Last modified December 20, 2019
Back To Top