A Kauila Oboe for the Ages
October 15, 12:30pm - 1:30pm
West Oʻahu Campus, N?ulu Center
---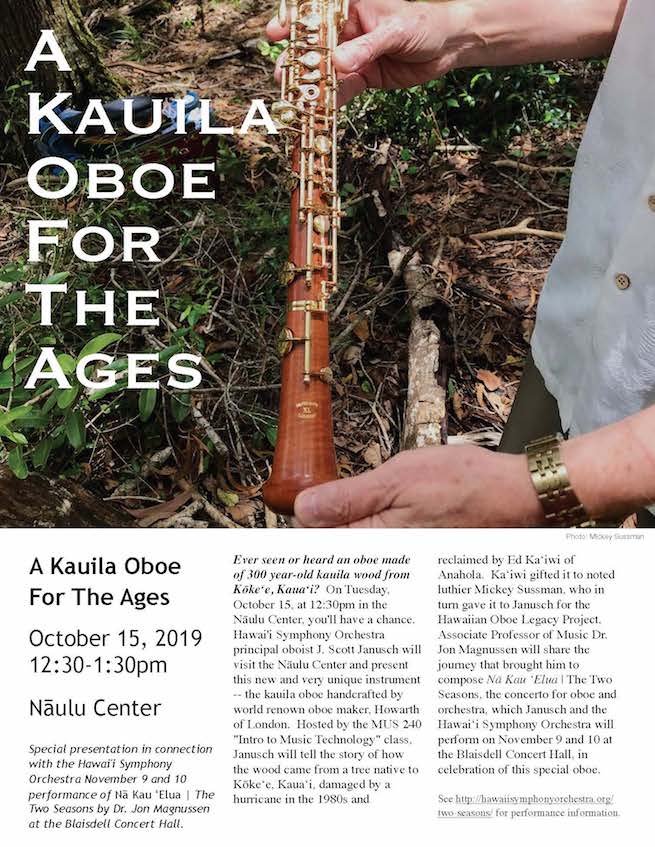 Ever seen or heard an oboe made of 300 year-old kauila wood from Kokee, Kauai? On Tuesday, October 15, at 12:30pm in the Naulu Center, you'll have a chance. Hawai'i Symphony Orchestra principal oboist J. Scott Janusch will visit the N?ulu Center and present this new and very unique instrument -- the kauila oboe handcrafted by world renown oboe maker, Howarth of London. Hosted by the MUS 240 "Intro to Music Technology" class, Janusch will tell the story of how the wood came from a tree native to Kokee, Kauai, damaged by a hurricane in the 1980s and reclaimed by Ed Ka?iwi of Anahola. Kaiwi gifted it to noted luthier Mickey Sussman, who in turn gave it to Janusch for the Hawaiian Oboe Legacy Project. Associate Professor of Music Dr. Jon Magnussen will share the journey that brought him to compose Na Kau Elua | The Two Seasons, the concerto for oboe and orchestra, which Janusch and the Hawaii Symphony Orchestra will perform on November 9 and 10 at the Blaisdell Concert Hall, in celebration of this special oboe.
********************************************
This is a special presentation in connection with the Hawai'i Symphony Orchestra November 9 and 10 performance of Na Kau 'Elua | The Two Seasons by Dr. Jon Magnussen at the Blaisdell Concert Hall. See http://hawaiisymphonyorchestra.org/two-seasons/ for performance information.
Ticket Information
Free
Event Sponsor
Humanities | Music, West Oʻahu Campus
More Information
Jon Magnussen, (808) 689-2357, jonmagnu@hawaii.edu, https://westoahu.hawaii.edu/music/
---
Tuesday, October 15

7:00am

2019 Future Focus Conference

Hawaii Convention Center
10:00am

Ways to Manoa

Mānoa Campus, Campus Center Courtyard
11:00am

Flavors of Chile - Stir Fresh Pop-Up

Mānoa Campus, Stir Fresh, Campus Center 1st Floor
12:00pm

What's Happening in Hong Kong?

Mānoa Campus, Davis Levin Livingston Moot Courtroom William S. Richardson School of Law
12:30pm

A Kauila Oboe for the Ages

West Oʻahu Campus, N?ulu Center
1:30pm

Pablo Furukawa, saxophone (junior recital)

Mānoa Campus, Orvis Auditorium
2:00pm

Epidemiology Final Oral

Mānoa Campus, BioMed Rm D-211
3:30pm

Ocean Talks: Citizen Science and Aquatic Invasive Species in Hawaii

Mānoa Campus, Waikiki Aquarium
3:30pm

Vertically Integrated Projects (VIP) Poster Session

Mānoa Campus, Campus Center Ballroom