Explore Your World Fair
November 19, 11:30am - 1:30pm
Mānoa Campus, Campus Center Courtyard
---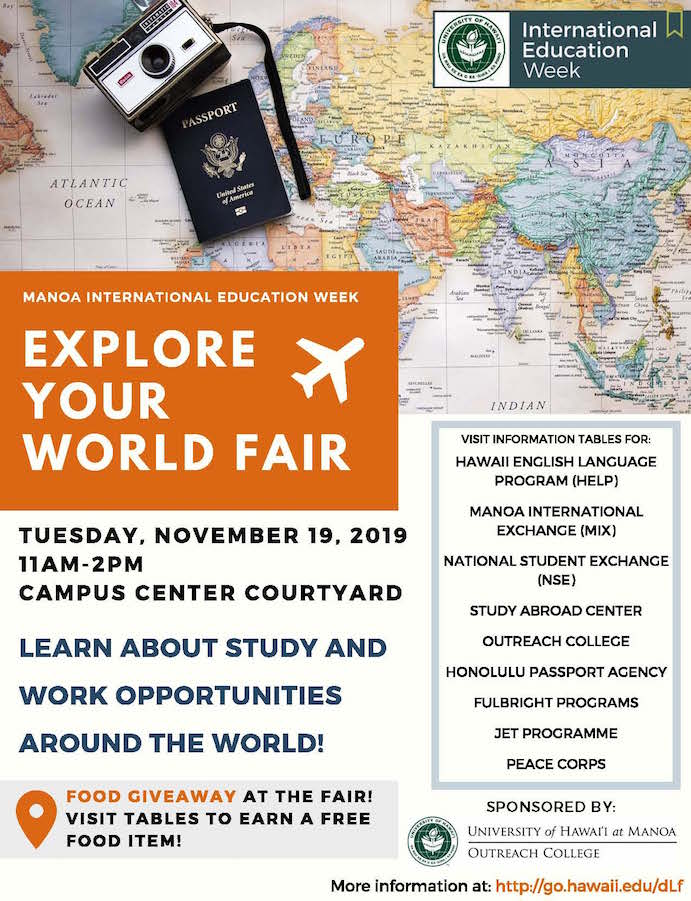 Learn about study and work opportunities around the world!
The EXPLORE YOUR WORLD fair will feature information about programs that can provide students with tools and/or opportunities to travel and study, research, or work domestically and abroad. The fair will feature both study opportunities for current UH students such as study abroad and exchange programs, as well as opportunities for post-graduation such as the Peace Corps and the JET Programme.
Programs include:
-Hawaii English Language Program (HELP)
-Manoa International Exchange (MIX)
-National Student Exchange (NSE)
-Outreach College
-Study Abroad Center
-Fulbright Programs
-JET Programme
-Peace Corps

HOW TO GET A U.S. PASSPORT
Additionally, the first step to traveling abroad is to get a passport! Visit the Honolulu Passport Agency table to learn how to apply for or renew your passport (U.S. Citizens only), and receive information about international travel.
FOOD GIVEAWAY
Check out the food giveaway at the fair, sponsored by Outreach College! Pick up a fair 'passport' and visit tables to get your passport stamped! Collect at least 4 stamps to receive a free food item at the Outreach College tent!
Part of the Manoa International Education Week celebration.
Event Sponsor
Manoa International Education Week Committee, Mānoa Campus
More Information
Kimberly Imamura, (808) 956-6636, imamurak@hawaii.edu, http://manoa.hawaii.edu/international/international_education_week/
---
Tuesday, November 19

8:30am

Blood Bank of Hawaii Blood Drive

Mānoa Campus, Queen Liliuokalani Center, Rooms 411 & 412
11:30am

Explore Your World Fair

Mānoa Campus, Campus Center Courtyard
12:00pm

ISR Sustainable Cities Seminar Series

Mānoa Campus, iLab (Building 37)
12:00pm

WRRC/'Ike Wai Seminar

Mānoa Campus, Information Technology Center, 2520 Correa RD, Rm 105B
1:30pm

Introduction to Structured Query Language (SQL)

Honolulu Campus, 874 Dillingham Blvd
2:00pm

Test Taking Skills Workshop

Honolulu Campus, Building 7, Room 309
2:00pm

Geology & Geophysics Final Oral

Mānoa Campus, POST 723
3:30pm

College of Education Info Session

Maui Campus, Laulima 212
5:00pm

"Global Learning, Global Success" Event

Mānoa Campus, BUSAD A101
5:00pm

Kitchen Academy - Cooking for Friends

Mānoa Campus, Stir Fresh Dining Room