The Purpose of Power: How We Come Together When We Fall Apart
September 24, 12:00pm - 1:00pm
Mānoa Campus, ONLINE
---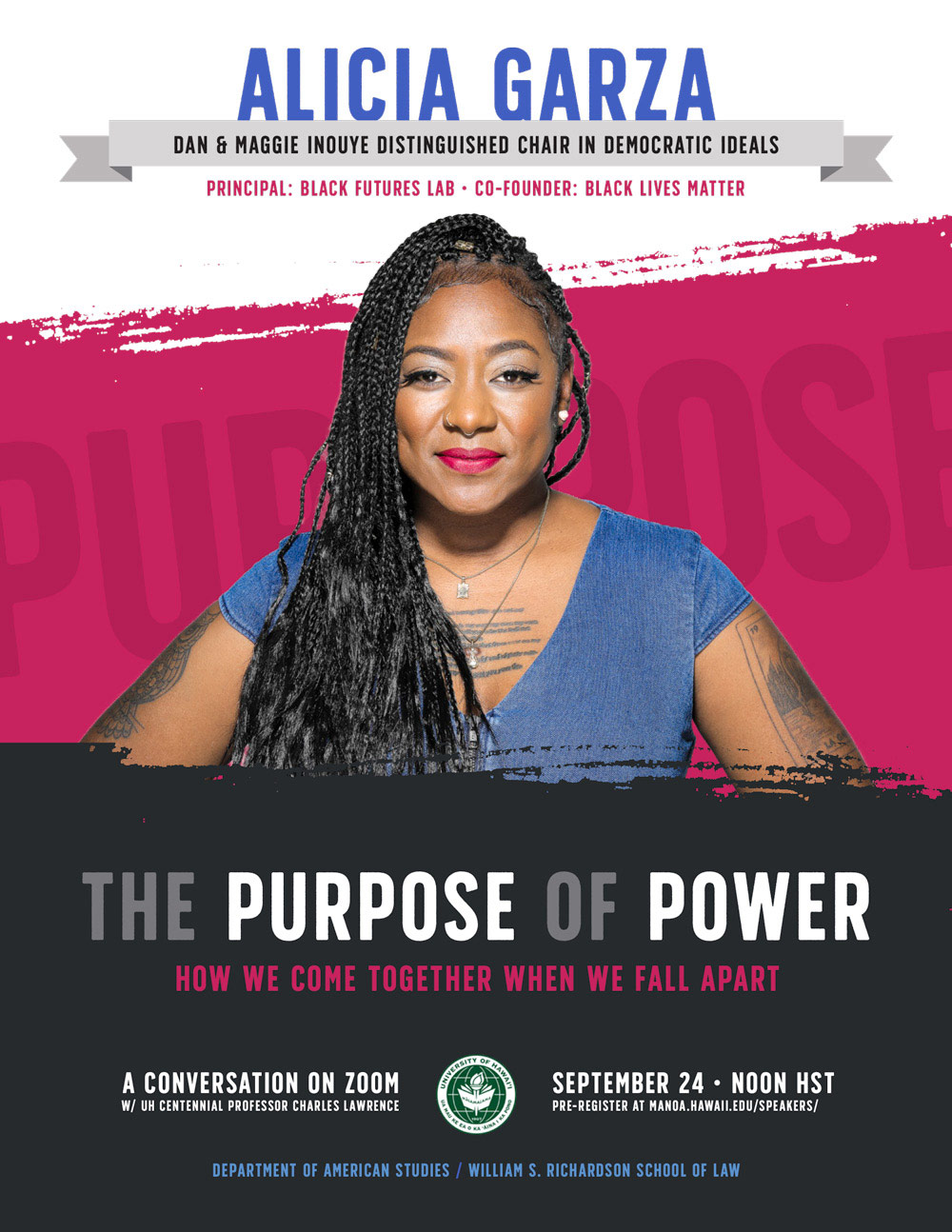 Co-founder of Black Lives Matter, Alicia Garza is Special Projects Director for the National Domestic Workers Alliance and Principal at the Black Futures Lab. She is a regular contributor to Time, The New York Times, and other national publications.
In 2016, she was named Glamour Woman of the Year. Her book, The Purpose of Power: How We Come Together When We Fall Apart, will be released in October.
Garza will serve as the Dan and Maggie Inouye Distinguished Chair in Democratic Ideals .
Event Sponsor
Better Tomorrow Speaker Series, Mānoa Campus
More Information
N/A, btss@hawaii.edu, https://manoa.hawaii.edu/speakers/
---
Thursday, September 24

8:00am

Political Science Final Oral

Mānoa Campus, Zoom
8:30am

Semester in Seville, Spain Information Meeting

Mānoa Campus, Zoom
10:00am

Voice of the Sea YouTube Watch Party and talk-story

Mānoa Campus, Zoom
10:30am

SCEP Live Online with Nyla Fujii-Babb

Mānoa Campus, Hosted Online by Kaunoa Senior Center
11:30am

Semester in Shanghai, China Information Meeting

Mānoa Campus, Zoom
12:00pm

Brown Bag Biography: Nandita Sharma

Mānoa Campus, Zoom Meeting
12:00pm

The Purpose of Power: How We Come Together When We Fall Apart

Mānoa Campus, ONLINE
12:00pm

Fostering a Sense of Place & Community in Virtual Classrooms

Mānoa Campus, Online
2:00pm

Job Search 101

Honolulu Campus, https://www.honolulu.hawaii.edu/ikea
2:00pm

UH Manoa Graduate Entry Program in Nursing (GEPN) Informational Session

Online via Zoom Webinar
3:00pm

Climate Justice: Opportunity, Courage, Action

Mānoa Campus, Webinar
4:00pm

Hawaii's Hotel Industry During Covid-19- Webinar

ONLINE
6:30pm

Hanauma Talks Seminar

YouTube
6:30pm

SCEP Live Online with Kenny Endo and Taiko Center of the Pacific

Mānoa Campus, Hosted Online by Friends at Manoa Library