Chapter Two: Hadi Fallahpisheh
November 9, 2020 - December 10, 2020
Mānoa Campus, Art Building, Commons Gallery
---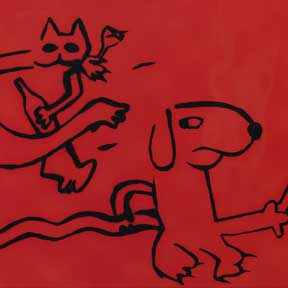 The Commons Gallery, University of Hawai'i at Manoa (UHM), is pleased to present an exhibition of new work by Hadi Fallahpisheh, the second solo exhibition of the yearlong exhibition series Out of the Camera: Beyond Photography.*
Hadi Fallahpisheh's photographic drawings record performances made in the darkroom on large-scale light-sensitive color paper. His line drawings trace the exploits of cats, dogs, mice and the occasional owner: a mouse comforts another mouse; a dog puts out a fire while a drunken cat and mouse play; a dog and his owner drink wine by a campfire. Fallahpisheh writes, "In my work I try to simultaneously put at play both physical conditions and psychoanalytic statements." The works for this exhibition, "It Will Be Ok," "Evening in Nature," and "Saving the Owner," were made during New York's COVID-19 shutdowns of spring 2020. Like early twentieth century models for the unconscious mind, which posited that traumatic experiences lay subconscious until brought to light through therapy, the images are based in analog photography's ability to store a latent image when exposed, which is revealed upon processing. Cartoonishly simple drawings in primary colors, the work models trauma in its use of photography as a medium.
Out of the Camera: Beyond Photography is a year-long series of solo exhibitions in the Art Building Commons Gallery by artists who work primarily as photographers but whose practices extend well beyond traditional definitions of the medium. The artists, including Lucas Blalock, Hadi Fallahpisheh, Sara Greenberger Rafferty, and Stephanie Syjuco, have been asked to consider what in their work is explicitly un-photographic for this series. The artists will be in residence at the Department of Art & Art History, UHM, to produce their artworks, present public gallery walk-throughs and talks, and to interact with students and visitors. At the culmination of the series of exhibitions, a publication will be produced. The Out of the Camera series is made possible by a generous grant from the Laila Twigg-Smith Art Fund.
*Currently the UH Manoa campus is open to the campus community but closed to the general public due to the pandemic. Please check https://manoa.hawaii.edu/moving-forward/visitor-faqs/ for more info. Due to covid-19 restrictions this exhibition will be viewable from outside the gallery.
Image (detail): Hadi Fallahpisheh, "Saving the Owner," 2020, unique light drawing on photosensitive paper. 43" h x 84" w. Courtesy of the artist.
Ticket Information
Due to covid-19 restrictions this exhibition will be viewable from outside the gallery.
Event Sponsor
Art & Art History, Mānoa Campus
More Information
Sharon Tasaka, 808-956-8364, gallery@hawaii.edu, https://hawaii.edu/art/out-of-the-camera-hadi-fallahpisheh/
---
Monday, November 9

9:00am

Entrepreneurship live with Hyram Yarbro

Mānoa Campus, Zoom
10:00am

American Studies (Final Oral)

Mānoa Campus, https://hawaii.zoom.us/j/91583956694
12:00pm

Best Practices & Approaches of Family-Related Mediations...Divorce, Custody, F

Mānoa Campus, Zoom
12:00pm

Best Practices and Approaches for Domestic Mediations

Mānoa Campus, Zoom- William S. Richardson School of Law
1:00pm

Political Science Graduate Information Session

Mānoa Campus, Online via Zoom
4:00pm

Moolelo Mondays: Kumu Pele Kaio

Mānoa Campus, Online (zoom)
5:30pm

Friendsgiving with YMCA

Mānoa Campus, Zoom