Pitchers in Paradise: Cultivation of Nepenthes Pitcher Plants in Hawaii
February 26, 9:00am - 12:00pm
Mānoa Campus, Lyon Arboretum, 3860 Manoa Rd
---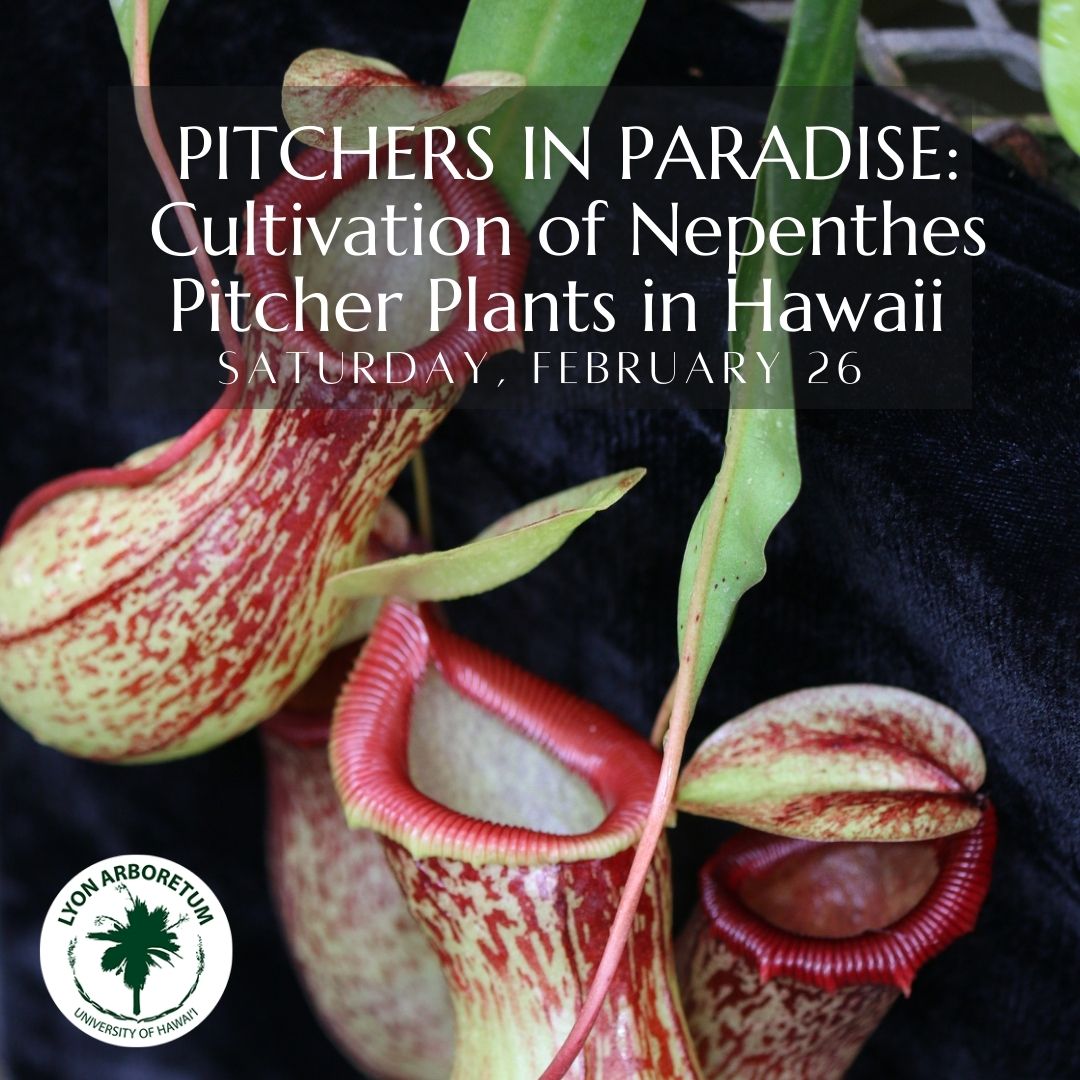 Level up in your carnivorous plant knowledge! Join Lyon Arboretum's Horticultural Manager, Tim Kroessig, for a deep dive into the captivating world of Nepenthes carnivorous pitcher plants! Tim is a member of the International Carnivorous Plant Society and has been growing various carnivorous plants in Hawai'i for the last 6 years. Tim's love and knowledge of Nepenthes have grown extensively over the past few years and he would love to share what he knows about cultivating these stunning and unique plants.
This workshop is intended for hobbyists that have at least some basic experience growing and maintaining carnivorous plants. Participants will learn and share about propagation techniques, feeding/fertilizing, hand-pollination, pest control strategies, and sustainably sourcing Nepenthes plants for collectors.
We are offering two ways to attend: in-person and online. Online students will participate via Zoom (an email will be sent out the day before with the Zoom meeting link). In-person students will attend the class at Lyon Arboretum and must adhere to our COVID19 safety policies (detailed below). In-person students will also be able to participate in a special hands-on class component and a greenhouse tour. Please be sure to specify whether you would like to attend in person or online. Mahalo!
COVID19 safety note: All attendees must be masked during the class. All attendees must use LumiSight UH to provide acceptable proof of full vaccination or a negative test that meets UH's guidelines. See below for more information about our COVID-19 safety guidelines. Failure to comply will result in inability to attend the class, and a refund may not be issued.
WHEN: Saturday, February 26, 2022, 9:00 am-12:00 pm
COST: $20 (Zoom), $25 (in-person)
TO SIGN UP, see our website (below, under 'more information')
Ticket Information
Sign up information is available on our website: https://manoa.hawaii.edu/lyon/2022/01/10/spring-2022-community-class-schedule/
Event Sponsor
Lyon Arboretum, Mānoa Campus
More Information
Derek Higashi, 808-988-0456, higashi2@hawaii.edu, https://manoa.hawaii.edu/lyon/2022/01/10/spring-2022-community-class-schedule/
---