Gamelan, Dance and Puppetry
April 1, 7:30pm - 9:30pm
Mānoa Campus, Music Department - Barbara Smith Amphitheater
---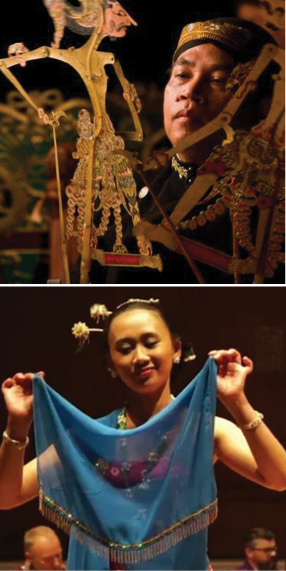 Master musicians Ki Midiyanto and Heni Savitri join the UH Javanese Gamelan Ensemble for a concert to conclude their week-long residency at UHM
The concert will include an excerpt of wayang kulit (shadow puppet theater) by Ki Midiyanto, the Gambyong Pangkur dance by Heni Savitri, and gamelan music for listening pleasure.
Click here for related free workshops and presentations scheduled March 27-31.
This residency is sponsored by the Hawaii Gamelan Society, the UHM Music Department, and the UHM Department of Asian Studies, with support from the Lyon Arboretum and the UH Center for Southeast Asian Studies.
KI MIDIYANTO is a musician and dhalang (puppet master) from Wonogiri, Central Java, coming from a family of artists. For over thirty years he has taught and performed extensively in Java, the U.S., Singapore, New Zealand, Australia, and Canada, including ten years in Portland as the gamelan director at Lewis & Clark College, where he earned an MA. He has been featured in several documentary films and directed the gamelan for the CD Shadow Music of Java, recorded at the Smithsonian. He has taught and directed gamelan at UC Berkeley since 2004, after an earlier stint from 1988 to 1992.>
HENI SAVITRI began to study sindhènan (Javanese singing with gamelan) in 2002. In 2003 she won the competition for best singer in her native district of Wonogiri, Central Java. She entered the Performing Arts Conservatory in Surakarta in 2004, and began representing the institution in competitions the following year as well performing in shadow plays. Upon enrolling in the Indonesian Arts Academy in Surakarta she was selected as the singer for many recordings of new faculty compositions and traditional works, representing the academy in the 2008 international vocal competition in Jakarta. Since coming to the United States she has been in great demand for concerts by the leading gamelan ensembles in America.
Ticket Information
$5/$10/$15
Event Sponsor
Music, Mānoa Campus
More Information
808 956-7756, https://manoa.hawaii.edu/music/event/gamelan-concert-2/
---