Amitav Ghosh - The Nutmeg's Curse: Climate, Colonialism and Global Geopoliti
April 18, 6:30pm - 8:30pm
Mānoa Campus, Art Building 2535 McCarthy Mall Honolulu, HI 96822
---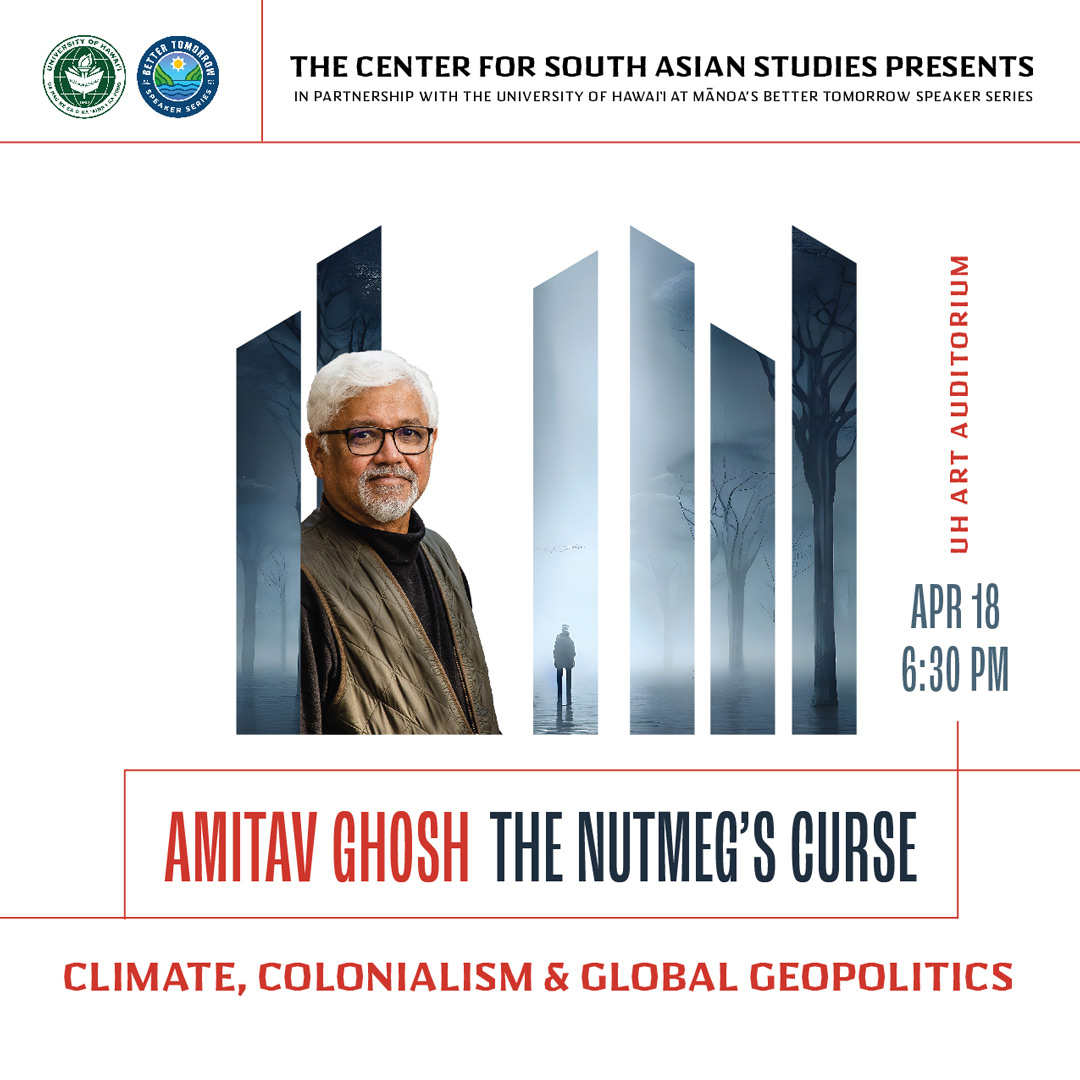 In his latest work of nonfiction, The Nutmeg's Curse, Amitav Ghosh explores the devastating history of a single spice and also the mechanistic worldview underlying capitalism and imperialism, which turns the natural world and human life into resources to be exploited. Showing how human and environmental histories are interwoven from the early days of European colonialism to the present, he calls for respect for nature as an agentive force of its own. He challenges the way we think about climate change to encourage us to act with new and necessary urgency.
An engaging storyteller and incisive essayist, Amitav Ghosh has authored over fifteen books, taking on critical challenges through finely-drawn, memorable characters and deeply researched stories. With strong roots in South Asia, his pathbreaking work has continuously demonstrated the connections that shape our shared histories. He was named one of the most important thinkers of the decade by Foreign Policy magazine in 2019.
Ghosh is a keynote speaker at the Center for South Asian Studies spring symposium on climate change and South Asia.
Event co-sponsors include the Department of Asian Studies, Halekulani Hotel, UH Press, and the UH Mānoa Library.
Ticket Information
Register here:

Event Sponsor
UH Better Tomorrow Speaker Series, Mānoa Campus

More Information
Robert Perkinson, (808) 351-8976, btss@hawaii.edu, https://manoa.hawaii.edu/speakers/amitav-ghosh/
---
Tuesday, April 18

8:30am

Astronomy Final Oral

Mānoa Campus, IfA Mānoa Auditorium, Zoom Meeting ID: 808 956 7914
10:00am

Educational Psychology Final Oral

Mānoa Campus, Wist Hall, Room 129
12:00pm

East-West Toastmasters Leadership/Public Speaking Club Meeting

Mānoa Campus, Hemenway Hall 215 and online Zoom meeting: email santiago@hawaii.edu for login information
12:00pm

Welina Manoa Workshop

Mānoa Campus, Lawn fronting Edmondson Hall McCarthy Mall
1:00pm

UH Mānoa Fulbright U.S. Student Info Session

Mānoa Campus, Zoom
6:30pm

Amitav Ghosh - The Nutmeg's Curse: Climate, Colonialism and Global Geopoliti

Mānoa Campus, Art Building 2535 McCarthy Mall Honolulu, HI 96822