WiDS Hawai'i 2023
April 28, 12:00pm - 4:00pm
Mānoa Campus, Online
---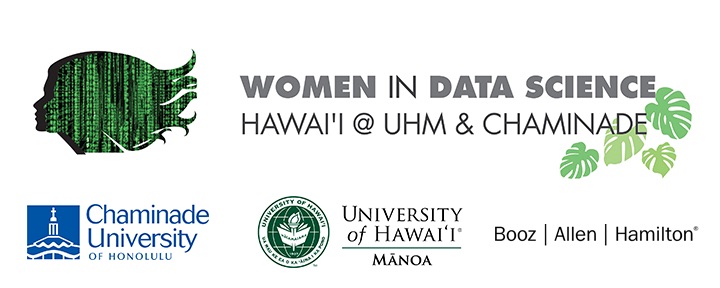 Women in Data Science (WiDS) aims to inspire and educate data scientists worldwide, regardless of gender, ​and to support women in the field. Hawai'i's 2023 virtual event will be held on Friday, April 28, 2023 from 12:00 p.m. to 4:00 p.m. HST and will feature local data scientists, professionals in data-informed fields, and also students aspiring towards careers in related fields.
Speakers include Kim Binsted, Hanae Hara, Helen Turner, and Martha Crosby.
Panelists include Karen Meech, Elizabeth Gross, Blanca Polo, Beverly Rice, Leilani Reich, and Tishya Chhabra.
WiDS Hawai'i @ UHM & Chaminade is an independent event that is organized by Martha Crosby, Helen Turner, Laura Tipton, and Truc Nguyen as part of the annual WiDS Worldwide conference, the WiDS Datathon, and an estimated 200 WiDS Regional Events worldwide. Everyone is invited to attend all WiDS conference and WiDS Datathon Workshop events which feature outstanding women doing outstanding work.
Supported by the University of Hawai'i at Mānoa, Chaminade University of Honolulu, and Booz Allen Hamilton.
Ticket Information
Free
Event Sponsor
Department of Information & Computer Sciences and Curriculum Research & Development Group, Mānoa Campus
More Information
Martha Crosby, 808-956-3493, crosby@hawaii.edu, https://tinyurl.com/widshawaii2023
---
Friday, April 28

8:00am

Economics Final Oral

Mānoa Campus, Saunders 515, Virtual Attendance via Zoom: Link below
8:30am

Grad Cap Decorating

West Oʻahu Campus, UHWO Student Life Center
9:00am

Japan Culture Day

Mānoa Campus, Campus Center 307-310
9:00am

Economics Final Oral

Mānoa Campus, Saunders Hall, Miller room
12:00pm

WiDS Hawai'i 2023

Mānoa Campus, Online
1:00pm

Presentation by Winners of Library Treasures Scholarships, AY 2022-2023

Mānoa Campus, Hamilton Library
1:00pm

Peace Corps Potluck

Mānoa Campus, QLCSS 412
1:30pm

Yoga for Stress Relief: All Levels Yoga Class

Mānoa Campus, Kuykendall 106 Events Room
2:00pm

WRRC 2023 Spring Seminar

Mānoa Campus, Zoom Meeting
2:00pm

Nursing Practice Final Oral

Mānoa Campus, Zoom
2:30pm

Zoology Final Oral

Mānoa Campus, Bilger 152