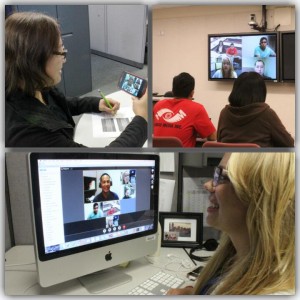 Information Technology Services provides various videoconferencing solutions and services for UH faculty and staff.
- Desktop Videoconferencing
- UH Zoom Recording Service
- Zoom Webinar Service
- Videoconference Rooms
- Videoconference Room Consultation
 
Desktop video conferencing does not require meeting rooms with monitors and video cameras. It allows users to host or join a meeting from their desktop or mobile device. Simple click-to-connect convenience quickly brings participants into a meeting on a computer, tablet or smartphone. A reliable network bandwidth, a computer equipped with a webcam, microphone, headphones (if in a public area), and a videoconference plug-in/software is all that is needed. This service is available to UH faculty and staff for UH business such as administrative meetings, interviews, advising, extended office hours, and small group discussions.
Room-based Videoconferencing
ITS Staff Supported Rooms (UH Mānoa campus only)
IT Center Video Conference Rooms are located in the Information Technology Center on the UH Mānoa campus and may be used for UH business such as administrative meetings, research collaboration and interviews.
ITS Kuykendall Video Conference Rooms and ITS Webster Video Conference Room are distance learning classrooms located in Kuykendall Hall and Webster Hall on the UH Mānoa campus. ITS staff supports the instructor and operates the technology in these rooms to assist with a greater Hybrid learning experience.  These rooms offer a more immersive experience for instructors and students.  The rooms include large monitors and screens that display both online participants and visual presentations.  Cameras are staff controlled to allow online participants a better view of in-person participants, instructors and/or students. 
Priority use of rooms is for distance learning courses. However, if time permits, rooms may be available for ad hoc large group videoconferencing events such as training workshops, presentations and large group meetings.
Here or There (HOT) Rooms
Videoconferencing technology has been installed into many classrooms across the UH System, providing for Hybrid synchronous learning to many rooms on the campuses. Utilizing web conferencing technologies, instructors are able to conduct class to their students in-person and through online synchronous technologies, like Zoom. Visit Zoom Classroom Instruction for more info on how to use Zoom technology on campus. Check with your campus IT or media department to see which classrooms on your campus are setup for synchronous online learning.
Cloud recordings may be accessed through the UH Zoom Recording service. Recordings will be viewable/accessible for the duration of the semester for which they occurred. ITS recommends sharing of recordings be done by posting direct links in Laulima.The UH Zoom Recording service is still in development. In the coming weeks and months we plan on adding additional features and capabilities. We appreciate your patience and understanding as we continue to grow this service.
Webinars are like a virtual lecture hall or auditoriums. Webinars are ideal for large audiences or events that are open to the public. Webinars allow for view-only attendees. Interaction from attendees is typically handled via Q&A, chat, and polls.
This service is available to UH departments, faculty and staff, who have been issued a Zoom license from ITS, for UH related purposes. Our current capacity for Zoom webinar viewers is limited to 500, or, 1000. This is a shared resource and availability is on a first come first served basis.
Zoom Live Streaming
Zoom features the ability to live stream a meeting or webinar to YouTube, Facebook Live or a custom streaming service. This allows participants to view your meeting or webinar via one of these streaming services. During the live event there will be an approximate 20-second delay between the live Zoom meeting or webinar and the live stream.

Please note, due to security reasons ITS has blocked, by default, the ability for users to live stream their conferences. ITS is able to temporarily provide access when/if this feature is needed. To request access please contact: uh-zoom-support@lists.hawaii.edu.

Videoconference Room Consultation
Information Technology Services provides UH departments consultation in purchasing videoconference equipment and deploying a departmental room-based videoconferencing system in a new or existing room, please email vcs-setup@lists.hawaii.edu to make an appointment for consultation.