Ways of Looking
August 30, 2015 - September 11, 2015
Mānoa Campus, Art Building, Commons Gallery
---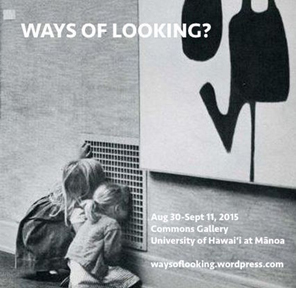 What constitutes looking? Do objects speak? What are we allowed to know? Acts of looking are not as natural as we may think.
"Ways of Looking?" is a two-week collaborative installation that questions conventional practices of looking at art and everyday objects. Through the careful selection and arrangement of objects by a range of community members, this space invites visitors to look, play, discuss and discover new ways of engaging. Contributors include artists, educators, historians, scientists, curators, and community activists.
We invite classes to utilize the installation. Contact waysoflookinginfo@gmail.com.
To learn more: http://www.waysoflookinguhm.wordpress.com Reception
Sept. 3, 4:00-5:00 p.m.
Ticket Information
Gallery Hours: Mon. – Fri. 10 a.m. – 4 p.m, Sun. 12 – 4 p.m. 
Closed Sat. Admission to exhibition is free. Parking fees may apply.
Event Sponsor
Art + Art History, Mānoa Campus
More Information
956-6888, waysoflookinginfo@gmail.com. , http://www.waysoflookinguhm.wordpress.com
---